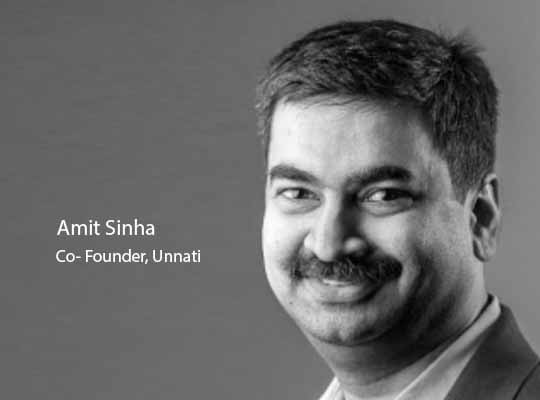 Times Tech: Tell us about your predictive farming model.
Amit Sinha: Our predictive farming model helps farmers in making better decisions based on more than 200 parameters which are drawn from satellite information, transaction history and pattern of farmer, soil information, weather information etc. 
Farmers get to know what's the best time of sowing, when should they be applying the various crop nutrition and crop protection products. They get all information from sowing to harvesting from the Unnati platform. They get to know the moisture pattern of their crop along with the deficiencies which need to be taken care of. It provides them the best rates at which they can sell their produce based on the variety shown etc. Also, our predictive farming model helps uStores in managing supply of products to the farmer in a more profitable way. Our predictive model helps farmers in better planning
Times Tech: What is Unnati's role in promoting digital farming?
Amit Sinha: Unnati is creating the largest digital agri ecosystem in India. The digital platform is the preferred choice of delivering digital solutions to farmers. Unnati has developed an open platform with opportunities for niche technology players to utilise the data of Unnati platform and reach to a large audience of farmers through its network of partner uStores. Unnati is building the backbone of digital agriculture in India. Its current ecosystem is one of the largest with 15000 uStores – digital fulfilment centres.
Times Tech: How is Unnati supporting farmers across India and what are your expansion plans?
Amit Sinha: Unnati has an existing network of more than 15,000 uStores, where farmers can avail its services, across Uttar Pradesh, Maharashtra, Bihar, and Haryana. The uStores are the primary points of farmer connect and transaction completion. We are planning to reach 1,00,000 uStores in several states this year and expand our footprint to Andhra Pradesh, Telangana, Odisha, Rajasthan, and Punjab in the coming year.
Our uStore partners source inputs from the Unnati platform to deliver Agri inputs to farmers. They also act as aggregation points to help farmers sell their yield directly to large corporate houses using the Unnati platform, which also provides various credit services to the sellers.
Times Tech: Can you shed some light on your partner uStore's pan-india presence and operations?
Amit Sinha: uStores are retailers – small, first-level traders — of small agri-input products like seeds, agrochemicals, and fertilizer in rural, remote locations. Unnati helps them go digital by providing them with a technology-driven platform to manage their stores and commodity business efficiently and by appointing them to be the on-ground execution partners using modern digital tools.
Times Tech: What are your key focus areas for the future?
Amit Sinha: Our priority will be to expand our network to all the major agriculture districts in India. We also aim to provide more services, including credit facilities, banking, insurance, and enhanced recommendation services, to farmers. Our target is to engage and digitally support more than a million farmers over the next few years.