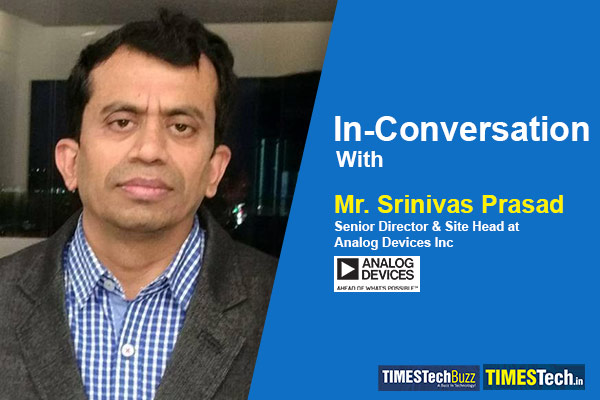 In an exclusive interview with TimesTech, Srinivas Prasad, Senior Director & Site Head at Analog Devices India, delves into the company's pivotal role in advancing semiconductor technology. ADI's Bengaluru-based R&D center emerges as a global powerhouse, contributing to a diverse product line that spans digital signal processors, 5G solutions, and innovative radio platforms. Prasad highlights the impact on Indian industries, strategies for addressing sector challenges, and ADI's commitment to bolstering the semiconductor supply chain in post-pandemic times, aligning with the 'Make in India' initiative.
Read the full interview here:
TimesTech: How does ADI's R&D center in India contribute to talent, innovation, and research in semiconductor technology in India?
Mr. Srinivas:
ADI India's headquarters in Bengaluru is among the top three global R&D centers of the company. It has made significant contributions across the company's product line including digital signal processors (DSP), complex system on chip (SoC), analog to digital (ADC) and digital to analog (DAC) precision converters, video processing, ultra-low power microcontrollers, high-speed converters, advanced driver assistance systems (ADAS), micro-electro-mechanical systems (MEMS), software tools and algorithms.
By leveraging Indian infrastructure and technologies, we aim to advance our 5G product and solution portfolio for the global automotive, industrial, healthcare, consumer, Internet of Things (IoT), security, communications, and energy markets.
ADI India has already developed some of the Company's most successful products. ADI's high-performance, power-efficient ADSP-21584 processor – designed, developed and supported by ADI India – is used by one of the world's leading consumer audio brands in a premium soundbar that has won accolades at the International Consumer Electronics Show (CES) and enabled our customer to increase its market share in the competitive soundbar market. The ADI India-developed DSP, ADSP-21479, is being used by a U.S.-based medical electronics company in its pulse oximeter to enable unparalleled levels of performance in challenging conditions where traditional pulse oximeters fail.
Anveshan is a fellowship program conducted by Analog Devices India. It provides a platform for university students and focused on building or prototyping complete system designs. It is open for participation by Engineering University Students who are residents in or based in India for the duration of the program. We have been doing Anveshan for several years now and the response from the University community has been outstanding. This has also enabled us to identify key talent early and help them provide the required mentoring for their projects.
TimesTech: What strategies is ADI using to address challenges in the semiconductor sector in India?
Mr. Srinivas:
Industries such as Intelligent Buildings, Healthcare, Automobile, Environmental, Aerospace and defence, Communications and energy, and Industrial Automation Technology across the globe have been using our 5G semiconductor offerings in different industries such as Advanced Linear Products, High-Speed Converters, Precision Converters, High-Speed Networking, Power Management, Processor and Microcontrollers, Audio and Video products, Semiconductor Automatic Test Equipment Solution and a vast range of semiconductor equipment components.
With that, we at ADI India aim to extend our offerings to India to nourish India's aim of becoming a central hub for semiconductor components for the world by 2030.
TimesTech: Can you provide examples of ADI's impact on digital transformation in Indian industries, and what makes ADI stand out?
Mr. Srinivas:
We started in India with digital, then mixed-signal processors, then process technologies for the converter products, and now we have RF (radio frequency) technologies for wireless. So it's a very broad diversified technology group.
Now the innovations here are not just limited to these verticals, but over time, it has encouraged us to expand our horizon in newer dimensions. With emerging technologies, we are recalibrating our synergies towards 'Design in India' to promote the government's vision of Atmanirbhar Bharat.
Today, ADI India is a global development center for ADI, working collaboratively across all ADI businesses on all stages of product development – from concept to silicon to production to application – as well as providing the supporting software. ADI India's product portfolio includes digital signal processors (DSP), complex system on chip (SoC), analog to digital (ADC) and digital to analog (DAC) precision converters, video processing, ultra-low power microcontrollers, high speed converters, advanced driver assistance systems (ADAS), micro-electro-mechanical systems (MEMS), software tools and algorithms.
TimesTech: Please give an overview of ADI's Radioverse solutions and their industry impact.
Mr. Srinivas:
The RadioVerse® ADRV904x-RD open radio unit (O-RU) reference design platform from Analog Devices, Inc. (ADI) combines essential elements of the open RAN (O-RAN) design process and frees up RU engineers to focus on innovation rather than design hurdles.
Combined with a customer-supported development process, these O-RAN reference designs help empower engineers to develop unique and differentiated RUs with less risk and a shorter time to market by providing a known and trusted architecture that has been conformance and interoperability tested in multiple O-RAN plugfests and private installations.
The platform is a complete optical front-haul to RF signal chain that lets 4G and 5G radio design engineers customize hardware and software for macro and small cell radio units (RUs). It includes support for all sub-6 GHz bands and power variants, including multi-band applications.
The ADRV904x-RD radio platform addresses critical power consumption and design challenges of next-generation networks.
TimesTech: How is ADI ensuring supply chain resilience post-pandemic and supporting the 'Make in India' initiative?
Mr. Srinivas:
Across all product segments, ADI has been introducing innovations which are faster, more powerful chips and leading-edge equipment that help generate greater sales in all value chain segments. We are striving toward building an indispensable semiconductor industry in the country with our most distinctive technologies and products which are likely acing the way to becoming global champions.
ADI has been strongly focusing on multiple aspects while fostering its synergies in its technology leadership, long-term R&D, resilience, talent, ecosystem capabilities, and greater capacity. All these approaches are very critical while tapping a strong semiconductor supply chain and increasing its demand in India.
And with recent government developments regarding the 'Programme for Development of Semiconductors and Display Manufacturing Ecosystem' in India, it will significantly help the companies in creating a spectrum of opportunities in this segment.
TimesTech: What are the current global semiconductor industry trends, and how is ADI implementing them in the Indian market?
Mr. Srinivas:
ADI has always believed in playing an increasingly important role in helping bolster our core technology expertise and also bringing those technologies together to solve system-level solutions for our customers across the globe. India is a critical part of our global operations given its dynamic workforce of visionaries who have developed five generations of ADI's industry-leading SHARC® digital signal processors out of the India center.
In India, we have been focused on defense, space, process control, UPS/inverter and energy markets, which traditionally have done indigenous development. We are seeing a lot of activity around healthcare, communication infrastructure and automotive with multinational and design houses in recent years. Our engineers are striving hard to achieve the legacy of our global counterpart here in India as well.
In response to our expanding business, which includes multinational corporations, significant Indian public sector organizations, design firms, and a significant number of smaller to medium original equipment manufacturers, we have increased our investments in marketing, sales, and field support engineering (OEMs).
We're witnessing the movement of manufacturing in India in a significant way. Hence, we are affirmative that the industry won't outrun the macroeconomic conditions. But overall, we think the lending, in terms of where demand will be, will be softer than probably normal.
We are expecting significant growth in future backed by the 'Designed in India' trend and to align our expectations with that of the government's initiatives to push 'Made in India' which will help the company succeed further.