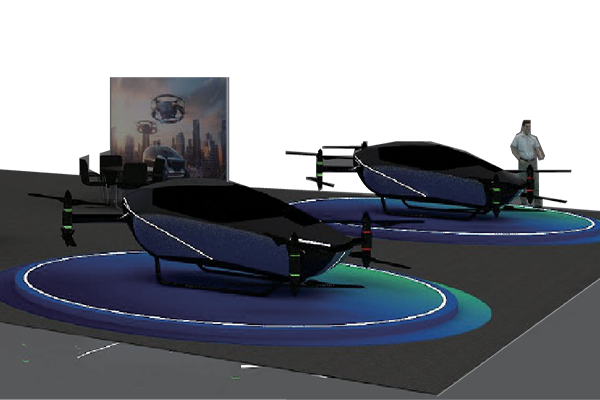 Automotive World China (AWC) is excited to announce its first-ever global launch of the Futuristic Flying Car Display Zone and Shenzhen Low-altitude Economy Development Forum. This combined event offering creates an inspirational education and networking platform for upstream and downstream manufacturing enterprises and R&D specialists to discover firsthand emerging technology trends and impacts on low-altitude-airspace products and services, including electric car advancements and commercial applications, all while engaging in technical exchange with all corners of this rapidly-evolving industry.
An AWC 2023 show floor highlight, the Futuristic Flying Car Display Zone will present visitors with an awe-inspiring showcase and coveted, up-close look into never-before-seen flying car models and technologies.
Projected exhibitors include key industry players Peak Fly Airlines, Xiaopeng Huitian, EHang Smart, Panto Aviation, Volante, BIT, and Kuhei or "Cool High" Technology.
The first-ever Shenzhen Low-Altitude Economy Development Forum, concurrently hosted by AWC 2023, will take place on October 12th in the heart of Shenzhen's low-altitude industry hub. Via expert insights, it will focus on forward-looking topics in the low-altitude economy and unveil cutting-edge, flying-car R&D and manufacturing innovations, including commercial application scenarios in logistics distribution, while decoding the latest government low-altitude-economy policies. Participants and presenters alike, including prominent policy and technology experts, entrepreneurs and investment institution heads, all in the field of future air mobility, will collectively discover and explore the exciting present and future of transportation and travel in low-altitude airspace.
The projected Shenzhen Low-Altitude Economy Development Forum rundownwill feature global logistics force, SF Express discussing the building of urban air logistics networks with UAV logistics distribution service systems; air traffic control specialists, Beijing Yuanfei Technology Co., Ltd.'s talk surrounding the development and support of UAV control technology under the low-altitude digital economy; and China's giant online retailer JD.com's take on the development and application of UAV collaborative transportation in multi-scenario fields.