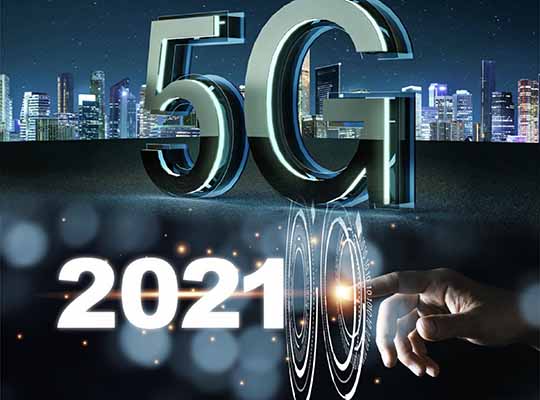 In 2021, experts anticipate telecom leaders from different countries join hands to bring innovations with 5G as they continue to build this next-generation of wireless networks with enhanced capabilities and off-the-shelf solutions to support growing demand and use cases. Low latency applications, accurate location intelligence and machine learning will be the 5G stronghold. Furthermore, as more and more people work from home — some anticipating a permanent shift to remote work — an immediate load and shift in network traffic has taken place. 5G wireless signals are transmitted through large numbers of small cell stations located in places like light poles or building roofs. The use of multiple small cells is necessary because the millimeter wave (MM wave) spectrum– the band of spectrum between 30 and 300 gigahertz (GHz) that 5G relies on to generate high speeds – can only travel over short distances and is subject to interference from weather and physical obstacles, like buildings or trees.
Previous generations of wireless technology have used lower-frequency bands of spectrum. To offset the challenges relating to distance and interference with MM waves, the wireless industry is also considering the use of a lower-frequency spectrum for 5G networks so network operators could use spectrum they already own to build out their new networks. Lower-frequency spectrum reaches greater distances but has lower speed and capacity than MM wave.

5G mmWave O-RAN | A reality
Operators are feeling the pressure from the competitive landscape to make sure they have the   best 5G coverage and performance to protect their brand. We believe that effect is accelerating the 5G standalone (SA) network upgrade as well as placing focus on millimeter wave nationwide deployments, to help ensure iPhone customers can get the best return on their investment in the new phone.
O-RAN can significantly advance 5G network deployments and it is encouraging to see vendors and telecom operators working together. At the current pace, we believe the era of monolithic vendor RAN will become a thing of the past in the next three to five years. Traditionally, RAN components have been built on proprietary hardware with vendor-specific protocols for communications, software functions, and interfaces. Open RAN initiatives were developed to help operators evolve infrastructure quickly and expedite monetization of new 5G business opportunities. All of this while enabling better CapEx management and holding OpEx.
The Rise of Private 5G Networks in 2021
The Private 5G Network market size is estimated to grow from USD 0.919 Billion in 2020 to USD 8.75 Billion by 2027, growing at a CAGR of 38.5% during the forecast year from 2021 to 2027. A private 5G network is a local area network (LAN) that offers improved internet access to commercial, industry and other customers. The emerging next generation network networks are expected to meet the need for secure wireless communication to industries, public safety and essential infrastructure connectivity.
The advent of Covid-19 pandemic and its recurrent occurrence in the form of second wave as well as third wave in some part of the globe has led to a rising need for private 5G adoption due to the network's inherent benefits. Private 5G allows remote sensing, better video quality, low latency and high bandwidth which can be effectively utilized in remote working for almost all verticals. Therefore, private 5G is being witnessed by companies as a means to achieve the norms set by the post pandemic new normal scenario and this factor has greatly accelerated the adoption of private 5G across the globe.
Organizations across vital communications and industrial IoT (Internet of Things) realms including national security agencies, military, utilities, oil & gas firms, mining associations, rail & port operators, manufacturers and industrial behemoths are making substantial investments in the private LTE networks. The very first private 5G networks are now starting to be deployed to enable a variety of device scenarios ranging from wired manufacturing robots and large sensor networking to AVG (Automated Guided Vehicles) and AR / VR power.
With the emergence of industry 4.0, various primary industrial operators such as Siemens AG, ABB Ltd., Mercedes-Benz AG have made extensive use of sensor-based technology and industrial robotics to achieve superior operational efficiency and improved productivity. The private 5G network plays a critical role in providing seamless and safe Internet access to the Industrial IoT (IIoT) devices listed above.
Today, the private LTE sector is primarily dominated by public safety, rail and port infrastructure and other utility applications. The deployment of private networks in these important verticals is motivated by the large coverage criteria of predictive efficiency and versatility to be well suited for the LTE. The manufacturing and mining industries are now implementing Private LTE and 5G networks very rapidly and are expected to lead to an unprecedented growth over the next five years.
COVID-19 changed the market environment, pushing businesses to develop new work models to ensure business continuity.
Catch the Dog Trends for 5G in 2021
Off the Shelf (OTS) hardware options for virtualized and cloud solutions increase, adding acceleration and AI capabilities in addition to general purpose (HP2) processing. Increasingly customizable OTS platforms drive a balancing and rationalization of purpose-built, virtualized and cloud-native solutions.
5G Core (5GC) deployments pick up speed in 2021, with more networks opting to deploy multi-mode cores supporting 4G, 5G NSA and 5G SA. The impact of COVID-19 and the shift to distributed network services expand the use case for SA's network slicing and lower latency services. Transport network operations software will need to be upgraded to support slicing orchestration, providing a ripple effect to network investment.
Security becomes a heightened requirement as 5G becomes more pervasive, opening up faster avenues for cyber attacks. Securing hybrid virtualized, open and cloudified structures requires an overlay security apparatus, which should drive a new market for network, platform and application security oversight and management.
DevOps Adding Value For 5G
Organizations are ramping up their cognitive workflows where DevOps is playing a critical role to reduce operational complexity as they adopt workflows and toolkits engrossed on cloud services and automation of infrastructure. It is obvious that application developers cannot ace the new-age technologies like network slicing or core automation and intelligent RAN and become overnight experts. Companies like VMware or IBM are leveraging technologies namely edge computing to bridge the gap between operators and developers. However, with the implementation of DevOps modules into their traditional work processes, application developers are enabled with easy deployment and integration of software systems into IoT solutions based on 5G technology. Operators are conducting 5G tests and developing 5G ecosystem with comprehensive, reliable, fast automated DevOps solutions that can easily traverse between networks and at the edges.