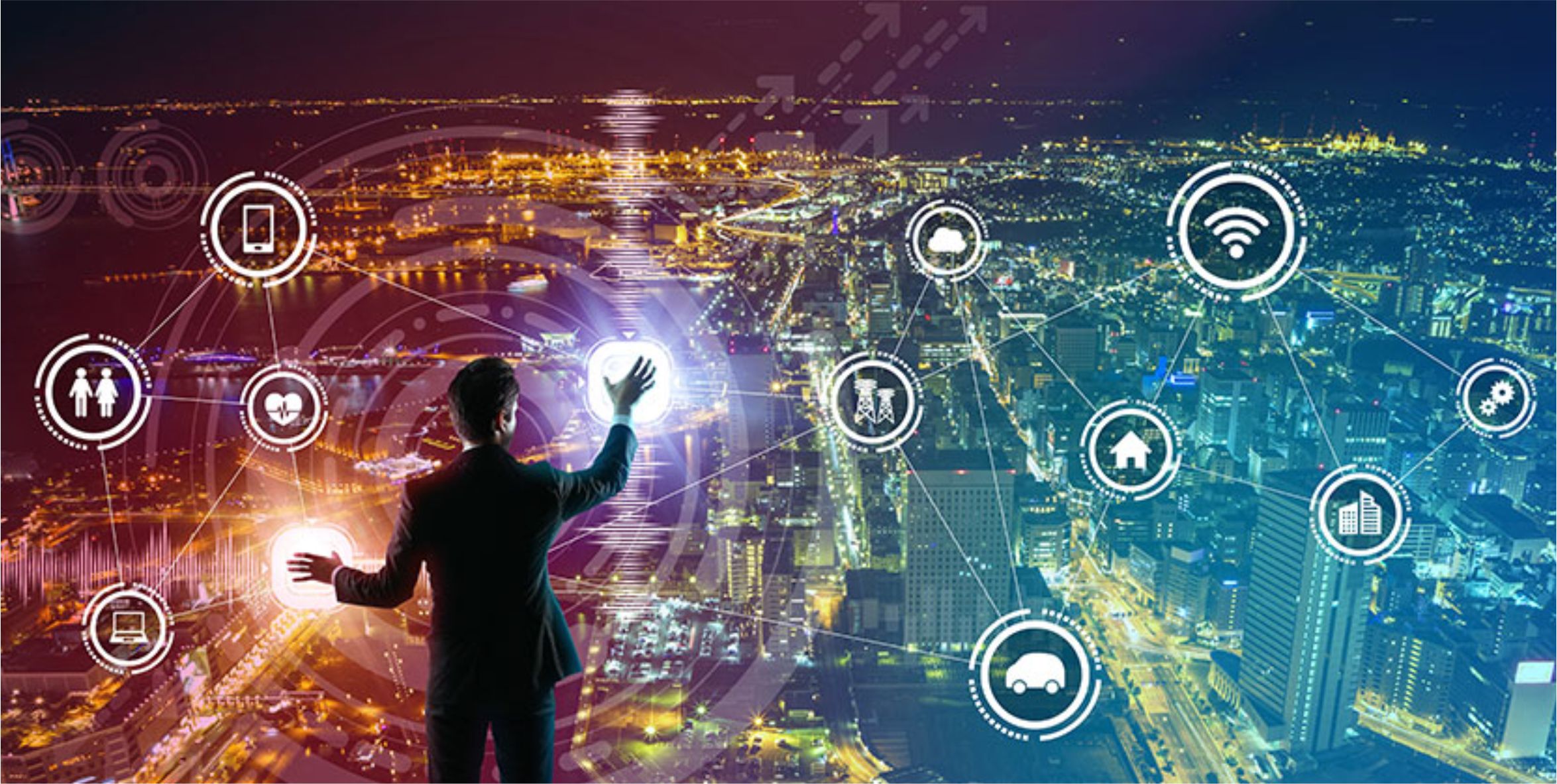 Combining all the latest electronics trends and convergence of IT & OT, digital transformation has been lately emerging as a major sector. Digital transformation changes business processes, activities, operations, and infrastructure to use digital technology to more efficiently serve customers, save money, and provide a better customer experience. Digital transformation refers to society's move to digital technology and the impact of those changes. However, the term is largely used to refer to digital business transformation: the process of a business significantly changing its operations to take full advantage of digital technologies. Organizations are driven to make these changes by consumer demands and expectations, technology improvements, competitive and market forces, and changing regulatory requirements.
Yet, with another recent BCG report suggesting that digitally-influenced sales in emerging markets like China could reach as much as $4 trillion annually by just 2022, there's certainly a lot at stake for businesses in any sector. "The Rotation Champions are well ahead of the rest," Accenture Greater China chairman Wei Zhu warns. "To close the gap, companies should invest in and deploy digital technologies at scale and at speed, and they must seek to create an agile organisation with an innovation culture that will allow them to monetise new ideas."
For the better part of 10 years, digital transformation was, unsurprisingly, about "digital" and how and where CIOs and IT leaders were investing in next-generation technologies. Cloud, mobile, social, apps, IoT, et al., represented significant updates and upgrades to technological infrastructures aimed at scaling and improving operations and performance. But CIOs weren't the only drivers. CMOs recognized the rapid adoption of the same technologies among customers and how they were dramatically reshaping behaviors, preferences and outcomes.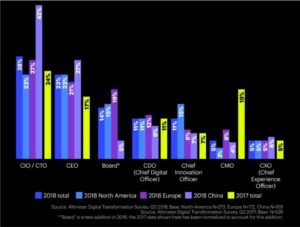 Enhancing Customer Experience
Over the years, the top drivers for advanced digital transformation efforts have consistently revolved around two things: 1) modernizing technologies across the enterprise and 2) investing in modern customer experiences. Now, competing for new market opportunities also becomes paramount. More than half of the companies (51%) we surveyed reported that they are investing in growth opportunities in new markets, making it the leading driver for digital transformation efforts. Studying evolving customer behaviors and preferences rank second at 46%. The third leading driver is increased competitive pressure (41%).
A recent survey of directors, CEOs, and senior executives found that digital transformation (DT) risk is their #1 concern in 2019. Yet 70% of all DT initiatives do not reach their goals. Of the $1.3 trillion that was spent on DT last year, it was estimated that $900 billion went to waste.
Organizations are turning to digital tech – such as analytics – to fully understand their customers. The prevalence and accessibility of mobile and cloud technologies are helping businesses deliver a seamless experience across devices and channels. Furthermore, consumers are expecting efficiency across these channels – agile, real-time experiences which are consistent and satisfying.
Challenges
But integration of digital technologies across fast-growing organizations remains incredibly difficult. Data, apps and even entire teams can remain siloed.
The report finds that the average number of apps used in global organizations is around 900, but the percentage of those being integrated has stalled at just 29% (the same proportion as in 2018). IT infrastructure is frequently to blame for these integration issues.
IT teams are increasingly the key enabler to implement digital transformation within businesses, but the proportion of budgets they can devote to this has remained stagnant. These teams are often required to do more with less year on year.
This lack of integration has a knock-on effect. While 97% of IT leaders say they are currently undertaking or planning to undertake digital transformation initiatives, just 36% believe that they provide a completely connected user experience across all channels.
There is a clear disconnect here, and serious doubts as to whether digital transformation among global businesses is progressing as it should be. Nine in every 10 respondents agree that not successfully implementing digital initiatives will negatively impact revenues.
The Semiconductor Scenario
More semiconductor companies to increase their software capabilities over the next few years, attracted by the potential for high profits. To their credit, many players have acknowledged that previous transformation attempts were subpar and have made some improvements—for example, by taking a new approach to talent recruitment or streamlining product development. These efforts have helped, but they only address a few parts of the puzzle. No company has yet developed a comprehensive approach for navigating all stages of a software transformation.
Digital Transformation Plan
Many semiconductor companies assume that their existing corporate strategy will serve them well for software. But software customers are fundamentally different from their hardware counterparts, requiring more frequent product upgrades and greater ongoing support. To reach them, companies will need a specific plan.
As with hardware, the software strategy will include a few basic elements—product offerings (including the main business opportunity for each one), sources of differentiation, and specific goals, such as the time frame for becoming a market leader. The best strategies will go beyond this, however, by considering market research about common pain points and inefficiencies that a strong software product could resolve. For instance, Intel developed a high-performance software suite to assist with advanced analytics after research revealed that customers wanted help with such tasks. In some cases, companies may also gain a sense of a customer's software priorities and preferences through interactions on the hardware side.
The Digital Twin
The benefits of the smart factory include faster, real-time decisions, with more flexible and efficient business processes. The impact will extend globally, in economic value from waste reduction and increase (U.S.) gross domestic product. Customers benefit through reduced time-to-market and lower costs from more-efficient capital investments and optimized inventories. There is less waste, and a significantly-smaller carbon footprint.
The IoT Strategy
The IoT presents a particularly daunting challenge for traditional semiconductor companies. In the first place, many continue to focus on their largest business segments — desktops, communications, and the like — a distraction from the opportunities offered by the IoT. Second, new market segments for IoT chips demand a much higher level of design heterogeneity and device integration, affecting not just the chips themselves but also what software is needed to run the chips, how the chips are integrated into their respective devices, and the way components are packaged within the devices, which would impact for example, the casing surrounding the chips.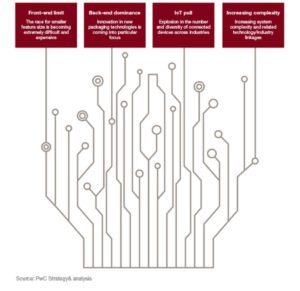 The Challenge Ahead
The current challenge for the largest semiconductor companies is their pursuit of several markets at once. These companies will find it increasingly difficult to compete for customers against businesses that can afford to be more decisive and focused. Many semiconductor companies, for example, currently maintain large units dedicated to cross-industry security, even as they try to pursue customers in specific industry verticals. Such companies' investment and operating decisions could be difficult to reconcile, and their various business units may be unable to support one another in their efforts to build the different capabilities needed to succeed in carrying out these different ways to play.
Strategy for Semiconductor Companies
Semiconductor companies may be tempted to venture into areas where software start-ups are flourishing. Such moves may be challenging, however, since they typically lack the agility and speed of start-ups, as well as their highly specialized software skills. As an alternative, we suggest that semiconductor companies focus on opportunities where they can leverage their existing assets, such as a strong customer base, brand loyalty, a broad hardware portfolio, and domain knowledge.
Consider, for example, a semiconductor company that wants to develop network-communication software. If a start-up already offers data-visualization software that charts network efficiency, it could be difficult to create a competitive offering. A better strategy might involve developing a software program that delivers additional insights based on the semiconductor company's proprietary data, such as the reasons why a network access point had less data throughput on a certain day.
Semiconductor companies should also draw on their long-standing and powerful partnerships with suppliers, IT companies, and connectivity providers as they expand into software, since this will help them achieve scale more rapidly and efficiently. In some cases, they may even benefit from forming alliances with their traditional competitors. For instance, Audi, BMW, and Daimler—normally rivals—jointly acquired HERE, a data-mapping company, from Nokia. In addition to reducing the risks for each company, the acquisition increased their ability to compete with established mapping players. Across industries, many companies have become software leaders by capturing control points—business segments that they can dominate because they offer unique products or services such as software programs based on proprietary data or algorithms. For instance, Siemens captured a control point by creating innovative automation hardware and software for manufacturing industries. The company now dominates this segment and serves 80 percent of original-equipment manufacturer (OEM) manufacturing lines, as well as 14 out of 15 major automotive OEMs.
In the chip landscape, new supercompetitors will eventually arise. They will be the companies or consortia that succeed in building out a dominant cross-industry IoT ecosystem, or that develop a winning combination of chips and services for a particular industry, or that offer a flexible line of products and services to rapidly meet customer needs. Getting there will require ambitious companies to be decisive about their value proposition and the way to play needed to create real value in this new world. They must understand in detail the capabilities they need to carry out that strategy, perfecting existing capabilities and building, buying, or collaborating to gain new ones. They must learn to scale up those capabilities to the degree necessary to make a profit in their chosen markets, and they must understand the degree to which the capabilities they do build will be valued by customers in those markets.