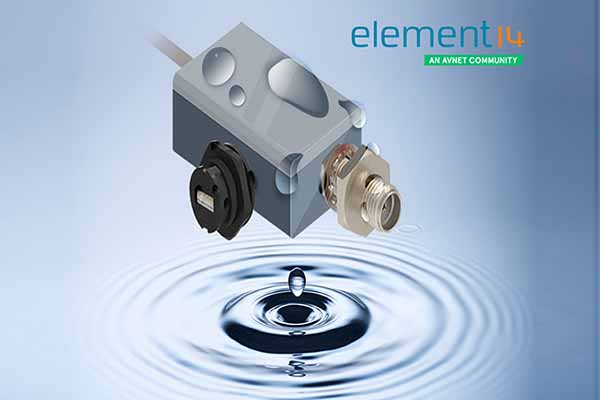 element14 an Avnet community, has announced the Experimenting with Waterproof Connectors Design Challenge, the first community challenge of the new year. Participants will have the opportunity to experiment with Amphenol's waterproof connectors in a watertight enclosure and catalogue their process in a series of blogs.
Many electrical and electronic systems are used in rugged environments where contact with water, sprays, and moisture can impede normal system operation. Ensuring electrical safety and signal integrity when operating in these tough environments requires electronics to be housed in watertight enclosures and interconnected by cables connected to waterproof connectors.
In these environments, panel-mounted waterproof connectors achieve a watertight seal preventing water from leaking into the enclosure. Using a kit featuring waterproof connectors provided by Amphenol CS and Amphenol RF, this competition harnesses the ingenuity of the element14 community to test what they can achieve with waterproof connectors. 
"Challenge after challenge, we are impressed by the creativity and talent of our community members," said Dianne Kibbey, Global Head of Community and Social Media for element14. "We look forward to observing the innovative approaches our members take when using these connectors, as they conduct tests to guarantee electrical safety and maintain signal integrity in rugged environments."
Applications are open now through March 15. Participants will be announced on March 20. The challenge will begin on March 24. Each participant will receive a customized kit worth over $400 consisting of Amphenol waterproof connectors, a customized watertight enclosure by Hammond and the single board computer LattePanda DFR0418.
The challenge is judged on a point-based system, with four ways that participants can win points:
Introductory Blog: Write a blog in the first two weeks of the challenge that describes how the participant will experiment with waterproof connectors. Challengers who complete their blogs before April 7 will earn 60 points.
Final Summary Blog: The most important blog of the challenge. Write a standalone, detailed final summary blog. Within this blog, challengers should restate their experimenting premise, describe their experiments and/or methodology, detail the results obtained, and share any tips and tricks that were discovered. Challengers who complete their blogs before May 24 will earn up to 300 points.
Extra Credit Blogs: Up to 5 additional blogs will be judged by the element14 team. Each additional blog can receive up to 20 points. 
Forum Participation: element14 Community will review the participation in the forum associated with this competition and award up to 40 points based on a participant's forum engagement.
Winners will be announced on May 31, 2023.
Each participant will receive a finisher prize of a AKX00026 Arduino Opla IoT Kit, the runner up will receive a MP710079 US CAL Multicomp Pro 3-Output Programmable Bench Power Supply with Calibration and the grand prize winner will receive a Keysight DSOX1204G Oscilloscope.