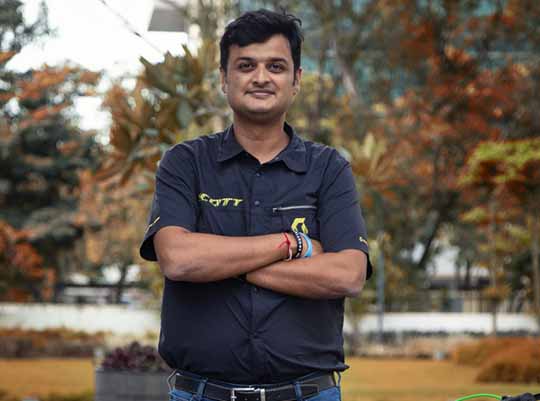 What will urban mobility look like? There is a snowballing player who is already shaping the Indian urban mobility market. Jaymin Shah, MD, Scott Sports India in an exclusive interview with TimesTech Buzz talks about the company's key strategies and USP to expand its presence in the indigenous market, how e-bikes are transforming urban mobility, key challenges and their future plans. Edited excerpts are below.   
TimesTech: Key offering and focus of Scott Sports India?
Jaymin Shah: Our key offering is cycling and allied products. Our range of bikes caters to a leisure rider who rides for fitness needs and to a professional cyclist who needs top-level performance from our Carbon Race bike. Our focus has always been to help grow the sport and cycling as an activity in the country. We were the 1st International brand to set up a business in the country in 2012 because we strongly believe in the potential of the Indian market.
TimesTech: How is e-bike transforming Urban Mobility and how instrumental will Scott Sports India be in this transforming journey?
Jaymin Shah: Globally 35% of all bicycles sold are now Electric bicycles. These scales of production are helping bring down the cost of E-Bicycles as compared to 5 years ago.
In India, Scott is one of the few manufacturers to have launched our range of E-Bikes as early as 2018. We firmly believe in its potential to transform mobility in India and reduce our dependence on fossil fuels in the times to come. We currently sell close to 300 E-Bikes annually and believe that this number can be easily ramped up to 3000 bikes annually over the next 24-36 months. Each of these bikes is priced at INR 190,000 and above.
TimesTech: In a situation where India's major cities are tussling with growing pollution and traffic menace, hence in this scenario how can e-bicycles be a saviour for Indian cities? 
Jaymin Shah: E-bike extends the joys of cycling in every way and makes the activity of cycling more enjoyable. It is great for commuting, and you can arrive at the location/office feeling fresh. You'll still get a great workout on an electric bike as you still need to pedal. A healthy and sustainable lifestyle will positively impact the issues of pollution and traffic in major Indian cities. The idea is to get more people to ditch fossil fuel-powered vehicles in favour of electric bicycles coupled with a robust public transport system in our major cities.
TimesTech: Importance of Electric mobility in India and How your company strategies to spread the word creating a major market in the country?
Jaymin Shah: It is no secret that the world is turning towards more sustainable and environmentally friendly ways of living and co-existing with nature. We intend to convey this message and amplify the benefits associated with electric mobility to all potential customers in all the major markets we have. We have been conducting Demo Rides at a majority of our Dealer networks for all customers who are willing to take the plunge in the world of personal mobility powered by electric bicycles.
TimesTech: Challenges and Scopes in India to promote e-bicycles?
Jaymin Shah: India is the fastest-growing developing market where people are open to change and new technology; therefore, we see a massive scope in e-bicycles. And the entire ecosystem is focusing on sustainable and healthy options. One of the biggest challenges in making the latest technology of electric bikes available in our market is the high custom duty rates on E-Bicycles in the country. As a result, a majority of local manufactured electric bikes are based on technology that is obsolete and at least a decade old.
TimesTech: What should the Government do to help encourage e-bicycling?
Jaymin Shah: The government is already working on creating infrastructure to help promote cycling. We are a huge country with a massive population which means that things move at a very conservative pace. However, one way of accelerating the adoption of electric bicycles is by making it more affordable and accessible to a large portion of our population by reducing import duties of the latest technology for E-Bikes.
TimesTech: The ban imposed on the import of tyres and tubes for all vehicles including cycles in India and how it is affecting the bicycle industry? 
Jaymin Shah: The uniform ban is not the best solution to promote Make In India. Whilst Make in India is a fantastic initiative it needs to be implemented in categories where production capabilities already exist. Unfortunately bicycles tyres and tubes manufactured in India are for the mass market products only. For specialized and high-end bicycles we do not have local manufacturing and as a result, have to depend on Imports. If this blanket ban is reviewed it will help promote the popularity of cycling in the country
TimesTech: Key strategies and USP of Scott Sports India to expand your presence in the indigenous market?  
Jaymin Shah:
Setting up Scott Technology Centre across the country for an enhanced riding experience
After Sales Service, Mechanic Training to store staff
Giving the consumer a superb buying and riding experience
Bike Fit Services- is a process of adjusting a bike for a cyclist to optimize their comfort, performance and efficiency. SCOTT Sports India is a premium brand that relies on Smartfit by Radlabor as a professional Bike SIZING and Bike FITTING partner. The systems are used by SCOTT dealers worldwide as a fast and accurate way of finding the optimal bike size and ideal position for every customer.