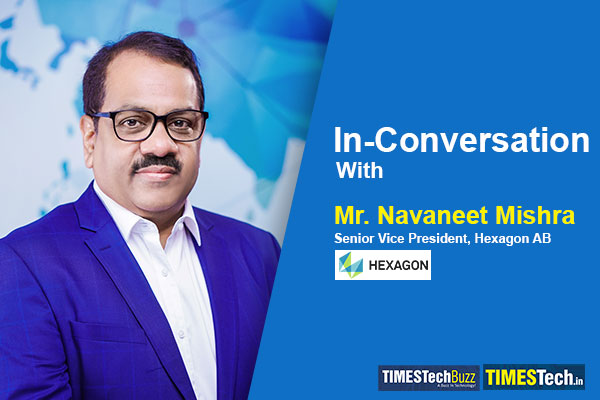 In an exclusive interview with TimesTech, Mr. Navaneet Mishra, Senior Vice President of Hexagon AB, sheds light on Hexagon's pivotal role as a global leader in digital reality and autonomous technologies. With cutting-edge laser and touch scanners, advanced design and simulation software, and a strong emphasis on customer-centricity, Hexagon's innovations touch 75% of cars, 90% of aircraft, and 85% of smartphones worldwide. Mr. Mishra also discusses the transformative impact of Hexagon's largest R&D hub in India, its strategic focus areas, and initiatives like the Geospatial Experience Center and India's first AI Community Center.
Read the full interview here:
TimesTech: Can you explain what makes Hexagon a global leader in digital reality and autonomous technologies and how these innovations are shaping the future?
Mr. Navaneet: A real Smart Digital Reality solution is one that can depict a real-world object or system completely in a digital environment, and make it smart such that the digital depiction understands real-world rules and triggers actions to optimize outcomes for the real world.
Hexagon has the best-in-class laser and touch scanners that can capture the world with high accuracy and the software to render it accurately in digital. Our cutting-edge design and simulation software can place it in a world where physical laws can be applied. Our geospatial and positioning solutions can place it at a precise location and orientation. On top of that, we have advanced autonomous technologies that collect data from sensors and trigger an action using IoT platforms.
Pull all of these together – and what you get is world-class digital reality and autonomous technologies that make Hexagon a global leader.
Today, Hexagon technologies touch 75% of all cars, 90% of all aircraft built and 85% of all smartphones produced in the world. We have delivered more safe, reliable autonomous driving research vehicles than any other company in the world. Our tech has been instrumental in building the world's longest railway tunnel – the Gotthard Base Tunnel in the Swiss Alps, and the world's tallest tower – the Burj Khalifa. Over 50% of all geospatial imaging and processing in the world today happens on Hexagon's technologies and over 1 billion people are protected by Hexagon's public safety solutions.
TimesTech: Tell us about some notable achievements from Hexagon's R&D Center in India and the impact on Hexagon's global operations.
Mr. Navaneet: Hexagon's R&D Center in India is today the single largest R&D hub for the company. We have a team of over 2,000 talented engineers, technologists and solution makers who are helping the company deliver breakthrough innovations in products and platforms.
We have achieved this scale and become an integral part of the company's R&D vision by expanding the breadth and depth of functional and technical deliveries across the globe, by pioneering internal innovation practices that are now adopted across different parts of the company and investing in people practices that are considered "to-be" benchmark in other R&D hubs in the company.
We had the foresight to invest in both the Technology and the Process aspects of our business and extend our capabilities to R&D needs from all Business Units. Today, for any line of business when they plan to set up 'new' teams – India R&D center is their first choice to grow at.
TimesTech: How has Hexagon's R&D Center in India evolved under your leadership, and what are the primary research focus areas?
Mr. Navaneet: In the last 10 years, we have seen significant growth in Hexagon's R&D Center in India – in the breadth and depth of what we do for the overall business, in our scale, in the value we create for the organization and for our customers.
Some of the biggest delta of change has been in our perspectives, practices and value-creation. Such as making Customer Connects. From a conventional development organization, we have evolved to having structured customer interactions across all lines of businesses.
We also made a conscious investment in Externalizing Innovations through hackathons, co-solving with academic institutions and supporting startups with technologies to build PoCs and solutions. Recently we also launched a special Startup Catalyst Program for Indian startups where they can win a chance to co-solution with Hexagon and also Go-to-Market with us.
We've adopted modern, transparent, and empowering policies for our people, and pioneered some people practices within the organization.
We have also deeply invested in Social Responsibility, empowering women in six villages across Telangana, building the first AI community center in the country and opening up Labs at top engineering colleges in the state.
Our primary research at the R&D Center focuses on core visualization solutions, cloud-native technologies, and collaboration platforms.
TimesTech: How has your experience at SAP Labs India influenced your approach to leading Hexagon's R&D in India?
Mr. Navaneet: I spent over 16 years at SAP Labs India before joining Hexagon. That experience gave me a deep understanding of the business of technology, of diverse global needs, of ways to create change, and to work in and lead cross-cultural teams.
Some key leadership principles that have shaped me since are – Customer Centricity, Building Flexible Products, a Culture of Open Communication and Quality as a non-negotiable. That led to us doing new and different things at the R&D hub – for example creating buy-in time to allow people to understand and participate in change, introduce new practices, focus on walking the talk.
What I have also learned overall in my career is that people will choose to do more, to be more, if they are happy and motivated and relate to a vision. That's something I always set out to do, across all levels of our organization. What also motivates people in centers like ours is how the rest of the business sees them. We created more visibility for the work that's done here, and people have started seeing us as "ingenious and inventive people".
TimesTech: Could you share the goals and impact of initiatives like the Geospatial Experience Center and India's first AI Community Center?
Mr. Navaneet: We set up the Geospatial Accelerator Zone at T-Hub in Hyderabad to enable startups with free access to the most futuristic hardware and software solutions in geospatial. Startups would find it difficult to access these technologies because of the kind of investments it calls for. We wanted to help them build prototype solutions that are directly used by customers in India.
I am happy to say that today more than 10 startups have benefited from the technologies we opened up to them, and the help they get from the subject matter experts from our R&D Center – and have successfully created real-world proof-of-concepts that take them several steps closer to solutioning and selling their ideas to the end-customer.
Hexagon's R&D Center in India was the first to open a community center for Artificial Intelligence in the country. This was a grassroots endeavor to take AI directly to senior school students and engineering grads, so they learn basic and advanced skills more easily. We believe that when they embrace AI early on in their approaches to problem-solving and opportunity-creation, they can help do this for India Inc, and also for the Indian public sector.
Our goal was to train and certify 300 candidates in a year. Due to COVID, we went heavily hybrid, and in the last 3 years, we have on-boarded more than 33 engineering colleges and 7 schools and have trained and certified over 3,700 students, exceeding our own expectations.
TimesTech: How has your academic and professional background shaped your leadership style and innovation approach at Hexagon and in the tech industry?
Mr. Navaneet: Academics helped strengthen three things in me. First, to not be afraid of complex problems and not deliberate too long on them. Second, the best way to solve a complex thing is to break it into smaller chunks and solve them piece-by-piece. Third, preparing and revising invariably increase chances of success.
Professionally four big learnings. First, to have great empathy for the customer. Second, that incremental innovation is as good as any other kind. We can go ahead and make changes, without waiting to disrupt the market. Third, the value of an idea has nothing to do with where it originates or even in what situation it originates in. Fourth, people matter above all else.
All of these have been deep influences into how I think, into what I value and how I lead – and most importantly how I work with people to create the change we want to see in the world.