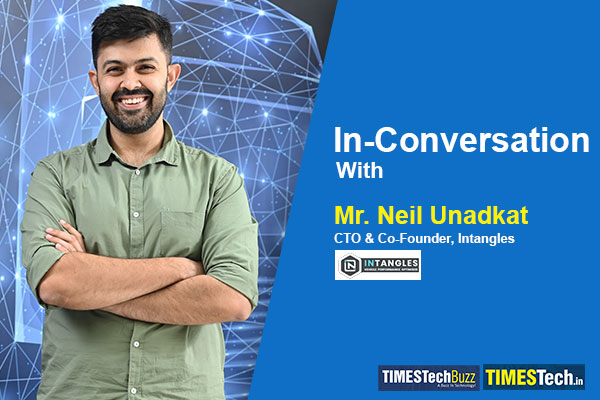 Intangles, led by CTO & Co-Founder Neil Unadkat, has emerged as a trailblazer in the mobility sector, leveraging data sciences and cutting-edge technology. With a focus on predictive health diagnostics for commercial vehicles, their journey has been marked by significant milestones, strategic partnerships, and a commitment to innovation. The company's Digital Twin technology and machine learning algorithms are reshaping fleet management, ensuring vehicle health, optimizing fuel efficiency, and enhancing safety. As they expand globally, Intangles adapts its technologies to meet the unique needs of diverse markets, solidifying its position as a leader in connected vehicle solutions.
Read the full interview here:
TimesTech: What inspired the founding of Intangles and its strong focus on predictive insights for the mobility industry?
Mr. Neil: Our passion for data sciences and automobile technologies led us to the exploration of onboard diagnostics data on passenger vehicles. It was fairly discernible that there was limited scope for predictive health diagnostics on passenger vehicles for good/routine upkeep of personally owned and operated vehicles. This led us to leverage data streams on commercial vehicles, including trucks and buses. On one of our routine inspections, in agreement with a driver, we used our device to better understand the health of a truck. The findings pointed to various alerts being raised when it came to the health of the engine, battery and alternator. This led us to inspect another truck that was fairly new but yielded the same results. This opened door to a vast arena of opportunities.
The first batch of vehicles evaluated were heavy commercial vehicles with payload capacities upwards of 40 tons. In terms of fuel economy and the impact of fuel on TCO (Total Cost of Ownership), they were what automobile pandits might classify as 'Gas Guzzlers' of the highest order with average fuel economies in the range of 2.5 to 3.5 kpl of diesel. An astonishing 40% of the test bench could be mapped to issues with mission-critical components in the fuel injection, air aspiration and exhaust after-treatment systems. Maintenance of reported issues led to a staggering 8% increase in fuel efficiency across the test bench fleet. This is where the proverbial bulb started to shine brightly in vivid colours.
With a clear use case in sight, we developed our own hardware interface capable of collecting data from CV (Commercial Vehicle) platforms across OEMs, fuel injection and emissions technologies. This was augmented with a state-of-the-art edge-to-cloud communication backbone and a suite of proprietary algorithms targeted towards predictive health alerts for engine overheating, battery and alternator failures, driver behaviour profiling, fuel pilferage and geospatial intelligence.
TimesTech: Could you share the key milestones and partnerships that have contributed to Intangles' significant growth?
Mr. Neil: Intangles embarked on its journey in 2016, founded by a team of four co-founders. Their commitment to innovation and excellence quickly garnered them acclaim. In 2017, they clinched the Top Product Showcase Award at NPC (National Productivity Council) and the PRAWAAS Excellence Award for their Most Innovative Solution, setting the stage for their future success. The year 2018 marked a significant milestone with the launch of their Digital Twin platform, highlighting their dedication to cutting-edge technology.
By 2019, their prowess in the industry was validated as they received the prestigious Indian Commercial Vehicle Telematics Customer Value Leadership Award from Frost and Sullivan. In 2020, they made substantial strides by acquiring major key customers and OEMs like Mahindra, redBus, Intel, Linde, Greaves Cotton, Blue Energy, and BPW, strengthening their presence in the market.
The year 2022 brought further recognition as they clinched the SuperStartUps Asia Gold Award, solidifying their status as a standout startup in the region. In 2023, Intangles achieved a pivotal moment by securing $10 million in funding during their Series A round and winning the Aegis Graham Bell Award for Innovation in Connected Vehicles. Their commitment to technological innovation was underscored by a patent granted by the US Patent Office for their Sub-Resolution Fuel Measurement Technology.
Recently, they were selected by Forbes DGEMS as one of the Select 200 Companies with Global Business Potential, highlighting their potential to make a significant global impact. The journey of Intangles has been marked by continuous growth, innovation, and recognition, positioning them as a key player in the connected vehicle industry.
TimesTech: How do Digital Twin technology and ML algorithms work together to provide predictive insights in the mobility sector?
Mr. Neil: The primary problem that we solve is bringing in much-needed real-time insights into the performance of vehicles and giving precise and timely suggestions to fleet operators, allowing them to make informed decisions. We are primarily addressing challenges pertaining to the following:
Historic and real-time data helps deliver alerts of possible failures, leading to a significant reduction in the on-road breakdown of vehicles, thereby increasing operational hours and lowering maintenance/repair costs. Averting an imminent break-down saves unplanned costs towards towing, making alternate arrangements for goods or passengers and post-failure repairs and replacements, which may prove costly. With Intangles, you have the necessary information related to fault codes that may arise in your vehicles, whether minor, major, or critical ones, at your fingertips, and you can look at remedies depending on the severity. Along with faults, our proprietary predictive algorithms, coupled with machine learning, help fleet operators conduct preventive and proactive maintenance, making sure their vehicles stay healthy.
Fuel and AdBlue Monitoring
Fuel theft has been a major cause of concern among fleet operators and vehicle owners for a long time. There have been quite a few fuel-tracking devices in the past; however, none were effective enough to provide them with intricate details regarding the exact quantity of fuel stolen, with the exact location and time of the pilferage that could support the claim. Our ML-based fuel and AdBlue tracking algorithms can detect the exact amount and location of fillings/pilferages and, in turn, help compute the accurate cost per km of fuel consumed.
Driver Behaviour Monitoring
Around 90% of all road accidents occur due to driving errors. In addition to the loss of lives and goods, accidents also significantly, directly or indirectly, impact costs such as repair costs, increase in insurance premiums, and possible penalties towards underperformance. A great way to check on the increasing number of accidents is to keep track of driving behaviour and offer personalised training to each individual driver on a regular basis. Our comprehensive solution tracks more than 20 exceptions in driver behaviour like overspeeding, idling, hard braking, free running, etc., which helps generate actionable insights. Our Driving Scorecard feature is an automated peer-to-peer ranking model that enables you to promote and incentivise good driving behaviour. It provides accurate feedback on gear utilisation trends, idling instances and other erroneous driving practices, thereby improving fuel efficiency and the overall health of your vehicle.
For the EV segment, we have built comprehensive feature sets around cloud-integrated range prediction. Range prediction has always been a major roadblock when it comes to the widespread adoption of EVs, and different vehicles on the same route are found to exhibit a high level of variance in battery discharge rates (2%-15%). In addition to that, the Digital Information System (DIS) estimates for Distance To Empty (DTE) are highly unreliable. As a result, ad hoc charging sessions based on spurious DTE readings lead to schedule disruption. Our platform provides comprehensive data on the number of charging cycles from the moment our device is installed on the vehicle, as well as backtracked data from the moment the vehicle hits the roads. This is done by taking into account the Battery Management System (BMS) degradation levels over time. We also provide accurate SOC and DTE predictions considering varying ambient and driving conditions. In addition to weather forecasts, the model has been trained to make predictions around motor torque, wheel speed and sunset-sunrise trends, which influence HVAC and lighting. This multi-parametric approach enables consistently accurate predictions across dynamic ambient, traffic conditions and routes.
TimesTech: Can you provide specific examples or case studies demonstrating the positive impact of Intangles' technology on clients?
Mr. Neil: We have brought about a game-changing impact for fleets of numerous fleet owners across India, revolutionising the way they manage their fleets and ensuring the safety and efficiency of their operations.
We showcased our commitment to meticulous vehicle health analysis through our ML-driven system, which provided early detection of engine overheating for a cargo business customer. This alert system proved to be a game-changer by preventing a potential breakdown and engine block failure. By issuing this alert, we not only saved the client from unexpected operational disruptions but also exemplified our dedication to the highest standards of vehicle health monitoring.
In another critical incident involving an industrial gas tanker equipped with our device, the vehicle caught fire. However, it was through our analytical prowess that the actual cause of the fire was unveiled. Their expert assistance not only resolved the immediate crisis but also played a vital role in safeguarding the client's safety and maintenance standards. By identifying and rectifying the root cause, we not only prevented the compromise of these essential standards but also raised awareness to avert similar future occurrences. This success story of our swift and accurate analytics did not go unnoticed. In fact, it earned us a significant vote of confidence from the client. Impressed by the effectiveness of our technology and our commitment to ensuring safety, the customer made the strategic decision to deploy our devices across their entire fleet and extended the deployment to their third-party vendors.
We have also played a pivotal role in enhancing fleet performance and safety for an organisation by delivering real-time data and analytical insights. This comprehensive approach allowed the organisation to gain a deeper understanding of their fleet's performance and the driving behaviour of their drivers. By closely monitoring key driving behaviour parameters and introducing an innovative 'Inline Driving Scorecard' feature, we enabled the organisation to make data-driven decisions that had a profound impact. The results speak volumes: there was an impressive 85% reduction in accidents and safety incidents, signaling a significant improvement in overall safety standards. Moreover, the introduction of these insights led to an 85% reduction in idling loss, resulting in substantial cost savings. The organisation also witnessed a remarkable 99% reduction in over-speeding instances, underscoring the enhanced safety measures, while a 98% reduction in free-running instances highlighted improved efficiency.
We have harnessed the power of machine learning algorithms to conduct a comprehensive analysis of data, ultimately leading to the optimisation of fuel efficiency for a fuel transportation client. This data-driven approach proved to be a game-changer as it empowered the client to enhance their operations and reduce costs significantly. One of the key insights derived from this analysis was the importance of encouraging drivers to make a simple change in their driving habits: switching from Heavy mode to Light mode. By adopting this more fuel-efficient approach, the client achieved a remarkable 20% increase in mileage. This seemingly minor adjustment had a substantial impact on the bottom line. It not only contributed to cost savings by reducing fuel consumption but also improved the overall efficiency of the client's fleet operations. Our data-driven solutions, in this case, showcased how small changes could yield substantial results and underscored the company's commitment to delivering innovative and practical solutions to enhance the performance of their clients' fleets.
Furthermore, we have partnered with Mahindra & Mahindra as Tier-I vendors, forming the technology backbone behind their iMaxx Technology. We also power Mahindra's Truck & Bus, Construction Equipment iMaxx and their NEMO ecosystem as part of Mahindra Electric. We collaborate with Greaves Cotton to power one of India's most popularly acknowledged connected genset solution, Greaves Genius. We are also prime telematics partners for RedBus, and most of their partnered buses receive location tracking using our platform. For the rest of our partners, we are helping design Machine Learning algorithms to be integrated with our Engine Management Systems (EMS) for diagnostics in the context of better emissions upkeep.
TimesTech: As you expand into new markets like Asia and the U.S., how will you tailor your technologies and strategies to meet the unique needs of these regions and customers?
Mr. Neil: In several regions, we encountered a disparity where the technological capabilities for processing data were not as advanced as expected. The deep-seated experience and insights that we have gained through our collaborations with Indian fleet operators have equipped us with the ability to craft valuable use cases overseas. Our platform modifications for seamless localisation take into account variations in units such as miles and kilometers, gallons and liters, and even measurements like Gasoline Gallon Equivalent (GGE) for natural gas equivalence. Aligning local translations and terminologies with our existing platform means that operational readiness can be achieved in a month or less. This streamlined approach serves as a crucial facet of our overarching global strategy. Our approach begins with a careful assessment of new markets, ensuring that our resource allocation is efficient and prioritises return on investment. Addressing regional preferences is paramount, and we have teams for after-sales services tailored to specific regions. Our pricing strategy is designed for self-sustainability, allowing us to establish a strong market presence before considering further expansion. The presence of market-specific hubs and teams ensures not only efficient operations but also top-notch customer support.