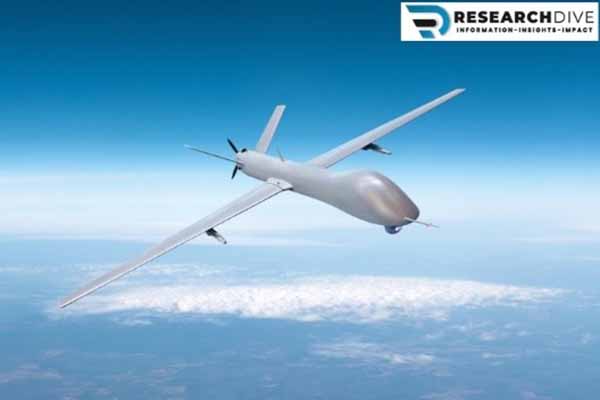 There has been an increasing prevalence of unmanned aerial vehicle (UAV) drones across the globe owing to their extensive applications, particularly in the military and defense sector so as to stay updated about the activities of the enemies, apart from carrying out target acquisition, rigorous surveillance, drone strikes, reconnaissance, and much more. They are also widely used to interpret natural and man-made disasters in areas and mitigate potential threat.
Increasing initiatives taken by the government and persistent technological advancements in the field of unmanned aerial vehicle drones has significantly accelerated their demand in a variety of industries including defense & military, event industry, agriculture management, drone delivery service, construction, and others. Moreover, its simple applications and no requirement of physical presence of a human being has further enabled users to carry out safe and secure operations. Its surging demand in the military and defense sector is mainly due to its remote-controlled accessibility which appears as a discreet alternative, appreciably lowering the chances of getting caught by the enemies; the chances of being harmed in case of exhaustive missions notably reduces close to zero.
Currently, the implementation of lockdowns has had a devastating impact on a number of industries including the event industry. However, before the outbreak of the pandemic, drones were incessantly used in the event industry so as to perform a rapid analysis and precise mapping of the area where a particular event was to be organized in order to have a better outlook on potential spatial possibilities for efficiently managing the events. COVID-19 has had an adverse impact on the global event industry due to the stringent regulations imposed by the government of various countries across the globe, putting a stop of all sorts of social gatherings including functions like birthday or fresher parties, anniversaries, marriages, festivals, and others in order to curb the spread of the virus during the pandemic.
In addition to that, unmanned aerial vehicle drones are also enormously used in the agriculture industry to enhance agricultural operations, maximize crop production, and invigilate crop growth. Besides optimizing basic agricultural operations to improve crop yield, the availability of imaging and sensing capabilities in drones remarkably provides a generous aerial view that helps in determining and mitigating pest and fungal infestation on crops, irrigation issues and even soil variation. According to the report published by Research Dive, the global unmanned aerial vehicle (UAV) drone market is expected to generate a revenue of $55,649.0 million by 2027, growing exponentially at a CAGR of 19.9% during the forecast period 2020-2027.
Increasing Prominence of Drone Package Deliveries
Nowadays, delivery time is a crucial aspect for online shoppers across the globe. It indeed sounds too good to be true that soon drones will be delivering our food and retail products instead of delivery executives. But yes, extensive trials of unmanned aerial vehicle drones for package deliveries have already been rolling out in various countries across the globe because it's a win-win for both the customers as well as the companies delivering it, owing to its mutual benefits. Numerous companies have already started offering their services to a wide range of customers. Amazon completed its first drone delivery in December 2016 through its sustainable service called Amazon Prime Air in just 13 minutes. It is futuristic delivery service that safely delivers packages to customers in or under 30 minutes using autonomous unmanned aerial vehicles. Apart from Amazon, other illustrious companies that have initiated drone package delivery are FedEx, Zipline, Wingcopter, UPS Flight Forward, Wing, Matternet, Flytrex, and more.
Admirable Benefits of Deploying Unmanned Aerial Vehicle Drones for Delivering Packages
An unmanned aerial vehicle drone is an aircraft that does not have any human pilot, passengers or crew on board, and hence they can be efficiently controller through a remote by human operator. These seamless robot-like vehicles can notably provide a great deal of benefits not only to the customers but also to the company delivering it. Some of their immaculate perks are given below.
Reduces Delivery Time
Drones ensure a speedy delivery at the shortest period of time for the customers depending on the origin of the retailers and the location of the customer. They follow a pre-planned, optimum path for the delivery of the packages, guaranteeing a much a faster delivery than the conventional methods.
Lowers Traffic Congestion
Companies across the globe are meticulously devising and adopting strategies to extensively adopt drone technology for package deliveries, which would considerably reduce a massive number of vans and vehicles on road. This will significantly lower traffic congestion, particularly in the densely populated regions.
Minimizes Overall Transportation Cost
Companies adopting drone delivery services for delivering packages can appreciably reduce immense expenses that are otherwise done on the conventional delivery vehicles, considering rising fuel process and potential damages during accidents on the cargo.
Substantially Reduces the Environmental Pollution
Delivery Drones are considered to be a seamless and sustainable method for delivering packages rather the delivery vehicles as they dramatically reduce the amount the carbon emissions, profusely saving the environment to an extent.
The Way Ahead for Unmanned Aerial Vehicle Drones in the near Future Increasing internet penetration, subsequent rise in the number of online shoppers, increased standard of living among people, and rising carbon footprints across the globe will pave the way for unmanned aerial vehicle drones in the coming years. In addition, persistent technological advancements in autonomous drones, rising prices of fuels, and strict regulations imposed by the government of various countries across the globe on the increasing carbon emissions is further expected to bolster the demand for unmanned aerial vehicle drones in the near future.
About the Author:
Shreeras Shetty is currently working in the content writing industry and has a Bachelor's degree in management studies specializing in marketing. He is passionate about writing and is gaining a significant experience in the Market Research Industry. Outside the office, Shreeras is actively engaged in recreational activities like playing football, trekking, travelling, and athletics.