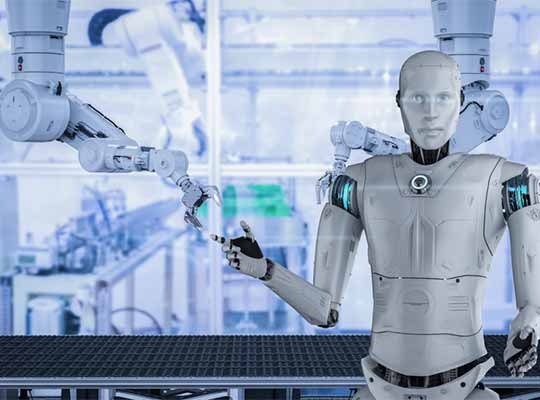 Industry 4.0 has a tremendous impact on businesses globally. This fourth industrial revolution has transformed every organization digitally in each aspect. Business leaders globally are looking out for robust technologies. Because they want to automate most of their processes; to increase their accuracy and efficiency. Business process automation helps to eliminate the efforts to complete repetitive tasks.
What is robotic process automation (RPA)?
RPA is a set of algorithms to simplify the design, deployment, and management of software robots. They are capable of imitating human actions when it interacts with the digital system or software. These algorithms can do anything that a human can do. For instance, this technology can understand what is there on the screen and navigate through the system. Additionally, it is also capable of finding and extracting required data. RPAs are capable of performing defined tasks quicker than a human being with a pause or a break. Moreover, they are consistent at completing the task all round the clock.
What is the impact of robotic process automation (RPA) on your business?
RPA is a robust tool that helps to simplify the work process to increase efficiency. It assists businesses to be responsive and increase their flexibility to increase profits. This technology helps to enrich the employee experience, engagement, and efficiency by eliminating tedious tasks.
According to a study with global executives, approximately 63% use RPA technology in their process. RPA helps to enhance the digital transformation efforts of your business. Because; this technology is a perfect tool to automate traditional processes without an API or virtual desktop infrastructure.
Robotic process automation helps business owners to minimize the overhead and achieve tasks quickly. As a result, businesses will get a significant amount of profit margins by reducing operational costs. This technology has effective resilience because its efficiency does not impact even when there is an increase in the workload.
Facts and figures:
Businesses with RPA Implementation have reduced their manual errors by 57%.
Another research states, around 92% of leaders agree that this implementation helped them; to meet and exceed the compliance parameters.
Around 68% of the global workforce thinks that automation will help them to increase their productivity.
Approximately 60% of the employees feel that automation helps them to focus on valuable tasks.
Around 57% of the employees believe that robotic process automation helps to increase workforce engagement.
RPA is a revolutionary technology that is transforming the ways we work. This technology replicates human intelligence to complete tedious and menial tasks. For instance, RPA completes tasks; like recording and processing data, copying, extracting and moving files or folders. Moreover, businesses can use this technology to login into the applications or fill forms automatically.
The best software robots are capable of completing complex tasks with ease. For example, it can analyze text, engage in chats, and converting unstructured data to structured one. However, businesses with complex needs can integrate advanced machine learning tools to make data-driven decisions.
As robotic process automation takes care of the menial, tedious, and repetitive; business processes. Your workforce can concentrate on designing and implementing the best strategies to accomplish goals and interact with customers. RPA is a catalyst to achieve goals, increase productivity, accuracy, and efficiency.
This technology is a perfect tool for any business irrespective of its size, industry, or type. Many business leaders use RPA to simplify specific operational tasks and increase team efficiency. RPA has an eminent impact on CRM, HR, finance, marketing, and other business departments. This technology will help the healthcare, manufacturing, private, and public sector. Because; it helps to drive more results with faster processes and fewer mistakes.
RPA helps to yield a higher return on investment (ROI) because it needs less upfront cost. Many business leaders implement this technology because it is scalable, reliable, and accessible. Furthermore, it also helps to build low code algorithms to customize the automation as per business needs.
Don't get confused between robotic process automation (RPA) and artificial intelligence (AI):
There is a vast difference between RPA and AI. Integration of RPA and AI will help to explore new opportunities for your business. The advanced RPA tools have inbuilt features like machine learning, natural language processing, and image recognition. AI with RPA helps to enhance the capabilities of the robots to process complex tasks. This integration helps business to analyze the unstructured data and convert into a structured one. Furthermore, it makes the system capable of understanding the speech and interacting with the chats.
We understand that technology can be overwhelming at times because of constant evolution. As a result, it is a challenging task to choose the right technology for your business. Technology Counter is the fastest-growing tech recommendation platform. Visit https://technologycounter.com  to explore, analyze and select the right technology for your business.