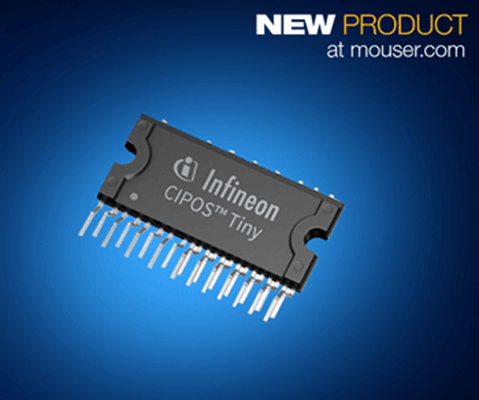 June 13, 2019 – Mouser Electronics, is now stocking the CIPOS Tiny three-phase inverter modules from Infineon Technologies. The CIPOS Tiny are Infineon's newest generation of Intelligent Power Modules (IPMs), offering very high power density for variable-speed motor drives in products, such as washing machines, range hoods, room air conditioning, and commercial and industrial fans.
The Infineon CIPOS Tiny three-phase inverter modules, available from Mouser Electronics, use the latest Infineon TRENCHSTOP IGBT 6 to enable maximum efficiency in a footprint 33 percent smaller than the CIPOS Mini series. The modules incorporate a single three-phase, level-shifting high voltage driver IC and are compatible down to 3.3 V controller outputs. The CIPOS Tiny series features a blocking voltage of 600 V and four output current classes from 6 A to 20 A. With features such as under-voltage lockout, a high-precision temperature monitor, and over-current protection, the modules deliver fail-safe operation with high system-level protection.
Mouser is also offering multiple evaluation boards with different variants of the CIPOS Tiny modules on board. The easy-to-use boards work with the iMOTION Modular Application Design Kit (MADK) to help minimize development time.
To learn more, visit www.mouser.com/infineon-cipos-tiny-inverter-modules.
With its broad product line and unsurpassed customer service, Mouser strives to empower innovation among design engineers and buyers by delivering advanced technologies. Mouser stocks the world's widest selection of the latest semiconductors and electronic components for the newest design projects. Mouser Electronics' website is continually updated and offers advanced search methods to help customers quickly locate inventory. Mouser.com also houses data sheets, supplier-specific reference designs, application notes, technical design information, and engineering tools.
For more information, visit www.mouser.com.