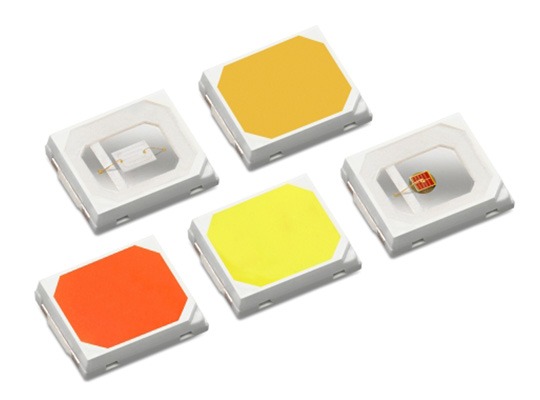 29 Nov, 2018: Lumileds has announced the Luxeon SunPlus 2835 family of packaged LEDs for horticultural applications, extending the SunPlus portfolio that initially came to market in 2016. The new LEDs are offered in a cost-effective mid-power LED package with a 28×35-mm footprint as the model number implies. Monochromatic red and blue LEDs along with phosphor-converted white, lime, and purple LEDs enable significant flexibility in luminaires designed for horticultural applications.
The move by LED manufacturers toward horticultural-specific portfolios is important for a number of reasons. As plant science advances, the industry is gaining a better understanding of ideal spectrum, both for different cultivars and even the same cultivar at different stages of plant growth. And LED manufacturers such as Lumileds have responded with all new components that would not be useful anywhere but in the target application.
Lumileds has gone a step further in acknowledging the emerging metrics specific to horticultural lighting. We have covered those metrics in a feature article on the application. Moreover, industry organizations such as the DesignLights Consortium (DLC) are establishing performance requirements based on the new metrics.
Lumileds' new 2835 SunPlus packaged LEDs are offered in several color variants to meet many horticultural-lighting system design needs.
For its SunPlus products, Lumileds tests and bins all of the LEDs based on photosynthetic photon flux (PPF). Turning to horticultural centric metrics simplifies the task of solid-state lighting (SSL) product developers selecting packaged LEDs. Moreover, Lumileds announced a Horticulture Lighting Calculator in early 2017 that enables a quick evaluation of horticultural-centric performance based on a specified mix of LEDs. That calculator is directly accessible from the Lumileds website.
The new 2835 family includes royal-blue, red, and far-red LEDs that are often mixed in luminaire designs based on the plant photosynthesis process and chlorophyll absorption peaks and the fact that far red can positively impact plant growth. Lumileds refers to the white LEDs as Horticulture White with the components featuring a relatively uniform spectral power distribution (SPD) across wavelengths above the blue peak. Lumileds had previously released the results of a research project undertaken at the Lighting Enabled Systems and Applications (LESA) laboratory located at Rensselaer Polytechnic Institute that indicated the SPD of the Horticulture White LEDs improved yield in growing lettuce.
The purple phosphor-converted LEDs use a blue pump and red phosphor and can deliver a mix of blue and red energy from a single packaged LED. That concept was in part a reason why Lumileds won an LEDs Magazine Sapphire Award for the original SunPlus family. The company offers three versions of the 2835 purple with a choice of 2.5%, 12.5%, or 25% of the output in the blue spectral range and the remainder in the red range.
The purple concept has apparently been a hit with customers. "We are seeing great demand for purple LEDs in vertical farms," said Jennifer Holland, product line director at Lumileds. "When the purple LEDs are combined with lime, a white color point is achieved, enabling ease of visual inspection and harvest."
Lumileds will also offer the 2835 SunPlus family in level 2 or modular light engine form. Such modular products enable horticultural lighting manufacturers to get products to market more quickly. The modules further remove the burden on manufacturers to buy and operate automated printed-circuit board assembly lines or find reliable contract manufacturers.