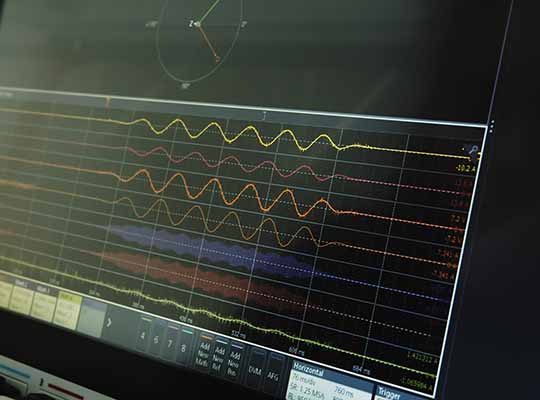 BRACKNELL, UK – Magway, has chosen to use a MSO58 mixed signal oscilloscope from Tektronix to solve noise issues with components on its magnetic rail delivery system.
Magway is developing a system that would allow parcels and goods to be delivered through a network of underground pipes across the UK, using a series of small carriages running on rails.

The system uses technologies such as conventional HDPE pipe and linear synchronous motors. Installed in the track, these motors interact with permanent magnets on the carriages, propelling them forward at average speeds of 15 meters per second.
With ever increasing road traffic due to rapidly growing home deliveries and online shopping, pollution and environmental damage is becoming a serious problem. Magway envisages that its pipeline-based delivery systems could revolutionize the delivery of parcels and goods between distribution centres, potentially taking up to 90% of online delivery vehicles off the roads.
Magway's current demonstrator track takes the form of a 65-meter loop, with 106 linear motors installed and able to run multiple carriages.
During measurements of the system, the company discovered there was a lot of electrical noise present.
Aanchal Mittal, an Innovation Engineer at Magway, says: "There are parts of the electrical system that we need to figure out. Our head project engineer and some of our other engineers have been using the Tektronix oscilloscope on every one of the motors and drives on the track and it has been an incredibly useful tool for this.
"With the Tektronix scope we can apply a very systematic, methodical approach and find where these problems are and then find a solution to them. At Magway, everything we do is driven by data, so if we have the right tools to collect that data, it makes our job so much easier."
Magway also used Tektronix Inverter Motor Drive Analysis (IMDA) software, which enabled an easier way of correlating control systems and power electronics with the performance of the overall system. In addition, Magway used 3x TCP0030A and 3x THDP0200 probes. 
For Magway, working with Tektronix is a chance to partner with likeminded companies. "We are looking for companies we can work well with," says Mittal, "companies that are excited about what they do and share the same passion for engineering that we do, the same passion for making the world a better place."
Likewise, customers such as Magway provide a chance for Tektronix to support pioneering projects. Maria Heriz, Vice President of EMEA, Tektronix, comments, "At Tektronix, we pride ourselves on supporting innovation in engineering. It's important to us that our customers deliver their innovation and that our products are enabling them to do so. We're delighted that our 'scopes, Motor Drive Analysis SW and current probes, as well as our high differential probes are part of Magway's innovation journey to create a zero-emissions delivery system."
Initially Tektronix provided intensive support to ensure Magway staff were able to use the oscilloscope to its full advantage. "Working with Tektronix has been really useful, and their technology support has been great," added Mittal. "They spent many hours helping us to set everything up and we all have a pretty good idea of how to use the 'scope now. We received the assistance we needed to set it up, and now we can take all the measurements we need."