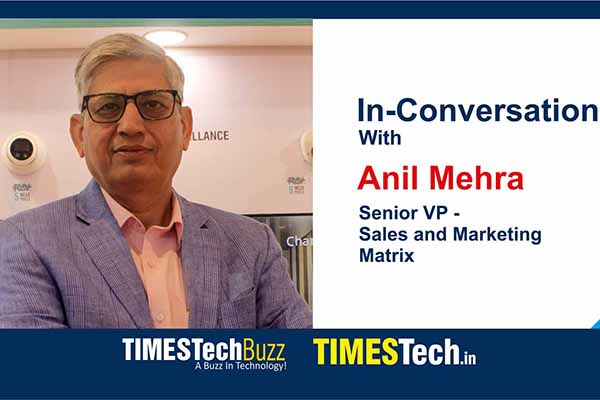 Matrix offers a comprehensive range of solutions for IP Video Surveillance, Access Control, Time-Attendance, and Telecom applications. The solutions are designed to meet the communication and security requirements of large enterprises having offices in multiple locations, SMEs, and SMBs. TimesTech interacted with Anil Mehra, Senior VP – Sales and Marketing at Matrix Comsec at IFSEC 2022 to know about the product they are showcasing, the response they got in IFSEC 2022 and much more.
Read the edited excerpts here:
TimesTech: How the response has been in the last two days of the IFSEC Expo 2023?
Anil: I think we have seen a good response here. After the pandemic, people really felt the need that they should really go out and meet people. So, IFSEC is a great place to connect with people, in the industry, and also to showcase your products and technology. So that way, I think it has been good. Yesterday was the second day and it was really big traffic and we didn't even get time to even have a cup of tea, it was a very busy day.
TimesTech: Which product received a lot of interest from the visitors?
Anil: Our video surveillance as well as access control products received a huge response because I think technology is moving towards contactless so, we had a lot of access control products on display, which are contactless, which should be facial recognition devices. So, that received a huge response. Then we had our Enterprise grade NVR and then we have NVR with cascading feature. They offer a great solution to a customer. So, these three-four things receive the greatest response from both the end users as well as the system integration companies.
TimesTech: You are also showcasing some new products in the video surveillance category and time attendance category in this Expo. So, what are there are key features or special features of these products?
Anil: Essentially, they are not too many new products that we are showcasing here. We just have one new product which is our 5-megapixel 42 XP Dome. That is a new addition in our portfolio and then we also showcased here a ruggedized camera that we are going to launch very shortly which is essentially used for moving vehicles like trained coaches or buses. So, these two I think our new additions are as of now. But all the other products are our existing products.
TimesTech: We are a month away from a new year. How this year has been for Matrix?
Anil: We have had a rocking year and we have seen good growth in the last eight or nine months. Our financial closing happens to be in March. So, we are hoping that we will close this year on a record note.
TimesTech: What you are looking forward to in the next year?
Anil: Next year again, we'll look forward to another growth story. We're looking at introducing some new products which are in the workshop right now and further take advantage of the potential that India offers. It is a growing market so we like to take advantage of that.