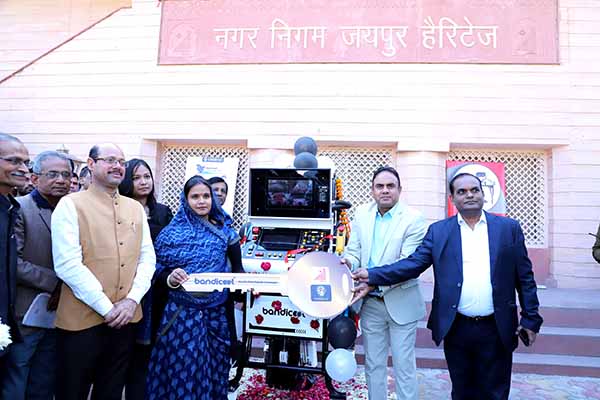 Jaipur Heritage Nagar Nigam launched the Bandicoot robots for cleaning its manholes. Rajasthan will have a second project of this kind. This innovative technology which was earlier implemented in Greater Jaipur Municipal Corporation enabled the corporation to save time and cost while ensuring the safety of its sanitation workers. Sanitation personnel who operate in such hazardous environments will be safeguarded by this effort.
The working efficiency in Greater Jaipur Municipal Corporation prompted the Jaipur Heritage to implement Bandicoot under them. Bandicoot robots are designed to work in harsh climates, in extreme heat and cold climates. The warm climate of Rajasthan will not impede the operation of Bandicoot which was discovered to be true with Greater Jaipur Municipal Corporation's successful project implementation. Previously, Bandicoot robots were deployed by the Municipal Committee of Leh, and is working with full efficiency.
Smt. Munesh Gurjar, Mayor Jaipur Heritage Municipal Corporation officially launched Bandicoot in the presence of Shri Vishram Meena IAS Commissioner, Mr. Ashish Kumar Deputy Commissioner Health & Garage, along with Project Executive Engineer, Garage Executive Engineer, Garage in-charge and other zone wise officials.
During the inauguration ceremony, the mayor stated, "Bandicoot robot outperforms other machines in terms of operation and efficiency. This not only provides a better working environment for the sanitation workers but also improves the city sanitation. The city's sanitation fleet will now consist of an advanced robotic solution."
The goal of the project's implementation was to enhance the safety and dignity of sanitation workers while also bringing about beneficial societal change and betterment in the sanitation sector. Bandicoot technology is intended to replicate and replace the need for humans within manholes for effective cleaning.
Bandicoot with its human-like robotic arms, specially designed bucket system, and its sewerage and waterproof cameras can eliminate the requirements for human entry and offer efficient solution for the sanitation cleanliness problem. Other cleaning techniques do exist, such as sucking and grabbing machines; however, sucking machines are unable to remove the pure solid wastes, while grabbing machines can only clean less than 20% of the area inside a manhole. Due to these drawbacks, these techniques could only be considered as temporary solutions.
The Bandicoot robot is the world's first manhole cleaning robot, developed by National Award-winning start-up Genrobotics as part of the 'Make in India' and 'Swachh Bharat Abhiyan' initiative. Bandicoot robots are currently used by ULBs and smart cities in 17 states of India. The robot comes with a human-comparable robotic arm, various sensors, and advanced safety features that enable municipal corporations to perform their cleaning and maintenance actions more efficiently and effectively.