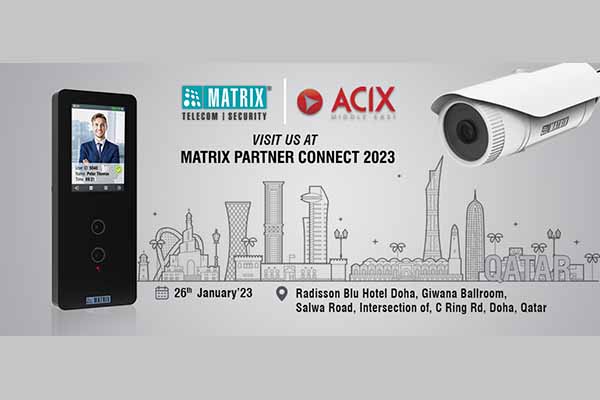 Working hand in hand with its channel partner – ACIX, Matrix looks forward to rolling out its next episode of MATRIX PARTNER CONNECT internationally, in Qatar. Qatar has strived to become a top player in the global telecommunication sector. Especially with full-fledged connectivity and infrastructure, Qatar is a spot with extensive potential for growing Matrix Business and its SI network. The event will be held at Radisson Blu Hotel, Giwana Ballroom, Salwa Road, Intersection of, C Ring Rd, Doha, Qatar.
In this edition of Partner Connect, Matrix will put out its entire IP Video Surveillance solutions. That consist of server-based enterprise-grade NVRs, UL-listed Cameras, Matrix VMS, and more. Focusing on customer challenges such as bandwidth utilization, storage cost, managing multi-site offices, and reactive security, Matrix supplements all organizational needs. On-display Cameras will include the Matrix range of Turret, Dome, Bullet, and PTZ Cameras. Ranging from 2MP to 8MP, Matrix Cameras are stamped with UL Certification, a global standard for safety, and NEMA Certification for protection against environmental hazards. They provide high-clarity images for better scenario detailing. Alongside this, Matrix puts forth its Server-based Enterprise grade NVRs on display. With Pre-installed Video Management Software supporting redundancies and hot-swappable hard disks – HDD/SSD capable of up to 144 TB storage capacity, this tech marvel suffices all organizational security concerns.
Access Control and Time-Attendance:
Matrix proudly claims to be the only OEM that develops the architecture elements ranging from panels, door controllers, and readers, to software completely in-house. Matrix will be presenting COSEC ARGO FACE – a smart door controller with high-speed face recognition. Built in with features such as Adaptive Face Recognition, Face Liveness Detection, and Mask Compulsion, this device showcases modern capabilities to counter security and health concerns. With its deep learning algorithm, identification speed of less than 0.5 sec, and user capacity of 50,000. This device brings high-grade security to organizations.
Another attraction in the exhibition will be Matrix COSEC PANEL200P. It is a multifaceted Site Controller controlling up to 255 COSEC door controllers and 25,000 Users. In network architecture mode, it acts as a bridge connecting door controllers to servers. In standalone architecture mode, it functions independently of the server, acting as the central unit for controllers. Beyond this, Matrix will showcase its wide range of Door Controllers and Readers at this event.
Telecom:
Matrix will display its Telecom products like Media Gateways which include SIMADO GFX114G and SETU VFX404. Our IP-PBXs – ETERNITY NENXIP50 along with our Hybrid IP-PBXs – ETERNITY GENX will be an attraction. Pure-IP SPARK200 and premium business IP phones will add to the range of products to be displayed at the event.
Along with telecom products, Matrix will also showcase different solutions for different industries. Office-in-a-box, hospitality solutions, software-based open server PBX, and integration with 3rd party open SIP phones are some of the solutions that Matrix will be displaying, at the event. In the domain of Telecommunications, Matrix is the sole OEM that puts forward all the business communication products and solutions.
Anil Mehra, Senior VP – Sales and Marketing states, "At Matrix Partner Connect, 2023, we look forward to penetrating more into the market of Qatar by connecting with system integrators and leading business associates. Through this event, we wish to take advantage of the opportunity in understanding the trending market needs. This will benefit us in designing telecom and security solutions accordingly. "

FOR MORE VISIT: WEBSITE