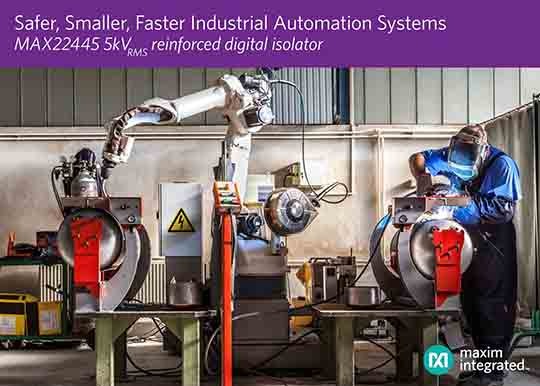 SAN JOSE, Calif.—Aug. 16, 2018—To better protect industrial systems from the dangers of high-voltage signals, equipment designers can now turn to the new robust and reliable MAX22445 5kVRMS four-channel reinforced digital isolator from Maxim Integrated Products, Inc. Delivering up to 2x greater throughput at 4x lower power consumption versus competing solutions, the MAX22445 provides reliable communication across the isolation barrier to ensure safe operation of compact industrial, medical and other equipment.
In high-voltage equipment, digital isolators provide signal isolation and level-shifting for proper operation of many circuits, while also protecting users from dangers such as electric shock. Yet, not all of these isolators are alike as many consume a large amount of power, generate significant heat and introduce large propagation delays, limiting system reliability and throughput.
Overcoming the shortcomings of other digital isolators, the MAX22445 delivers reinforced, dual insulation barrier isolation for fast digital signals. The IC, which mitigates the dangers of high-voltage power, transfers signals of up to 200Mbps with significantly less power than competitive solutions. It is available in a 16-pin wide-body SOIC package with 8mm of creepage and clearance.
Key Advantages
Low Power: 41mA per channel current consumption and 0.74mW power consumption at 1Mbps with VDD at 1.8V. The IC has 4x lower power consumption compared to competing solutions while also reducing heat generation and enabling reliable and compact designs.
High Speed: Maximum propagation delay of 10.5ns and maximum data rate of 200Mbps enable fast and accurate data acquisition and high-speed interfaces with wide timing margins. The IC delivers up to 2x greater throughput versus other available solutions.
Robust and Reliable: Dual barriers of isolation provide 5kVRMS and 10kV surge for reliable performance over a long product lifetime and meet the safety standards required for operator protection.
Commentary
"The MAX22445 eliminates the tradeoffs between isolation reliability, dynamic performance and power consumption," said Jeff DeAngelis, managing director, Industrial & Healthcare Business Unit at Maxim "Engineers can now develop safe, high-throughput, compact factory automation systems."
Availability and Pricing
The MAX22445 is available at Maxim's website for $3.49 (1000-up, FOB USA); also available from select authorized distributors
The MAX22445FWEVKIT# evaluation kit is available for $32 (FOB USA)
Learn more at https://www.maximintegrated.com.