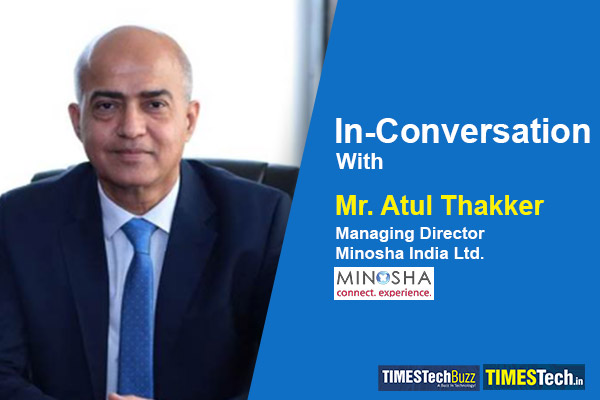 Minosha India, led by Managing Director Atul Thakker, has redefined the landscape of office printing solutions in India over its 27-year journey. Offering a comprehensive range of cutting-edge products and a robust nationwide service network, the company's strategic alliances and unwavering focus on customer trust have solidified its position as a trusted technology provider. With a strong commitment to achieving bigger milestones, Minosha India is set to continue its innovative and customer-centric approach to shape the future of office technology.
Read the full interview here:
TimesTech: What differentiates Minosha India in terms of its product range and service consistency in the Indian market?
Mr. Atul: Operational for over 27 years in the country, Minosha India provides innovative office printing solutions across two distinct segments: Mono and Colour. Under the Mono segment, we offer the RICOH P 311, a single-function printer with a 4-line LCD display and print speeds of up to 32 ppm, along with security features such as Locked Print and network encryption. Our second product in the segment includes the RICOH M320F, a multi-function printer with a 4.3" colour touch panel and an Automatic Reversing Document Feeder (ARDF) for efficient document sharing. Both models are capable of yielding 7000 pages in the initial cartridge and offer a print resolution of 1200 x 1200 dpi.
In the Colour segment, we offer the single-function printer RICOH P C311W, delivering vibrant colour prints at speeds of up to 25 ppm, and the multi-function printer RICOH M C251FW, a 4-in-1 device with a large colour touchscreen panel, a Single Pass Document Feeder (SPDF), and additional security features. Both printers also offer the option to add a second paper tray for enhanced capacity. All our printers are Wi-Fi enabled and start from INR 30,000.
We ensure consistent service levels with a robust pan-India network of 7 offices and over 300 business partners, providing the best-in-industry onsite services. Our partnership with Ricoh goes beyond, and we also provide innovative digital solutions with RICOH SPACES, a cloud-hosted workplace enhancement platform enabling organisations to create safe, efficient, connected, and well-managed workspaces for their employees.
TimesTech: Can you highlight some key achievements or milestones that have contributed to Minosha India's reputation as a trusted technology provider?
Mr. Atul: Minosha India's journey spans almost three decades, and several milestones have been achieved during this tenure. In 2022, Minosha India forged a strategic alliance with Ricoh to provide cutting-edge office equipment and digital services, reinforcing its commitment to staying at the forefront of technology and meeting all evolving customer needs.
More recently, Minosha India also introduced a one-of-its-kind initiative aimed at celebrating our dealer partners in India on the occasion of the launch of Ricoh's new products.
TimesTech: Could you share insights into the upcoming product launches in FY24 and how they align with customer needs in India?
Mr. Atul: In FY24, our product strategy focuses on catering to India's evolving market demands. Building on our successful laser printer launch in September 2023, we are excited to introduce a comprehensive line of production printers in November. These offerings align with our commitment to meeting the diverse and growing needs of Indian customers for efficient and high-quality printing solutions.
TimesTech: What sets Minosha India apart from its competitors, especially in terms of maintaining service quality and customer trust?
Mr. Atul: Minosha India distinguishes itself from competitors through a combination of factors that prioritise service quality and customer trust. With an extensive network of 250+ channel partners and a dedicated call center, we ensure accessibility and support for our customers nationwide. What truly sets us apart is our unwavering commitment to delivering not only a diverse range of products and solutions but also maintaining consistently high service levels. This consistency has earned us a reputation as a trusted provider of cutting-edge technology and services designed to adapt to the ever-evolving needs of our valued customers. We prioritise excellence, reliability, and customer satisfaction in all that we do.
TimesTech: How does Minosha India plan to realize the "XCEED – Achieve Bigger Milestones" slogan for this year, and what impact does it expect on its growth and customer relationships?
Mr. Atul: This year, we are dedicated to actualising our slogan, "XCEED – Achieve Bigger Milestones", through a multi-faceted approach. We aim to continually expand our product and service offerings, enhance our technological solutions, and foster strategic collaborations to propel our growth. By doing so, we anticipate significant positive impacts on both our growth trajectory and customer relationships. The diversification and advancement of our offerings will open new avenues for revenue and market penetration. Moreover, this strategic growth will reinforce our commitment to providing cutting-edge solutions, thereby strengthening trust and further solidifying our relationships with customers who rely on us for innovative and reliable technology solutions.