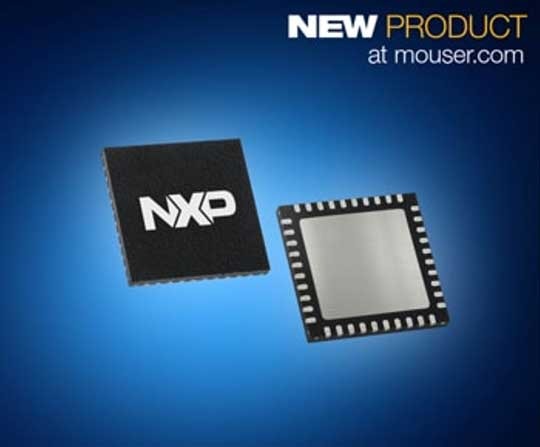 December 18, 2018 – Mouser Electronics is now stocking Kinetis KW35 and KW36 wireless microcontrollers from NXP Semiconductors. The industry's first automotive-qualified Bluetooth 5-ready wireless microcontroller family with integrated CAN FD connectivity, the KW35 and KW36 microcontrollers are designed to simplify integration of Bluetooth connectivity in automotive and industrial embedded applications.
NXP's Kinetis KW35 and KW36 microcontrollers, available from Mouser Electronics, are highly integrated ultra-low-power devices that enable Bluetooth Low Energy (LE) version 5 and Generic FSK (at 250 kbps, 500 kbps, and 1000 kbps). The microcontrollers integrate an Arm Cortex-M0+ CPU with up to 512 Kbytes of flash and 64 Kbytes of SRAM and incorporate peripherals optimized to meet the requirements of applications, such as car access, sensors, or data usage collection. The KW35 and KW36 support up to eight simultaneous Bluetooth LE connections as either a master, a slave, or any combination of the two. All microcontrollers in the Kinetis KW35 and KW36 series contain an integrated DC-DC buck converter that supports an operating voltage range from 2.1 V to 3.6 V, and also significantly reduces the peak current in receive and transmit modes.
The Kinetis KW35A and KW36A microcontrollers meet AEC Q100-Grade 2 qualification for automotive applications, and the KW35Z and KW36Z feature an industrial qualification. Both automotive and industrial versions of the devices are available with support for CAN and LIN interfaces to enable easy integration into automotive in-vehicle communication networks. Package options include 7 mm × 7 mm 48-pin LQFN or 6 mm × 6 mm 40-pin HVQFN with wettable flanks package technology that enables optical inspection of the soldering.
To learn more, visit www.mouser.com.