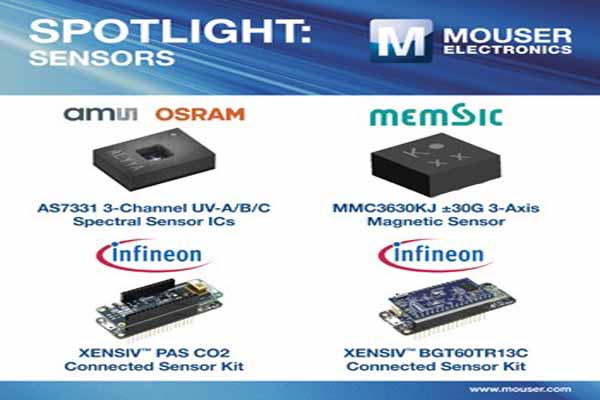 Mouser Electronics the industry's leading New Product Introduction (NPI) distributor with the widest selection of semiconductors and electronic components, recently added several new sensor products to its already comprehensive sensing portfolio.
Sensors are vital components, whether for controlling an industrial automation process, measuring environmental parameters in a vertical soil-less farming facility, or for an automotive adaptive cruise control. Most sensors today are highly integrated devices, typically comprising an analogue sensor element, signal conditioning, data conversion, and control logic functions. Most sensors are equipped with one or more of the popular serial bus interfaces, I2C, SPI and UART, to communicate with the application host.
New sensor products available from Mouser include the following:
The AS7331 3-Channel UV-A/B/C Spectral Sensor from ams OSRAM is designed for a wide range of ultraviolet light-based applications, such as water purification, UV curing, and phototherapy. The ams OSRAM AS7331 is a compact OLGA-packaged three-channel UV sensor. Using interference filters to detect UV-A (315 nm to 410 nm), UV-B (280 nm to 315 nm), and UV-C (240 nm to 280 nm) wavelengths, the sensor exhibits a high rejection characteristic to near-infrared and ambient visible light. The low-power AS7331 communicates with the host via an I2C interface and features an in-package temperature sensor. Configurable sensor parameters include conversion time, gain, and irradiance responsivity.
The MMC3630KJ 3-Axis Magnetic Sensor from MEMSIC is a 3-axis MEMS-based magnetic sensor IC featuring all signal conditioning, signal processing, and data conversion functions. Capable of detecting magnetic fields in the range of +/- 30G to an LSB resolution of 1mG at up to a 600 Hz sampling rate, the sensor communicates over I2C and is capable of fast-rate 400 kHz operation. Housed in an ultra-low 1.2 mm x 1.2 mm x 0.5 mm BGA package, the MMC3630KJ suits a wide range of electronic compasses, position sensing, and GPS applications. The MMC3630KJ offers a heading resolution of +/- 1 degree in electronic compass designs. In sleep mode, the sensor consumes just 1 µA.
The XENSIV KIT CSK PASCO2 and XENSIV KIT CSK BGT60TR13C connected sensor kits (CSK) from Infineon Technologies AG provide a complete prototyping sensor development platform for a broad range of use cases, including radar, environmental IoT sensors, and smart home applications. By combining sensors, an Infineon PSoC 6 microcontroller, and an Infineon OPTIGA Trust M security controller into a single CSK platform, the XENSIV kits offer a convenient, quick, and secure approach to sensor prototyping. The PASCO2 CO2 sensor uses a photoacoustic spectroscopy method to detect the presence of CO2 molecules, with the measurements converted into digital ppm values. The BGT60TR13C kit comprises a highly integrated 60 GHz millimetre wave doppler motion antenna-in-package sensor combined with a DPS368 barometric pressure sensor.