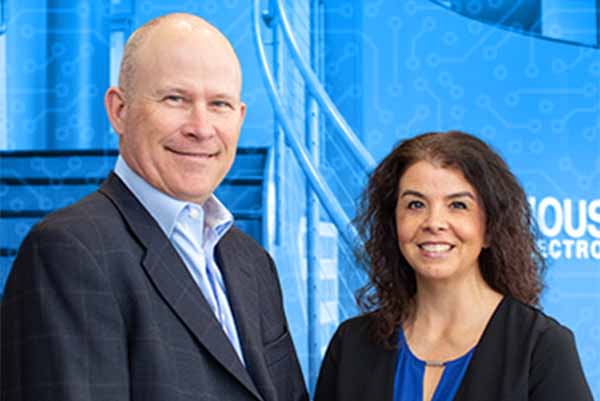 Mouser Electronics, Inc., proudly announces that its Vice Presidents, Jeff Newell and Krystal Jackson, are recipients of the 2023 Pros to Know awards from Supply & Demand Chain Executive, a publication covering the global supply chain.
The annual Pros to Know award recognizes outstanding executives whose accomplishments offer a roadmap for other leaders looking to leverage supply chain for competitive advantage.
"This year's list is filled with supply chain professionals whose achievements and success stories have helped move the needle in the supply chain. They promote safety, sustainability and workforce development. They work toward helping heal the supply chain. They're actually in the supply chain," says Marina Mayer, Editor-in-Chief of Supply & Demand Chain Executive and Food Logistics. "We received close to 400 nominations this year, the highest number of nominations ever for this award. It's proof that today's supply chain professionals are doing great things for the supply chain. They embody what a true leader should be. And, without their initiatives, programs and collaborative efforts, today's supply chains would be in worse shape."
"Thank you for this tremendous honor," says Jeff Newell, Mouser Electronics' Senior Vice President, Products. "This award recognizes our dedication to engaging with our manufacturer partners to ensure we are stocking our industry's broadest portfolio of electronic components, allowing us to engage with and satisfy our sizeable global customer base."
"We are incredibly honored to receive this prestigious award and thank Supply & Demand Chain Executive for recognizing the outstanding efforts of our teams worldwide," said Krystal Jackson, Mouser Vice President, Supplier Management. "The supply chain plays a critical role in our company's success, and this recognition really drives that point home."
Go to https://sdce.me/4ss5cl to view the full list of 2023 Pros to Know winners. The overall winner will be announced live at ProMat in Chicago. Go to https://www.sdcexec.com/awards to learn more about upcoming Supply & Demand Chain Executive awards.