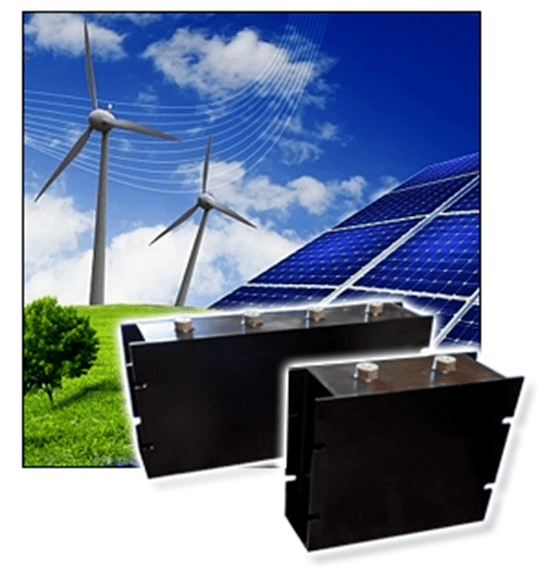 January 10, 2019 – New Yorker Electronics has announced it will be distributing the new Cornell Dubilier series of DC link polypropylene film capacitor modules for high-power inverter applications. The MDL series uses the most advanced metallized film technology for long life and high reliability in DC Link applications. It offers capacitance values ranging from 600µF to 4,200µF, with applied voltages of 900Vdc to 1,300Vdc.
The MDL is based on CDE's well proven DC Link film technology utilizing low-loss, high-grade polypropylene dielectric. Featuring current ratings up to 400Arms these modules are well suited for today's high-power inverters used in commercial and utility-scale wind, solar and fuel cell systems. Other applications include UPS, switching power supplies and large motor drives.
Designed as an alternative to banks of cylindrical bus-mounted capacitors, these high-current modules have higher energy density and simplify bus connections by reducing the number of terminations. By using a single DC Link capacitor in a compact rectangular package, smaller inverter topologies are possible. The use of one capacitor versus several parallel-banked capacitors typically results in enhanced system reliability with lower assembly costs. The MDL series also features long life, meeting a 5,000-hour life test at rated voltage, with a core temperature of 85°C. This translates to a life of 200,000 hours when operated at a 60°C ambient at full rated voltage and ripple current.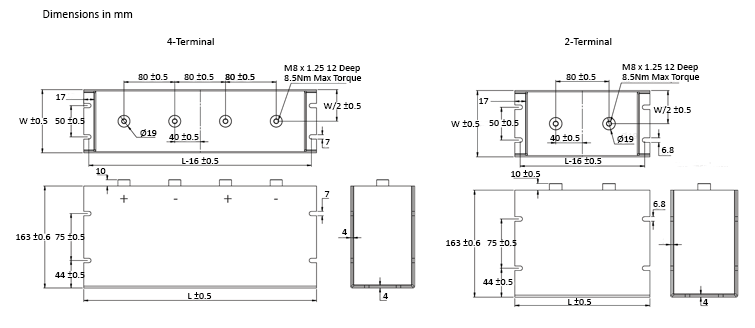 The series consists of 12 values in four case sizes, is RoHS compliant, and meets IEC 61071 and UL94V-0. Each unit passes through CDE's industry-leading 100% burn-in testing.
New Yorker Electronics is a franchise distributor for Cornell Dubilier carrying the full line of High Capacitance Modules as well as Aluminum Electrolytic Capacitors, AC Oil Filled Capacitors, DC Oil Filled Capacitors, Film Capacitors, MICA Capacitors, Ultracapacitors, Surface Mount Capacitors, Aluminum Polymer Capacitors, Supercapacitors, plus Capacitor Hardware and Capacitor Kits.
Features & Benefits:
Capacitance Range – 600 to 4200 μF
Rated Voltage – 900 to 1300 Vdc
Operating Temperature Range is -25°C to 70°C (ambient)
Life Test – 5000h @ 85°C core, rated voltage
Life Expectancy – 200,000 h @ 60 °C core, rated voltage
Reliability – 300 FIT typical
Standards – IEC 61071
RoHS Compliant
Case Material – Aluminum
Applications:

High-Power Inverters
Commercial & Utility-Scale Wind, Solar and Fuel Cell Systems
UPS
Switching Power Supplies
Large Motor Drives
For More information, visit at : newyorkerelectronics.com