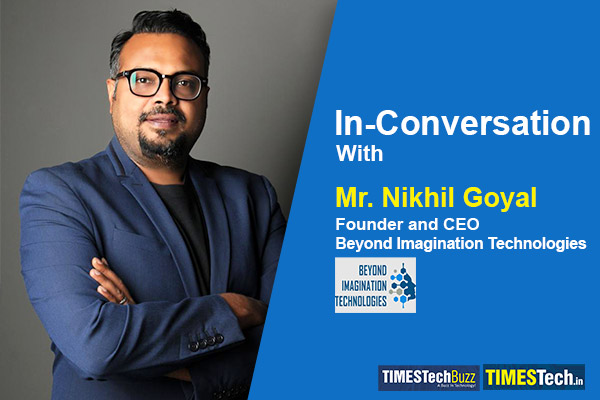 In a candid interview with TimesTech, Nikhil Goyal, the Founder and CEO of Beyond Imagination Technologies (BIT) and BitMemoir, shares insights into the company's journey, its groundbreaking blockchain solutions, and the transformative potential of blockchain technology in India.
Read the full interview here:
TimesTech: What is the story behind the inception of Beyond Imagination Technologies and how has the journey been so far?
Mr. Goyal: The idea behind the inception of Beyond Imagination Technologies (BIT) was to become the pioneers in building cost-effective, safe and secure Blockchain solutions. While exploring various corporate roles and independent businesses, I understood various problem areas of the market and technological intervention can deal with it.
Since our inception our aim is to deal with the pain points of the businesses by developing customized blockchain-aided solutions for sustainable business growth. Within a very short span, we have witnessed enormous growth and have gained a lot of recognition from big corporate houses, FMCG giants, Agricultural companies and government organizations with many of them adopting our solutions to their advantage. We have signed joint development programs with highly esteemed institutions in India and are also increasingly engaging with large corporations, high-net-worth individuals, and big institutions.
TimesTech: Kindly tell our readers about your services and products.
Mr. Goyal: At BIT, we offer blockchain-based solutions. Our services are largely dependent on in-depth analysis of the various pain points or problem areas of clients and their existing systems and processes. We then design proprietary blockchain-based solutions and help our clients evolve their current setup by integrating our solutions into their existing ecosystems and making them more efficient, futuristic, and technologically upgraded. Our products range from tamper-proof digital credentialing platforms to fleet management systems, blockchain-based loyalty programs, supply chain management, digital souvenirs, and a blockchain-based wallet. The target segment is start-ups, enterprises, and government bodies.
Our flagship product, BitMemoir is a web3 based application that enables individuals and organizations to provide authorized clients with digital certifications. Individual users can convert personal identifiers, property documents, and other sensitive materials into digital certificates, or NFTs, and store them in their own wallets. By utilizing blockchain technology, BitMemoir enables users to own their personal documents in perpetuity. 
TimesTech: Digital innovations are driving the blockchain sector in India towards a paradigm shift. What are the measures taken by your brand to boost this drive?
Mr. Goyal: At present, Blockchain is one of the most talked-about technologies in business. It has potential to drive changes and create new opportunities across global businesses. Blockchain can enable industries to drive innovation of traditional business models. This technology has the potential to impact all major areas in a business. From accounting to Human resource and supply chain to marketing & advertising the opportunities and applications of this technology in business are endless.
The core of our operations relies on first studying and understanding the pain points of our client's business along with the systems and processes that are currently in place. After conducting an in-depth analysis, we develop proprietary solutions for them based on blockchain technology. In short, we enable a 'digital transformation' for our business partners, wherein we evolve their current setup to make it more efficient and future-ready.
Currently, Beyond Imagination Technologies has many pilots and production-ready applications such as Smart Contracting, Credential Management, Digital Certificate Issuing Platform and NFT souvenirs to name a few, tailored for different sectors and government bodies.
TimesTech: How do you foresee the next decade of blockchain in India?
Mr. Goyal: Blockchain is at nascent stage but has a lot of scope for evolution in the coming future. With every passing day blockchain technology is finding its way into various sectors as diverse as health records management, school/college certificates, digital identity verification, supply chain tracking, digital souvenirs, etc. In times to come, when blockchain becomes more widespread, its use cases will also increase. Thus, the future of blockchain is indeed very bright.
TimesTech: Please let us know about the current developments in the organization and what's in the pipeline for next 6-12 months?
Mr. Goyal: Recently, BIT expanded to the Middle East with its partnership with one of Saudi Arabia's first licensed blockchain companies Aba'ad Alkhayal. The company has recently collaborated with a prominent blockchain enterprise; Near Protocol to further solidify its expertise and commitment to pushing boundaries. The company last month strengthened its partnership with Indian Army and announced first pilot for army veteran communication management. This collaboration will enhance communication processes for veterans, ensuring information integrity, security, curentness and correctness of data. Moreover, company has launched first letter using BitMemoir for "the private office of her highness" in Saudi. This is the first of its kind in the whole world.
The company is working relentlessly towards solving real-world challenges with the help of revolutionary blockchain technology. Our flagship solution BitMemoir addresses the gigantic problem of identity theft and fake documentation and we hope to scale this in multiple sectors around the world in times to come. In 2023 our major aim is to expand to new geographies like APAC, Africa through constructive discussions with industry experts, networking, collaborations, and hiring the right talent.