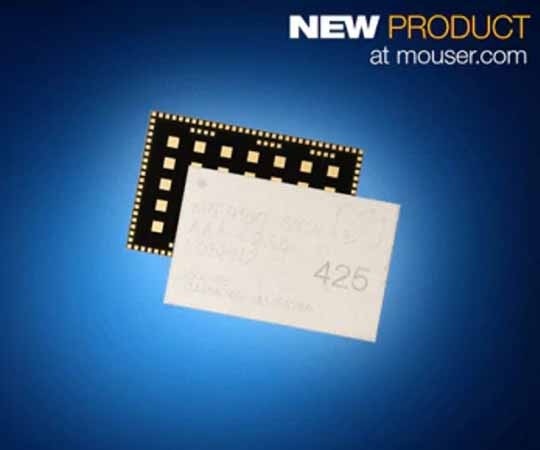 January 8, 2019 – Mouser Electronics is now stocking the nRF91 system-in-package (SiP) from Nordic Semiconductor. Featuring an integrated application microcontroller, full LTE modem, RF front end, and power management in a single device, the nRF91 SiP is ideal for low-power cellular Internet of Things (IoT) applications.
The Nordic nRF91 SiP, available from Mouser Electronics, provides globally compatible narrowband (NB) IoT and LTE-M support in bands ranging from 700 MHz to 2.2 GHz. The device boasts an integrated Arm Cortex-M33 processor with Arm CryptoCell and Arm TrustZone security technology, providing secure performance in worldwide operation. The nRF9160 SiP leverages Qorvo's state-of-the-art, proven RF front-end, advanced packaging, and MicroShield™ technology to deliver a unique, ultra-compact solution that combines high performance with low power consumption. The GCF-certified, 3GPP LTE-compliant module is available with built-in GPS support, offering a cost-effective solution for asset tracking applications.
The nRF91 SiP is housed in a miniscule 10 × 16 × 1 mm package and features 32 general-purpose input and output (GPIO) pins and a broad range of peripherals and interfaces to provide a flexible solution for a wide variety smart devices. Software examples and hardware reference designs simplify the design process and significantly reduce time-to-market. The nRF91 SiP offers extended battery life and low-cost maintenance and installation, making it suitable for smart city products as well as industrial, medical, and agricultural applications.
The Nordic nRF91 SiP is supported by the nRF9160 Development Kit. The development kit enables rapid prototyping and allows access to all interfaces and IO via connectors. The nRF9160 kit features four LEDs, two switches, and two buttons, which are user-programmable for tailored performance.
To learn more, visit www.mouser.com/nordic-nrf91-series.