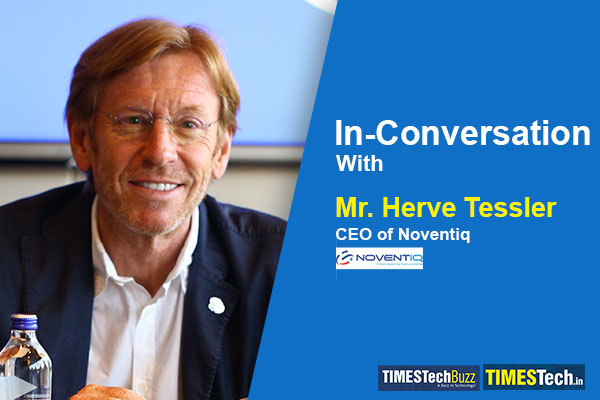 In an exclusive interview with TimesTech, Herve Tessler, CEO of Noventiq, delves into the company's AI-powered strategies for digital transformation and its remarkable growth in the Indian market. He highlights the role of their proprietary AI IP, Weaver AI, and shares a success story featuring Raiffeisen Bank's transformative experience with Noventiq's AI solutions.
Read the full interview here:
TimesTech: How is Noventiq using AI technology to drive digital transformation for businesses?
Mr. Herve: As the world is rapidly transitioning towards cloud-based solutions, software-driven operations, and a heightened emphasis on cybersecurity, the role of AI has become undeniably pivotal. Noventiq, understanding the significance of AI in today's business world, has been proactive in its approach. We recently acquired Intellya through one of our subsidiaries in Serbia. This strategic acquisition provided us with specific AI Intellectual Property (IP) and several AI-driven solutions including 'Weaver AI' a conversational AI platform that epitomizes the power of generative AI for clients who are looking for an all-in-one interface with simple integration and a cost-effective business model. 
TimesTech: Can you discuss Noventiq's proprietary AI IP, Copilot from Microsoft, and other innovative tech in use?
Mr. Herve: As mentioned in the previous question, we are currently deploying multiple projects of integration of our conversational AI platform solution Weaver AI. We have integrated it for different customers from diverse industries. If we talk about a bank, for example, Weaver AI platform's chatbot can provide flawless transactions, check your bank account, give estimated prices for insurance services, and much more.
Apart from our own IP, we are staying aligned with our core vendors' roadmaps as a priority. We partner with major technology players like Microsoft which are integrating AI tools like Copilot across their product lines. As one of Microsoft's global partners, we are able to implement this and future technologies into solutions for our customers. And this applies to all AI solutions developed and available from any of our partners like Google, AWS, Oracle, Citrix, among many others.
We are also making notable investments in the field by providing trainings to our employees and encouraging them to be ready for these modern technologies that are already reshaping the world of IT.
TimesTech: What are your expectations and plans for Noventiq's Nasdaq listing and its impact on growth?
Mr. Herve: I think the move to the Nasdaq is a natural step in our growth plans. Our goal is to get the company valued as per its real worth, gain access to capital with tech-savvy investors, so that we can keep investing for the growth of the business, both organic and through M&As.
TimesTech: How does Noventiq plan to expand and utilize its acquisitions in the Indian market?
Mr. Herve: India is our center of gravity. It is ranking among our top three markets where our growth and success is reflected every day. We're committed to investing in India, for India, but also as a gateway for our global expansion. We have a $700 million business in India with over 3,000 dedicated employees nationwide.
Over the past three years, we've strategically acquired Embee, Umbrella Infocare, Value Point Systems, and G7CR. Each of these companies enhances Noventiq's global expertise, amplifying our skill set, portfolio, and talented workforce.
While our primary plans continue to be expanding organically through our proven business model, we continuously review opportunities for acquisitions if we see synergies with the existing business and opportunities to increase scale at attractive valuations.
TimesTech: What were the key strategies that led to Noventiq's remarkable growth from 2 million to 700 million dollars in India?
Mr. Herve: Noventiq's growth from $2 million to $700 million in India can be attributed to a combination of strategic decisions and dedicated leadership. At the heart of our success is the extraordinary team that drives our company forward. A special mention must go to Vinod Nair, our President for Noventiq India. His leadership and vision have been instrumental in propelling our Indian operation to what it is today.
Here are other key pillars of our growth strategy:
Local commitment: Our fundamental approach has been 'Invest in India, for India'. This isn't just a motto; it's a deeply ingrained philosophy. We believe that when you commit resources, efforts, and projects with the country's growth in mind, success naturally follows. Our decision to operate as a decentralized and localized entity in India has undoubtedly played a pivotal role in our achievements.
Strategic partnerships: Our collaboration with tech giants like Microsoft laid a solid foundation for our growth. Ensuring that we were certified and primed to sell and integrate solutions and services from such esteemed partners was a game-changer.
Building a strong sales team: An organization is only as good as its people. We prioritized recruiting a top-tier salesforce, empowering them with the tools and training necessary to drive our business forward at an accelerated pace.
By steadfastly adhering to these strategies and continuously innovating, we've managed to achieve the remarkable growth that stands as a testament to our team's dedication and expertise.
TimesTech: Could you share a success story where Noventiq's AI solutions delivered tangible results in digital transformation for a business?
Mr. Herve: Certainly, I'd be happy to highlight a transformative project powered by Noventiq's AI solutions that our team did with Raiffeisen Bank, a leading institution in Serbia, which is committed to serving both corporate clients and private individuals. Like many organizations of its scale, Raiffeisen Bank was facing some challenges with an overwhelming volume of basic queries, leading to extended response times.
Our dedicated team from Saga, a company acquired by Noventiq last year, collaborated closely with Raiffeisen Bank. Together they developed 'REA', an AI-driven chatbot built on our advanced Weaver AI platform. What sets 'REA' apart is its ability to understand natural language fluently, and its proficiency in several major languages. The interaction between 'REA' and the bank's clientele is fluid and mirrors a typical conversation one would expect between two individuals. Presently, clients can engage with 'REA' on platforms such as Viber and Facebook Messenger. This initiative has significantly streamlined client interactions with 'REA' having over 500,000 conversations within the first 6 months of its existence. This has definitely elevated the bank's customer service paradigm to a much better level.