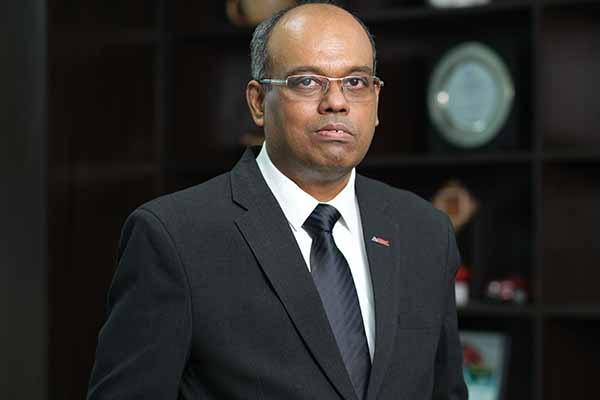 The Automotive Skill Development Council (ASDC) organized its Annual Partners Forum 2022 on 22 June. The program was attended by various dignitaries. The discussion during the event touched upon many topics like AR and VR in training, Electric Vehicles and Upskilling and Reskilling. TimesTech interacted with Arindam Lahiri CEO of ASDC to learn about ASDC's plans to further advance skill development in India. 
Read the full interview here:
TimesTech: People in India prefer local mechanics over company-run maintenance centres but there is always a gap of 2-3 years between the latest technology and the local mechanics repairing vehicles with those techniques. What are your plans to bridge this gap?
Arindam: Large number of Indian vehicle owners prefer local mechanics. However, this is more for routine service and common parts replacement. While these mechanics are reasonably expert in these tasks with existing models of vehicles, it usually takes them 2-3 years to start learning the newer technologies, especially with the adoption of BS-6 emission standards and advent of Battery & Hybrid Electric vehicles.
Short modules of upskilling training for these market mechanics are being undertaken by ASDC with support of the Ministry and Industry members. Over the past 18 months, we have already impacted more than 30,000 mechanics. In addition, we have also launched an app-based e-learning certificate course in collaboration with our partner.
TimesTech: You mentioned recruit-train-deployment during the forum. A trained mechanic can train many more mechanics at his level. Do you have any plans to pursue this?
Arindam: Technical Vocational Education and Training (TVET) produces greatest impact when it is outcome driven. The recruit-train-deploy (RTD) model is one of the best applications of this principle. In this model, we find a livelihood opportunity for the prospective trainee first and then initiate the training process. This helps the learner also to have goal-oriented approach for better enhancement of skills. We are following this model for a number of our CSR-funded initiatives as well.
Automotive mechanics use their extensive knowledge and skills to identify and fix complicated problems involving vehicles. Due to the practical nature of a mechanic's job, these experts must also undergo practical hands-on training in addition to their academic education. This helps them to understand the problems in a much faster and better way. Also, it helps them to solve the problem in a better manner. After completing the practical-oriented training, the mechanics can easily transition to the job because of their hands-on, practical exposure that allows them to use what they've learnt in real-world settings.
TimesTech: How do you plan to add AR and VR to training and public content? (for learning)
Arindam: It is always recommended that using a smart device and relevant applications would be an excellent way to expose college and high school students to the idea that working as a commercial vehicle technician is a legitimate career route.
Implementation of Augmented Reality (AR) and Virtual Reality (VR) technology to upskill automotive workers and perform vehicle repairs is becoming increasingly popular among stakeholders in the commercial vehicle repairing industry. These advanced technologies are considered more influential for the automotive technician sector because of their perceived coolness and ability to draw younger technicians into the field.
It is possible to recreate that real-life situational experience and bring it to the students, which can speed up the onboarding process and provide them with hands-on, real-world experience that suits their learning style. This degree of immersive audio-visual and reality-based presentation can assist in reinforcing the learning experience and set expectations for the trainees for what their career would involve in future.
TimesTech: How is ASDC planning to train mechanics to repair electric vehicles in Tier-II and Tier-III cities?
Arindam: ASDC has developed standards for the automotive application of Industry 4.0, robotics and electric vehicles – the most significant global changes in the automobile industry that are being implemented at a fast pace. Also, the problems related to these advanced technologies that need to be solved in the coming years are related to energy and the environment. Since the transportation sector is one of the most polluting industries around the world, attention has been focused on electrified vehicles because of their substantially lower reliance on fossil fuels. While pure electric vehicles don't rely directly on fossil fuels, other electrified vehicles like hybrid or mild hybrid vehicles' dependencies on fossil fuel alone are lesser than the pure ICE models. However, the current limited driving range of electric vehicles is forcing the manufacturers to look at new strategies to boost capacity and charging effectiveness. Using new and refined advanced technologies for training will benefit aspiring automotive mechanics and will open a new world of opportunities for them.
TimesTech: EV batteries are catching fire because Indian weather is different from European conditions. Is ASDC planning to train customers on EV battery maintenance?
Arindam: Batteries must be compatible with grid charging in addition to being able to withstand the harsh road conditions in India. Typically, weather and road conditions significantly impact the range, dependability, and performance of every electric vehicle, just like they impact the fossil fuel vehicles' overall performance as well. To ensure safe and dependable performance, a robust Battery Management System (BMS) must be created that can regulate and comply with these external factors. Even though India has adopted the strict AIS 156 standard to guarantee safety, much more work must be done to make EVs safer. ASDC will train the future automotive mechanics to work with the new rules and also enable them with quality analytical skills.
TimesTech: Skill training is popular in urban areas but people do not pay much attention to it in rural areas. What are your plans to reach rural areas?
Arindam: Unemployed youth who receive technical education and training, gain the skills they need to find employment or launch their own small businesses. These people receive the resources and tools they need from ASDC in order to develop the relevant skill sets.
Modern vehicles will be used more frequently as the economy expands. A greater need for qualified automotive mechanics will emerge because of this rising trend. The main goal of the automotive training programs of ASDC is to impart the intricacies of modern auto repairing, with a concentration on diesel and petrol engine maintenance, automotive electronics, and advanced intelligent vehicle technologies.
Automotive professionals who are specialists in their industries take classes providing lessons for the trainees in association with ASDC. For hands-on and practical training, several workshops have been set up. Assistance is being given in finding employment with reputable vehicle repair businesses or dealerships.