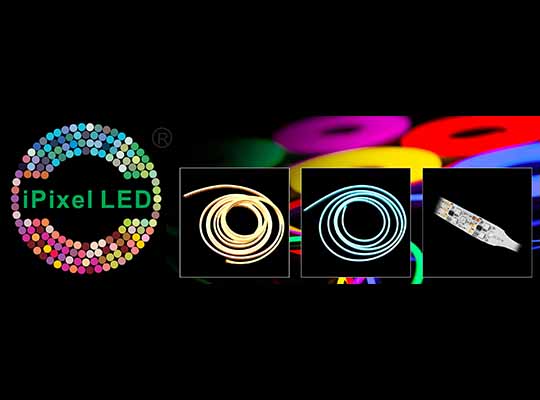 LED strips have gained popularity as flexible and energy-saving light sources. As LED technology developed, they have become a viable alternative for many solutions, including LED light bulbs. What's more, more and more RGB and RGBW strips, which emit adjustable light, are available in the market. These products, and many more ergonomic lighting solutions, can be found in the TME's offer. Below, you can see the range of products offered by one of the leading manufacturers of LED strips – iPixel. You can order iPixel products directly from our warehouses. The availability of various parameters and compatibility with the most popular methods of control distinguish them in their category of products.
Single colour LED strips – white colours
Single colour LED strips are used in many applications – from room illumination, to accent lighting and backlighting of large areas. Ipixel products include LEDs with a 120° beam angle, mounted along an 8mm or 10mm strip, 30, 60 or 120 LEDs per metre. 5V, 12V, or 24V models are available, with power ranging from 7.2W/m to 24W/m. It's worth mentioning here that in our offer you can find variants with a different colour temperature – from 2800K (very warm) to 10000K (so-called "cold" colour, with the effect similar to daylight). Among the available models, there are strips in which circuit and electronic components are cast in elastic gel or covered in special sleeves, which makes them IP64- and IP65-rated. Thanks to that, they can be used in harsh environmental (and weather) conditions, when the air is more humid. For all of the products, the operating temperature ranges from as low as -40°C to as high as 50°C.
The strips are clearly divided into segments.
Neon strips
Elastic silicone protects the strip from humidity and other harmful factors.
In iPixel's range of products, you can also find neon strips. In contrast to the models described above, these products can be folded tightly around the axis that is parallel to the beam angle, which makes it possible to shape them as curves and shapes similar to standard neons (hence the name) – this makes them perfect for creating many different shapes, advertisement lighting, signage, etc. At the same time, they are highly resistant to external factors (IP65- and IP67-rated) and they retain all the benefits of LED based lighting: low energy consumption (from 8W/m to 19.2W/m), varied width (6mm, 10mm, 12mm, 13mm and 15mm) and the relatively high brightness compared to the white colour strips (up to 215lm/m). Even light propagation is their another benefit – their structure allows for the creation of homogenous lines even with a lower density of LEDs. Yet another benefit of the silicone that scatters the emitted light is its resilience to mechanical factors, UV, and corrosion. Neon strips are available in white colour versions (from 2500K to 9000K) and also as red, purple, blue (including ice blue), pink, green, and gold variants. Programmable versions, as described below, are also available.
LED COB strips
COB (chip on board) is a method of mounting LEDs (and other electronic components) directly on the substrate (in the circuit), without previous installation in the SMD package. LED structures are densely mounted and potted with fluorescent phosphorus strip on the surface of the LED strip. The LED structures emit blue light, which stimulates the phosphorus to emit white light with its full volume, which in turn eliminates the unwanted contrast between brighter points and darker sections. This production technology allows for very high LED density (480pcs/m for single-colour strips), which results in very high brightness(1100lm/m), and a wide beam angle (full 180°) while retaining the small size and high elasticity. Such strips from iPixel require a 24V driver and can achieve 10W or 16W per metre. Thanks to their parameters, they can replace light bulbs and fluorescent lamps as a standard source of indoor illumination and can be also used in the manufacture of unconventional lamps and ceiling lamps. Just like most of the presented LED strips, these models are also equipped with self-adhesive strips, which makes for easier mounting of lighting in housings (profiles) or on other smooth surfaces. The place of mounting should have good air circulation or must provide (e.g. aluminium profile) effective heat dissipation – because of their structure and intensity, COB strips heat up more than other models.
High density COB LED mounting helps achieve high brightness.
RGB, RGBW and programmable strips
Another type of products are strips in which the colour can be controlled by certain pre-set signals. We can distinguish three kinds of solutions here
Multicolour strips
Close-up, you can see individual LEDs closed in an SMD package.
In the case of light effects or signal lights, LEDs in the RGB configuration are used (red, green, blue). The desired colour is obtained by setting brightness proportions of the individual components of the set (usually by powering individual colour channels with impulses of different width, i.e. using the PWM method). RGB strips are equipped with four pins (including GND), which allows for precise regulation of the colour of the entire chain and also smooth or sudden change. Unfortunately, LED RGB products, because of their limitations, are not suitable as the main illumination. RGBW LED strips are their upgraded version – aside from the three colour emitters, they are equipped with a white LED. Such a configuration makes it possible to create an eye-friendly installation, which still allows for a wide range of colour (and intensity) regulation.
RGB and RGBW programmable strips
In the solution described above, all LEDs (assigned to a single channel) have the same colour along the entire length of the strip. The emitted colour is related directly to the voltage (pulse width) on the input pins. Programmable strips allow for the individual setting of single LEDs or groups of LEDs. It is possible, because each module on the strip is made out of an integrated circuit (a driver and PWM signal generator) and light-emitting structures. Such products can be helpful not only for the construction of impressive illumination and light setups for home theatre (ambient lighting), but also for screens and professional photography and cinema lighting (products with a high frequency of the PWM signal). Example applications can be seen in the video below.
Black colour of the strip improves the look of strips mounted in gaps.
RGB and RGBW strips are available in widths from 4mm to 20mm and their required power supply voltage is 5V, 12V or 24V (depending on the model). The supply voltage can come from a source that is independent from the driver. Just like in the case of "regular" LED strip, these products are divided into segments that can be cut or joined to adjust the length of the chain (attention must be paid to the maximum power of the driver). In chosen variants, the LEDs are mounted with a density of up to 144 pcs/m, achieving an illusion of fluent movement between pixels.
The lighting is controlled through synchronous or asynchronous communication (depending on the model). The setting is determined by the PWM signal sent from the controller, whose duty cycle value falls in the range of a single byte (i.e. 0…255). Individual modules can't be addressed – data is transmitted to the first receiver on the strip, and the setting is passed on to the next controller (and it goes on upstream the series). Basic parameters of each protocols used in iPixel's products are presented in the table below.
As a driver, you can use e.g. Arduino, ESP32 module, or Raspberry Pi computer. The controllers used in iPixel's products are very popular, so you can find many complex libraries on the GitHub platform that facilitate the control of the RGB and RGBW strips (and also dedicated effect libraries).
| | | | | |
| --- | --- | --- | --- | --- |
| Controller/driver | LED channels* | Synchronous transmission | Frame length | Brightness bits |
| APA102 | RGB | yes | 32 | 5 |
| RT1809** | RGB | no | 24 | n/a |
| SK6812 | GRB | no | 24 | n/a |
| SK6812 (RGBW)*** | RGBW | no | 32 | n/a |
| UCS2904**** | RGBW | no | 32 | n/a |
| WS2801 | RGB | yes | 24 | n/a |
| WS2811 | RGB | no | 24 | n/a |
| WS2812B | GRB | no | 24 | n/a |
| WS2815 | GRB | no | 24 | n/a |
* channels are listed in the same order as they are transmitted to the controller
** the system controlling the RT1809 protocol is an improved variant of WS2813
*** the SK6812 driver is available in two versions: RGB and RGBW, the first one being fully compatible with the WS2812B protocol
**** the UCS2904 protocol is similar to the SK6812 in the RGBW version, however these systems aren't fully compatible and can't be connected in series/chain