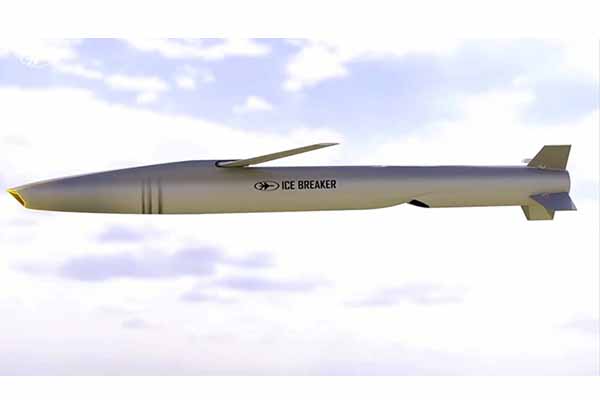 Rafael Advanced Defence System will introduce the Ice Breaker at the Farnborough International Airshow 2022. Ice Breaker in a 5th generation long-range, autonomous, precision-guided missile system, enabling significant attack performance against a variety of high-value land and sea targets.  It is a multi-service solution which can work across air, land and sea targets. It comes a year after the introduction of the Sea Breaker, which serves as the naval and land-based version all-encompassing ice-breaker. Ice-breaker has enhanced capabilities and application across all domains.
Ice breaker easily navigates through the challenges of the modern warfare arena through Rafael's legacy of high-end precision-guided solutions. It is an aerial force-multiplier resilient to electronics countermeasure and is fully operational in GNSS-denied arenas. It provides surgical, pinpoint precision strike capabilities from standoff range of up to 300km and features an advance IIR (Imagine Infra Red) seeker, ideal for stationary or moving land and maritime target engagement in advanced Antiaccess/Areadenial (A2/AD) arena.
Ice breaker data link support real-time man-in-the-loop design making and tactical update, with mid-flight abort and Batter Damage Assessment. The missile is compatible with the various aerial platform, including jet fighters, light aircraft and helicopters and is fully operational across all weather conditions. Ice Breaker is enabled with Automatic Target Acquisition (ATA) and Automatic Target Recognition (ATR) technology by performing deep-learning and big data based scene-matching, employing Rafael's unique combat-proven Artificial Intelligence technology.
Ice Breaker transform light platform like planes, helicopters and ships into dominating fighting machines through its multi-direction, synchronised full space attack capability, based on predefined attack plans, according to waypoint, azimuth, impact angle and aim-point selection. It flies at high subsonic speeds