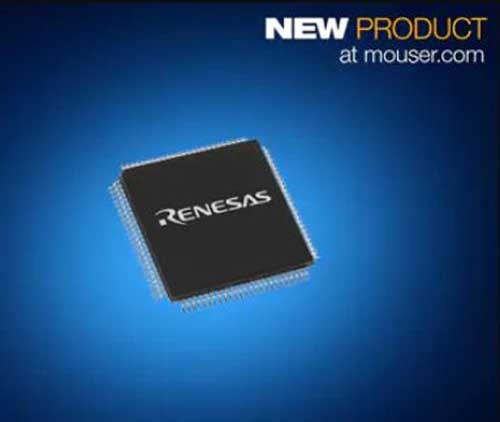 March 16, 2019 – Mouser Electronics, Inc., the authorized global distributor with the newest semiconductors and electronic components, is now stocking the S5D3 Synergy Microcontroller Group from Renesas Electronics. Providing a new tier to the established S5 microcontroller series, the S5D3 microcontrollers are built on a highly efficient 40nm process, offering enhanced security, wide connectivity, and software support. The entry-level microcontrollers target a broad range of Internet of Things (IoT), industrial, building automation, smart metering, and home and office equipment with capacitive touch human-machine interfaces (HMIs).
The Renesas S5D3 Synergy microcontrollers, available from Mouser Electronics, incorporate a 120 MHz high Arm Cortex-M4 core with floating point unit, plus 512 Kbytes of flash and 256 Kbytes of SRAM. The S5D3 devices integrate a secure cryptographic engine (SCE7) with key protection that safeguards the microcontroller boot code and IoT endpoint device communication with a root of trust, eliminating the need for external security functions and reducing BOM cost. The microcontrollers are software- and pin-compatible with other Renesas Synergy microcontrollers, sharing a common set of peripherals and facilitating design scalability and efficient platform-based product development.
The S5D3 microcontrollers feature two 12-bit analog-to-digital converters (ADCs), a 2-channel 12-bit digital-to-analog converter (DAC), high-speed 6-channel comparator, temperature sensor, and a 6-channel programmable gain amplifier (PGA). The devices also offer a scalable set of 13 independent 32-bit general-purpose timers, capacitive touch sensing unit, and communications interfaces such as USB, CAN, I²C, SPI, SDHI, and SSI.
The Renesas Synergy Platform provides developers with immediate access to a complete embedded platform, starting with an application programming interface (API) to leverage a full software framework that is built around the best-in-class Express Logic X-Ware. This software framework, the Synergy Software Package (SSP), relieves developers from creating and maintaining low-level software repeatedly for each of their embedded projects.
With its broad product line and unsurpassed customer service, Mouser strives to empower innovation among design engineers and buyers by delivering advanced technologies. Mouser stocks the world's widest selection of the latest semiconductors and electronic components for the newest design projects. Mouser Electronics' website is continually updated and offers advanced search methods to help customers quickly locate inventory. Mouser.com also houses data sheets, supplier-specific reference designs, application notes, technical design information, and engineering tools.
To learn more, visit www.mouser.com/renesas-s5d3-mcus.