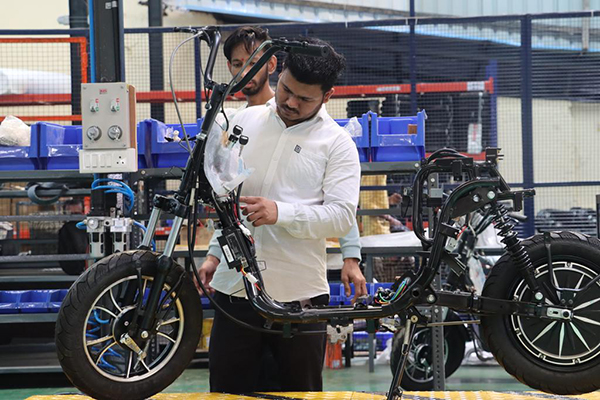 Revamp Moto announced the launch of commencement of production of the first 120 bikes called the RM Buddie 25 at India's first microfactory and the company's facility in Nasik, Maharashtra. Built completely in-house from the ground up, the transformational Buddie is being manufactured keeping in mind the customers looking to purchase a two-wheeler EV with multiple uses allowing the Buddie to help them conduct business efficiently while on the move.
Mr. Pritesh Mahajan, CEO & Co-founder of Revamp Moto said, "As a brand, Revamp Moto spent over 3 years in R&D to develop the blueprint of one of India's fastest swappable and customizable EVs for India's micro-entrepreneurial community. We are now delighted to finally announce that Revamp Moto is now ready to begin production of its first set of RM Buddie 25 bikes for which deliveries will commence from November,2023. The RM Buddie 25 and Revamp Ecosytem will be a source to empower micro-entrepreneurs of all kinds making their lives simpler by allowing them to conduct their business efficiently on the go."
At India's and Revamp Moto's first microfactory which has the capacity to produce 25,000 units, Revamp Moto is looking at delivering the first set of 120 bikes to its customers from November. Delivery of its much sought after product, the RM Buddie 25 is highly anticipated by the  customers who have already placed pre-orders for this game-changing product in the 2-wheelers EV category.
Travelling over 70Km, on a single charge, the RM Buddie 25 can carry upto 120Kg including the weight of the driver. The bike comes with 5 swiftly attachable and swappable attachments like a saddle bag, an insulated bag, insulated box, carrier and an additional rear seat. These attachments will fulfil almost all the needs of hardworking micro-entrepreneurs like vegetable sellers, small independent ecommerce retailers, etc. who conduct business on the go.
Speaking on the occasion, Mr. Pritesh Mahajan, CEO & Co-founder of Revamp Moto remarked saying, "Revamp Moto has also partnered with financial institutions to provide potential customers with easy access to affordable financing options like no-cost EMIs and instant low interest rate on loans making it simple, affordable and sustainable to own the RM Buddie 25 which will lead to success for every micro-entrepreneur."
Also, ensuring customers of a worry-free performance and service, Revamp Moto has also recently partnered with ReadyAssist, a renowned provider of automotive assistance services. This collaboration aims to deliver 24/7 roadside assistance for electric two-wheelers, ensuring unparalleled support and peace of mind for Revamp Moto customers.
Looking to contribute to India's energy goals since its inception in 2022, the RM Buddie 25 and product portfolio from Revamp Moto will encourage India's micro-entrepreneurial community to switch to cleaner and greener sources of transportation. Through its various financing partners, Revamp is offering easy financing options like no cost EMI and instant loans at low-interest rate across several months, which will make owning the Buddie extremely simple.