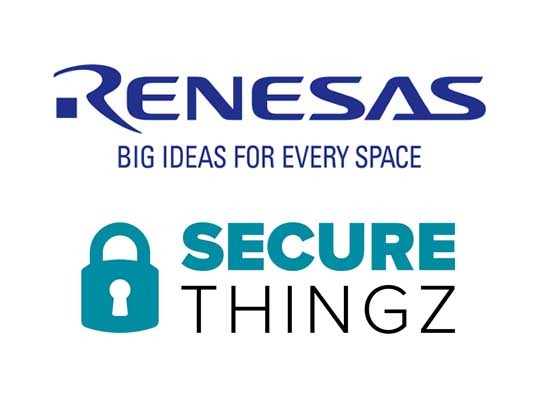 21 Nov 2018, CAMBRIDGE, UK and TOKYO, Japan – Secure Thingz, a global domain expert in device security, embedded systems, and lifecycle management, and Renesas Electronics Corporation, a premier supplier of advanced semiconductor solutions, today announced their collaboration aimed at ensuring secure Internet of Things (IoT) applications are more easily developed on leading microcontrollers (MCUs), and that a secure production flow is available to deliver a secure global supply chain. As part of the collaboration, Renesas will support the Secure Thingz Secure Deploy architecture for the secure provisioning of the Renesas RX family of MCUs. The Renesas RX65N will be one of the first MCUs to be featured when Secure Thingz's Embedded Trust platform is launched to the broader market in 2019.
According to ABI Research, by 2022, an estimated 70 percent of the world's 57 billion connected devices will be targeted for the IoT, yet today, less than four percent of new devices have embedded security. Analysts estimate in the next couple of years 25 percent of cyberattacks will target IoT devices, and that could have serious ramifications for the IoT, where incoming threats and system vulnerabilities can result in life-threatening or high-risk situations. Embedded applications for the IoT need to remain secure across their lifecycle and comply with forthcoming legislation.
The Renesas RX family of 32-bit MCUs delivers superior performance with excellent power efficiency, and is well suited to address the needs of secure embedded applications for the IoT. As part of their collaboration, Renesas and Secure Thingz are also teaming on the creation of a next-generation secure development tool that will make it easier to implement security with the Renesas RX family at device inception.
Additionally, the Renesas' RX65N/RX651 MCUs incorporates Trusted Secure IP (TSIP), which offers robust key management, encrypted communication, and tampering detection to ensure strong security against external threats such as eavesdropping, tampering and viruses. The collaboration between Renesas and Secure Thingz will help make security solutions easier for users to implement.
"Embedded applications in the IoT require very strong, trusted features for security and reliability," said Daryl Khoo, Vice President of Product Marketing, IoT Platform Business Division, Renesas Electronics Corporation. "To meet these requirements, new solutions are needed to enable companies to secure their systems, intellectual property and data. Renesas and Secure Thingz understand that enabling the security needed to accelerate IoT growth takes collaboration across the supply chain for easier delivery and implementation through an end-to-end solution that starts with secure MCUs, such as the RX family."
"As more and more companies use the IoT to transform their businesses, it is imperative to ensure their intellectual property is protected with the right embedded security and life cycle management capabilities, but implementing top-notch security may seem overwhelming," said Haydn Povey, CEO of Secure Thingz. "We strongly believe that the best device security starts at the inception of the design. We are pleased to work with Renesas to assist in making its RX family even more secure by simplifying security implementation to better address the needs of the rapidly expanding IoT market."
The Secure Thingz Secure Deploy Architecture
The Secure Deploy architecture is an advanced integrated solution for delivering the supply chain of trust. The Secure Deploy architecture has been designed to enhance and simplify security implementations across the lifecycle of product creation, manufacturing, and management. This enables organizations to build upon secure foundations to protect their intellectual property across the life cycle of their products.