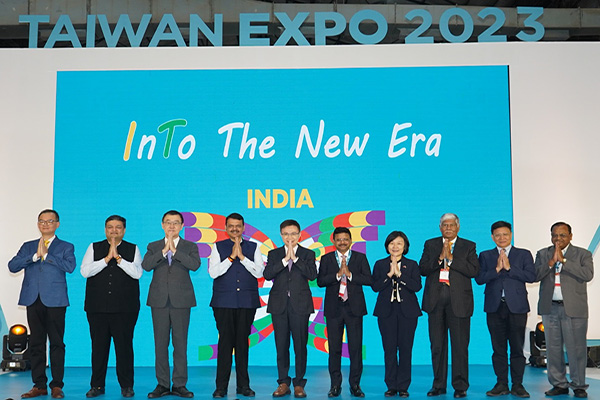 Organized by International Trade Administration (TITA), Ministry of Economic Affairs and Taiwan External Trade Development Council (TAITRA),  the 6th edition of the Taiwan Expo India 2023 encompassing exhibitions and networking events was inaugurated on Thursday October 5, 2023 at NESCO Exhibition Centre, Goregoan, Mumbai by James C.F Huang, Chairman, Taiwan External Trade Development Council (TAITRA) along with Mr. Shri Devendra Fadnavis, Deputy Chief Minister, Government of Maharashtra, at a glistering opening ceremony alongside other Taiwan Excellence dignitaries, Mr. Homer Chang, Director General, Taipei Economic and Cultural Centre (TECC) and Ms. Estela Chen, Director, Economic Division, Taipei Economic and Cultural Center in India. Other eminent guests and VIPs at the ceremony included, Dr. Harshadeep Kamble, Principal Secretary, Government of Maharashtra and Dr. Vipin Sharma, CEO, Maharashtra Industrial Development Corporation, to name a few. 
The three-day Expo (Oct 5 -7, 2023) themed on the concept of 'Explore Taiwan in India' offers an opportunity to showcase top of the line products from Taiwan brands to introduce them into the Indian market and secure networking opportunities with new and existing clients. This year the Expo will have 6 themes, 7 pavilions on display across key categories like Smart Manufacturing, Smart City, Smart Medical, Smart Agriculture, Smart Lifestyle and EV. Some of the highlight products that are being showcased at the Expo include, UAV from Ahamani EV Technology Co. Ltd, BU UPS Series from Cyber Power Systems, Inc. and EV power system from Teco Electric and Machinery Co. Ltd., to name a few.
Speaking at the inauguration, James C.F Huang, Chairman, Taiwan External Trade Development Council (TAITRA) said, "Taiwan and India shared passion for tradition and culture, as well as our joint pursuits for technology and innovation, make the two nations the perfect partners. India is a global giant with the economic power and workforce to match. The partnership of Taiwan and India is perfectly positioned to be a future leader in the world's technology manufacturing industries. Together, Taiwan and India can redefine industry standards, and can be a leading force in the world's digital future."
This year the Expo is spread across a sparling area of 3107 Sq mts at the NESCO Exhibition center housing some of the best-in-class products from Taiwan. In addition to presenting smart manufacturing-related products such as FFKM / Perfluoro elastomer (Maxmold Polymer Co., Ltd) and Additive Manufacturing Service (Rayvatek INC.), as well as lifestyle products like Educational Learning Toys (Honeycomb Learning Corporation), another standout feature of the expo is smart medical. This category includes Applications of Electronic Paper (Taichung Veterans General Hospital), National Cheng Kung University Hospital, MikoDrip IV Monitoring System (MIKOTEK INFORMATION INC.) and much more variety of solutions across different sectors.
Organized by Taiwan External Trade Development Council (TAITRA), Taiwan Expo is its flagship exhibition to fortify the ties between Taiwan and the ASEAN countries including India. Since its inception in 2017, Taiwan Expo has emerged as a leading platform for Taiwanese businesses to explore new opportunities, exchange ideas, and forge partnerships in ASEAN, South Asia, and North America. Thus, the Expo is credited to be the premier online sourcing hub in ASEAN countries and India. It is testament of Taiwan's strong and long-term commitment in promoting bilateral trade relationship with India.