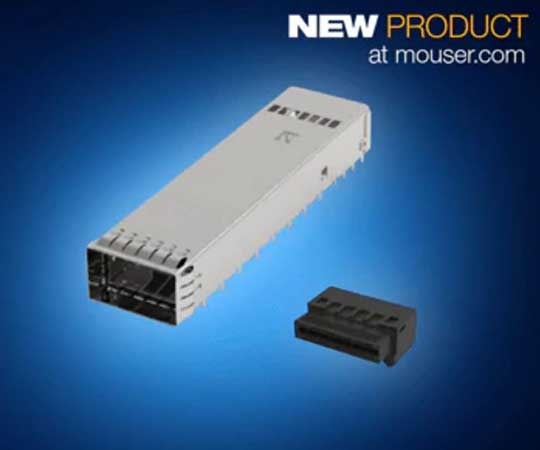 January 17, 2018 – Mouser Electronics is now stocking OSFP input/output (I/O) connectors from TE Connectivity (TE), a world leader in connectivity and sensors. TE's next-generation octal small form-factor pluggable (OSFP) connectors are designed for maximum thermal and electrical performance in data center applications.
TE's OSFP connectors, available from Mouser Electronics, deliver 400 Gigabit Ethernet (400GbE) speeds over eight electrical lanes to support equipment that operates at up to 56 gigabits per second (Gbps) PAM-4 and 28 Gbps NRZ. The SMT connectors offer a 60-position interface with a two-row design on a proven 0.6 mm contact pitch. Offering low PCB cost and noise, the SMT connectors are belly-to-belly capable with in-ground alignment.
OSFP cage assemblies feature a flat rock PCB assembly and support 1×1 and 1×4 single-port and multi-port applications. The stainless steel cage includes tuned airflow venting, ensuring ideal system airflow and supporting module cooling. The cage assemblies also feature EMI containment at both the bezel and port opening, and both the cages and surface mount connectors feature copper alloy contacts.
TE's OSFP connectors are suitable for a variety of data communications applications, including routers, servers, network switches, and interface cards.
To learn more, visit www.mouser.com/te-osfp-io-connectors.