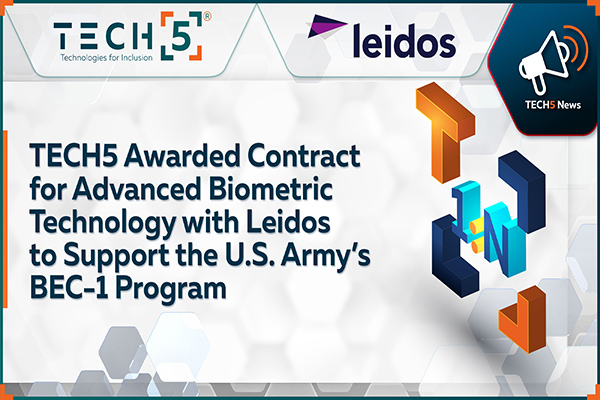 TECH5 announced a strategic contract with Leidos, a FORTUNE 500 science and technology leader, to provide critical support for the U.S. Army's Biometric-Enabled Capability Increment 1 (BEC-1) program. 
The BEC-1 program facilitates the Department of Defense (DOD) Automated Biometric Identification System (ABIS), whose fundamental purpose is enabling end-users to biometrically identify and verify threat actors' identity in support of the decision-making process and force protection (analyze, decide and act) at the tactical, operational, strategic and national level.
TECH5 has a team with over twenty-five years of experience and deep knowledge in developing and implementing ABIS systems for national-scale projects. T5-OmniMatch ABIS has integration capabilities for TECH5's in-house and third-party algorithms. As a subcontractor for the BEC-1 contract with Leidos, TECH5 will deploy its biometric matching software in a digital test environment. The software's primary role will be to evaluate and combine different biometric algorithms, particularly focusing on the voice modality. This thorough testing and evaluation process can bolster national security and mission effectiveness, enabling quick and precise identification of persons of interest. 
"We are very excited to be partnering with Leidos on this program. Identifying persons of interest using various biometrics can significantly amplify mission effectiveness and reinforce National Security. It's an honor to be powering this evolution with technology. As an expert in biometrics with subject matter expertise in multimodal AI-based biometric algorithms and matching platforms, we at TECH5 are looking forward to helping Leidos and other customers to access the best technology for improving their capabilities." – comments Rahul Parthe, Co-founder, Chairman, and CTO of TECH5.
TECH5's scope of work under the contract will also include the provision of test results, scoring, and expert recommendations for the BEC Product Manager (PDM)'s consideration.
"We value our team and collaboration with TECH5 as we work to advance capabilities in the biometrics mission space", said DeChanta Walker, Leidos vice president and Integrated Force Protection Solutions and Services division manager.
This partnership underlines TECH5's commitment to providing cutting-edge biometric solutions that enhance security and drive mission effectiveness. With its global reputation for innovative technology and a proven track record in successful digital identity implementations, TECH5 continues to redefine the biometrics industry.