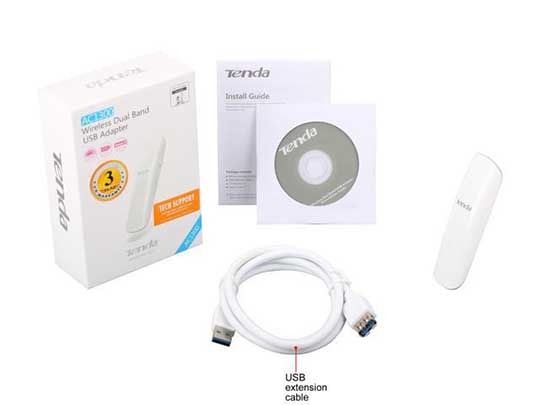 New Delhi, India: November 13, 2019: Tenda, the leading provider of networking devices unveils U12 AC1300 Dual Band Wireless Wi-Fi USB 3.0 Adapter providing high-speed Wi-Fi technology in a compact and portable package, improving connectivity on the go at an affordable price.
"We at Tenda work towards achieving high standards of innovations and technology through our relentless efforts. With the launch of new USB adapter, we are bringing modern technological advancements in convenient size.  USB adapter is an easy way to use devices, while enjoying faster Wi-Fi speeds and improved connectivity on the move," said John Dong, Director, Tenda India.
Tenda U12 AC1300 Dual Band Wireless Wi-Fi USB 3.0 Adapter
Uniquely designed to be carried in your pocket, Tenda U12 makes on-the-go mobile surfing easy thanks to its dual-band wireless AC technology. Tenda U12 delivers Wi-Fi speeds up to 867 Mbps on 5 GHz or 400 Mbps on 2.4 GHz. It uses USB 3.0 interface which have a 10 times faster transfer rate than USB 2.0.
Due to its high-speed and 256 -QAM Technology, Tenda U12 is able to support all online activities, from HD video streaming to lag-free online gaming and web surfing. More specifically, it takes only 200 seconds to download a 2 GB movie offering a thrilling cyber experience.
U12 comes equipped with an extension Cable to extend the USB connection length, making it more convenient to plug the USB device in & out of the USB socket.
Tenda U12 comes with WPS Button which provides advanced security encryption, supporting both WPA and WPA2 encryption protocol at the push of a button.
Tenda U12 is also compatible with Windows XP/7/8.1/10, Mac OS 10.6-10.2, and Linux OS to address various wireless requirements.
Key Features and Benefits:
Super Wi-Fi speed– AC 1300Mbps (400Mpbs at 2.4GHz and 867Mbps at 5GHz ) wireless speed and compliance with the next-generation Wi-Fi standard 802.11ac
USB 3.0 port – Up to 10x faster than USB 2.0
WPS Button – Easy wireless network encryption at a push of the button
Ultimate Compatibility – Support 802.11 a/b/g/n standards and compatible with Windows XP/7/8/8.1/10, Mac OS X, and Linux
Flexible Deployment – Equipped with a USB extension cable for flexible deployment
For further information, please visit: www.tendacn.com