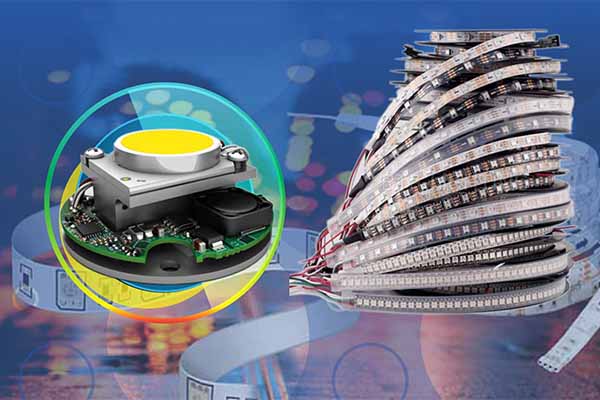 What has been a catalyst in the development of the indigenous LED ecosystem? From Make in India, Street Lighting National Programme (SLNP) to Unnati Jyoti by Affordable LEDs for All (UJALA) scheme all these government policies are known to have set the Indian LED industry to a new benchmark. But lack of skilled manpower, high capital investment, lack of infrastructure, and dependence on imports are the heat that the LED Industry in India has been facing. To understand the critical aspects, the viability of Government initiatives and how truly India can become a hub for electronic systems design and manufacturing, TIMES TECH BUZZ in its cover story brings the eloquent discourse of Ankur Mehta – Founder and Chairman, Crescent Lighting | Sudhama Dharmappa, Assistant Field Application Manager, KYOCERA AVX Components Division, Electronic Components Business Segment and Seema Joshi, Sr. Manager Projects, Electropneumatics & Hydraulics India Pvt. Ltd.


Government Policies and Development of the Indian LED Ecosystem

Emphasizing the Government of India's schemes, Ankur underlines four prominent schemes which are:
UJALA Scheme: The Unnati Jyoti by Affordable LEDs for All (UJALA) scheme was launched by the government in 2015. It aimed to provide LED bulbs at a subsidized rate to consumers across the country, thereby encouraging the adoption of energy-efficient lighting. This has led to a significant reduction in energy consumption and carbon emissions.
SLNP Scheme: The Street Lighting National Programme (SLNP) was launched in 2015 to replace conventional streetlights with energy-efficient LED lights. Under this scheme, over 10 million streetlights have been replaced with LEDs, resulting in significant energy savings.
Make in India Initiative: The Make in India initiative aims to promote domestic manufacturing and reduce dependence on imports. This has encouraged the setting up of LED Industry units in the country, leading to the growth of the LED ecosystem.
National Programme for LED-based Home and Street Lighting: The National Programme for LED-based Home and Street Lighting was launched in 2016 to accelerate the adoption of energy-efficient lighting in rural areas. The scheme provides financial assistance to states for replacing conventional lighting with LEDs.

While Sudhama lauding the continuous efforts of the Government of India quotes, "The Government of India has made strong efforts to identify potential investors and facilitate investment for the implementation of Make in India action plans. The government is also providing support for Indian missions abroad and state governments, organizing events, summits, roadshows, and other promotional activities to attract investment in the country under the Make in India banner. Investment outreach activities are being carried out to enhance international co-operation for promoting foreign direct investment (FDI) and improve ease of doing business in the country."
The Make in India initiative has made significant achievements and presently focuses on 27 sectors under Make in India 2.0. The Department for Promotion of Industry and Internal Trade is coordinating action plans for manufacturing sectors, while the Department of Commerce is coordinating service sectors Sudhama adds.
Citing about SLNP programme, (Street Lighting National Programme), Ms Seema states, "Over 1.03 crore smart LED streetlights have been installed till date, enabling an estimated energy savings of 6.97 billion kWh per year with an avoided peak demand of 1,161 MW."
Challenges Before the LED Manufacturing Industry in India
Being elaborative on the challenges of the Indian LED industry, Ms Seema shares a few key pointers, which are:
High Initial Cost: Good quality LED lights have a higher cost than conventional lights as a result of the complicated assembly and high raw material cost. Manufacturers, however, are trying to lessen their production costs by employing new technologies and designs.
Thermal Design Challenges: LED lights generate a certain amount of heat which has to be distributed properly so that the LED chip does not get damaged. In order to tackle this issue, LED lights are fitted with aluminium heatsinks which require certain design innovations to work properly. This increases the manufacturing cost as well.
Lack of Consumer Awareness: Many consumers do not consider the overall cost of ownership while buying lighting products. Nevertheless, the declining prices of LEDs along with the ease of use, energy efficiency and longer life are prompting users to see the long-term benefits of switching to LED lights.
Performance Consistency: For most applications, it is hard for the user of the LEDs to set a tight specification on flux and colour; Challenges lie in the matter that LEDs, when manufactured, are produced in a distribution of colours (wavelengths or colour-corrected temperatures, CCT), light output (intensity or luminous flux), and forward voltage/efficacy (Vf or lumens per Watt). Generating a matching colour and light output in multiple fixtures is extremely important; it is critical both in the occasion of fixed or permanent installations.
Operating Temperature: LED performance predominantly relies on the ambient temperature of the operating environment. still, convert between 20 to 50% of the power they are fed into heat. Heat can often lead to permanent damage to the LED, degrades LED performance by causing reduced light output, and ends up in a premature device failure.
Product Cost: While high thermal conductivity materials are often used to propagate the heat out over a substantial area, these high thermal conductivity materials come with the addition of significant weight and cost. This raises the cost of not only the light sources as a result of shipping costs and materials costs but also the fixtures which use those light sources. Additionally, for driving an illumination system, the LED driver is commonly designed as general-purpose circuitry for use with a wide selection of LEDs. This further increases the overall cost. Aside from that, white light LED costs are changing, pushing designers to use caution in specifying LEDs for specific lighting applications.
Light Pollution: Glare and spill light, and halo effect light, are known as light pollution. By the very nature of their design and operation, LEDs produce a directional light output. LEDs are small, concentrated sources of directional light, and may oftentimes create glare when used for general illumination. The glare could be very annoying and discomforting.
Flicker: Flickering in LED lamps can occur mainly because these devices are typically driven by LED drivers having regulated power supplies which provide regulated current and voltage to the LED lamps from AC power lines. The LED emits light by being supplied with power through a predetermined power supply unit. When the power supplied by the power supply unit is unstable, the light emitted from the LED may flicker as a sign of a malfunction. That is, a flicker of the LED happens when a current waveform of the power supplied to the LED is imbalanced.
Worth mentioning about the talent gap, high-capital Investment and other key issues, Ankur jots down the following:
Lack of skilled manpower: LED Industry requires skilled manpower in areas such as designing, testing, and quality control. However, there is a shortage of skilled manpower in the country, which is affecting the growth of the industry.
High capital investment: LED Industry requires high capital investment for setting up manufacturing units and acquiring machinery and equipment. This makes it difficult for small and medium enterprises to enter the market, limiting competition and innovation.
Lack of infrastructure: The LED manufacturing requires a reliable power supply and transportation infrastructure for the timely delivery of goods. However, India's infrastructure is still developing, which can affect the efficiency and competitiveness of the industry.
Dependence on imports: Despite the government's efforts to promote domestic manufacturing, India still depends on imports for some key components of LED products, such as chips and phosphors. This dependence on imports can affect the cost competitiveness of Indian manufacturers.
Price competition: The LED manufacturing is highly competitive, and manufacturers often have to reduce prices to remain competitive. This can affect the profitability of the industry and limit investment in research and development.
Pointing out China's advanced manufacturing fixtures, LED manufacturer's investment tools and Government tenders' high test certificates cost, Sudhama brings up many critical issues which are:
China is very advanced in manufacturing aesthetically good fixtures, as it caters to a global market, so it can afford to invest in the tools needed for this type of manufacturing. In India, the return on investments made in tools is very low.
The second challenge we face in the LED business is having to compete with low-cost Chinese LED lights, which are easily available in the Indian market. Despite their inferior quality, customers tend to get attracted by these products due to their low price compared to domestically manufactured products.
Third, since LEDs are a new technology, there are no standard specifications for the lights yet, which results in a huge number of product variants in terms of wattage.
Nowadays, all government tenders ask for various test certificates, which cost manufacturers a lot (Rs 2.5 to Rs 4 lakh). However, customers do not give appropriate weight to this most important feature of LED lights. Moreover, we then need to get all the tests redone and acquire new certificates for even small changes in the wattage. So, spending on tests and certificates is a heavy investment.
Driving Innovations in LED Technology
There are many key applications and sectors that are currently adopting LED technology, worth mentioning that LED technology has today become omnipresent. Sudhama notes, A few years back, LEDs were just an innovative idea, but now the technology is well entrenched in the automotive lighting space. These lights offer style and performance, are lighter weight, save space, and deliver a host of other benefits. In addition to headlights and taillights, LEDs are now making their way onto dashboards and rearview mirrors. Interestingly, LEDs have even penetrated the smaller vehicle market. According to one report, the global automotive LED lighting market was projected to grow by US $4.73 billion during the 2019–2023 period.

The Differences Between Various Types of Automotive LED Lights

In automotive lighting, there are three main light options — halogen, xenon, and LEDs, and each one is very different from the others. Currently, LEDs are the most preferred automotive lighting technology in use.
One of the biggest benefits of LED lights is design flexibility. The styling of vehicles is important to car buyers. Apart from other functions and safety aspects, consumers are also drawn to attractive exteriors and interiors of the vehicles. With LEDs, it is possible to design a very sleek and compact lighting fixture and yet still provide effective lighting. Such sleek designs do not consume a lot of space, which helps designers develop unique designs for constrained spaces that would not be achievable with traditional automotive lights.
"It must be noted that high-intensity discharge (HID) lamps are the brightest of the car headlight options."
However, they can distract or temporarily blind the drivers of oncoming vehicles, and they also cause a shadow effect that can create difficulties in seeing things clearly while driving.
Another important aspect of LED lights is that they consume very little energy and can last 100,000 hours or more, whereas the typical life span for other lighting is 75–90% lower, or at best 10,000–25,000 hours. LEDs waste only a little amount of energy in the form of infrared radiation. Since they emit light directionally (180 degrees versus 360 degrees), there is very little energy lost in redirecting or reflecting the light beam. As such, LED lights can be used extensively when the engine is running, without any drastic impact on the battery. In fact, some low-powered LEDs can be operated for a certain time even when the engine is not running.
Challenges
In spite of their many advantages, LEDs also come with a few downsides, though none of a critical nature. Cost is one of the most discussed concerns when it comes to LED lights. They are comparatively expensive to acquire, so initial capital costs are high. This has hindered widespread adoption, as consumers have yet to realize that the savings that accrue in the long term are significantly higher than the initial investment.
Another issue is the need for heat dissipation. Many people assume that LEDs do not emit heat at all, but a small amount of heat is generated by the emitter when electricity passes through. This means that LEDs require a cooling component to keep the diode from melting and to protect the other parts which increases the cost involved in manufacturing.
In addition, when LEDs expire after years of use, both the light source and the fixture the lights are embedded within can become non-functional. LED lighting is also problematic in colder climates where it can become ineffective. Due to their low heat generation, LEDs are not efficient in dealing with frost or snow.
LEDs are also generally avoided in applications requiring a spherical light field, as they do not give a spherical distribution of light.
The Growing Demand for Automotive LED Lights
Considering the benefits provided by high-power LEDs, conventional lights like halogen and xenon have taken a backseat in automotive applications. LED lights are highly energy efficient, have a longer life span, and require minimum maintenance and associated costs. The initial price of and installation costs for LED products are typically higher than traditional lights, but the operating costs are much lower. LED technology enables more safety-focused features, which enhance the overall driving experience. In addition, the standardization and optimization of LED modules have brought down the cost of LED technology.
Another major factor that is contributing to the growth of LED lighting is the introduction of government initiatives that encourage the adoption of an energy-efficient technology that has a low impact on the environment.
Application Trends
Automotive LED lights are used in both the interior and exterior of vehicles. Exterior automotive applications include headlights, fog lights, position lights, daytime running lights (DRLs), rear-combo lamps, turn signals, dashboard lights, and rearview mirror lights. Interior automotive applications include head-up displays, indicator lamps, ambient lighting, and digital dashboards capable of showing detailed information, including problems that need immediate attention.
Today, LED lights are incorporated in both standard and luxury vehicles, as well as commercial vehicles due to their high efficiency.
Headlights, the most significant exterior lighting, are now being upgraded to include intelligence. These smart headlights include LEDs, controllers, and sensors and are connected to a vehicle's vision system. In taillights, each LED is individually controlled and is used to inform, warn, or communicate with other road users. LEDs are considered to be ideal for exterior applications due to their interactive and intelligent features.

Whereas Seems candidly noted, "LEDs are used in automotive headlights, brake lights, interior lights and indicator lights. LED headlights are the latest innovation in forward lighting for vehicles. They are bright, turn on instantly and use less power than their halogen predecessors. LED lighting fixtures have numerous benefits from environmental health to your own health. These lights are energy-efficient and they consume less electricity which eventually results in the reduction of energy bills. LEDs are used in remote controls; security lighting; screens for phones, tablets and computers; TV sets; light pointers; home lighting; outdoor lighting; street and garden lighting; traffic signals.
The newest concept to come from the evolution of LED lighting is Li-Fi. Essentially, Li-Fi is the upgraded version of Wi-Fi internet connectivity using light rather than radio waves with the ability to transfer data at speeds up to one hundred times faster! Smart lighting is an advanced way to light your home. Smart LED bulbs contain software that connects to an app, smart home assistant, or other smart accessories so you can automate your lights or control them remotely, eliminating the need for traditional wall switches."
Can India Become a Hub For Electronic Systems Design and Manufacturing?
Key pointers which can help understand how India can truly become a hub for Electronic Systems Design and Manufacturing.
Skilled workforce: The availability of a skilled workforce is essential for the growth of the electronic systems design and manufacturing industry. The government and industry need to work together to ensure that the necessary skill sets are developed through training and education programs.
Infrastructure: India needs to have world-class infrastructure to support the electronic systems design and manufacturing industry. This includes reliable power supply, transportation infrastructure, and logistics infrastructure.
Government Support: The government needs to provide a conducive policy and regulatory environment to support the growth of the industry. This includes policies that encourage investment, provide incentives for research and development, and promote innovation.
Research and Development: India needs to invest in research and development to encourage innovation and the development of new products. This requires collaboration between industry, academia, and the government to create an ecosystem that supports innovation.
Intellectual Property Rights (IPR): To attract investment and foster innovation, India needs to have a strong IPR regime that protects the rights of innovators and investors.
Ease of Doing Business: India needs to improve its ranking on the ease of doing business index to attract investment and foster growth in the electronic systems design and manufacturing industry.
Ms Seema stating about the ESDM sector said The ESDM industry includes subsectors such as electronic products, electronic components, semiconductor design, and electronics manufacture. The most popular products among consumers include mobile phones, flat panel display televisions, and tablets. Electronics manufacturing services (EMS) is a term used for companies that design, manufacture, test, distribute, and provide return/repair services for electronic components and assemblies for original equipment manufacturers (OEMs). The concept is also referred to as electronics contract manufacturing (ECM). Design for manufacturing (DFM) is a process that enables manufacturers to examine the design of a product in a series of categories to optimize its dimensions, materials, tolerances and functionality through the most efficient manufacturing means possible.
Manufacturing Hub connects hardware innovators with educational content AND manufacturing partners that can help accelerate their path to market. The commercial website that provides coordination and synchronization services to electronic commerce (eCommerce) its users or partners.
Optimistic about India emerging as a trusted player in the global value chain of electronics. Sudhama right away underlines that India has a target of USD $300 billion for electronics manufacturing by 2025–2026. The Government has taken various strategic steps and launched initiatives and schemes to broaden and deepen the electronics manufacturing and information technology sector in this country.
In order to boost electronics manufacturing, including semiconductors, position India as a global hub for electronics system design and manufacturing (ESDM), and compete globally, the government enacted the National Policy on Electronics 2019 (NPE 2019) on February 25, 2019. The goal of NPE 2019 is to position India as a global hub for ESDM by encouraging and driving capabilities in the country for developing core components, including chipsets, and creating an enabling environment for the industry to compete globally adds Sudhama.
How PLI Helping The Electronic System Design And Manufacturing Industry
Promoting domestic manufacturing: The PLI scheme has provided incentives to electronic manufacturers to set up or expand their manufacturing units in India, thereby promoting domestic manufacturing.
Boosting exports: The scheme provides incentives to manufacturers for exporting their products, which has helped in boosting the exports of electronic products from India.
Attracting investment: The scheme has helped in attracting investment in the electronic manufacturing sector by providing financial incentives to companies.
Encouraging innovation: The PLI scheme provides incentives for research and development, which has encouraged companies to invest in innovation and develop new products concludes Ankur.

Ms Seema noted, Overall, the PLI scheme in India offers significant benefits to eligible manufacturers, including financial incentives, enhanced competitiveness, reduced import dependence, job creation, technology upgradation, business expansion, and long-term support.
Whereas Sudhama said, The domestic electronics hardware manufacturing sector faces a lack of a level playing field with competing nations. The sector suffers disability of around 8.5% to 11% on account of lack of adequate infrastructure, a domestic supply chain, and logistics, as well as the high cost of finance, inadequate availability of quality power, limited design capabilities, a limited focus on R&D, and inadequacies in skill development.

Further citing about the PLI Scheme, he said, The Production Linked Incentive Scheme (PLI) for Large Scale Electronics Manufacturing enabed on April 01, 2020, (Gazette Notification No.CG-DL-E-01042020-218990) offers a production linked incentive to boost domestic manufacturing and attract large investments in mobile phone manufacturing and specified electronic components, including assembly, testing, marking, and packaging (ATMP) units. This Scheme will tremendously boost the electronics manufacturing landscape and establish India at the global level in the electronics sector.
It will extend an incentive of 4% to 6% on incremental sales (over the base year) of goods manufactured in India and covered under target segments to eligible companies for a period of five years subsequent to the base year as defined.
This scheme initially offers a four-month application period, but it may be extended. Support under the scheme shall be provided for a period of five years subsequent to the base year.