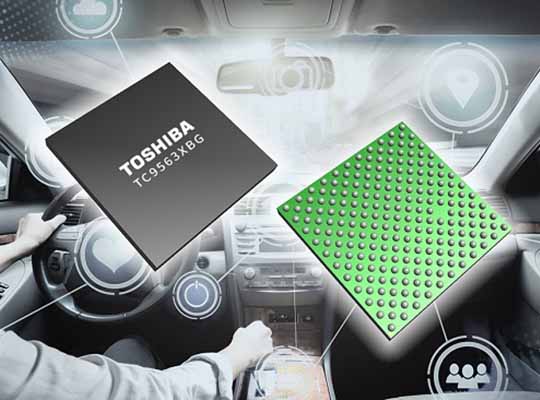 Kawasaki, Japan : Toshiba Electronic Devices & Storage Corporation ("Toshiba") adds the " TC9563XBG " (TC9563XBG) to its range of Ethernet bridge ICs for 10 Gbps communication in automotive information communications systems and industrial equipment Sampling has already started and mass production will start in August 2022.
This press release contains multimedia. View the full release here: https://www.businesswire.com/news/home/20220111005566/en/
Automotive networks are evolving towards a zone architecture [1] , where communication between zones uses 1Gbps real-time, multi-gig [2] transmission at a rate of 1Gbps or higher via Ethernet. The new bridge IC features Toshiba's first 2-port 10Gbps Ethernet, and the interface can be chosen from USXGMII, XFI, SGMII and RGMII [3] . Both ports support Ethernet AVB [4] and TSN [5] which enable sequential real-time processing and synchronous processing. They also support "simplified" SR-IOV (virtual functions) [6] . The combination of these features in the new product provides solutions that are optimized for the next generation of automotive networks.
As communications equipment continues to grow, the new ICs can be used not only for zone architectures, but also in various automotive uses such as IVI and telematics, and industrial equipment. It is also positioned to be the successor to the existing TC9560 and TC9562 series products that support 1Gbps Ethernet.
In recent years there has been an increasing number of devices adapted to PCIe interfaces for device-to-device communications such as Wi-Fi® and host SoCs tend to run less than PCIe interfaces. The TC9563XBG has three PCIe Gen 3 switch ports for communication with the host SoC and for connection to devices equipped with PCIe interfaces. The PCIe switch portion is configured with one 4-lane upstream port for connecting with the host SOS and two 1-lane downstream ports for connection to devices with a PCIe interface. Using a 3-port PCIe switch function for connections to such devices can help reduce the lack of a PCIe interface.
TC9563XBG (TC9563XBG), AEC-Q100 Grade 3 [7] will qualify.
Notes:
[1] Zone Architecture: A network configuration expected to be used for the next generation of automotive networks. In this, a vehicle is divided into several parts and all these parts communicate with each other at high speed for aligned operation.
[2] Multi-Gig: Multi-Gigabit Ethernet (2.5Gbps to 10Gbps) Recent automotive networks require bandwidth of more than 1Gbps.
[3] USXGMII, XFI, SGMII, RGMII: Standard for Ethernet interfaces. USXGMII = Universal Serial 10 Gigabit Media Independent Interface; XFI = 10 Gigabit Serial Interface; SGMII = Serial Gigabit Media Independent Interface; RGMII = Reduced Gigabit Media Independent Interface.
[4] Ethernet AVB: IEEE802.1 Audio/Video Bridging. A standard for handling audio and video data using Ethernet standard technology.
[5] Ethernet TSN: IEEE802.1 time-sensitive networking. A standard for data transmission with lower latency than AVB.
[6] SR-IOV: Single Route I/O Virtualization. A standard that supports virtualization on PCIe devices.
[7] AEC-Q100 Grade 3: Testing standards formulated by the automotive industry to certify the reliability of ICs.
Application (Used)
automotive infotainment
automotive telematics
automotive gateways
industrial equipment
Features
Two Ethernet ports of 10Gbps (can be chosen from USXGMII, XFI, SGMII or RGMII)
3 PCIe Gen 3 Switch Ports
Will be AEC-Q100 Grade 3 Qualified
Main Specification
part number
TC9563XBG
CPU core
ARM Cortex M 3 (Arm Cortex -M3)
Host (External Application)
interfaces
PCIe I/Ap:Gen3.0(8gt/h) 3 Ports Switch
Upstream: 1 port × 4 lane
Downstream: 2 ports each x1 lane
Supports L0, L1 and L1 PM substate's low power state as low power state of power management
Simplified SR-IOV (Virtual Function) Available
automotive
interfaces
Built-in MAC (2 ports) with Ethernet AVB, TSN support
Supported interfaces are:
Port A: Can be selected from USXGMII, (XFI) XFI and SGMII (SGMII).

Portby: can be selected from USXGMII, (XFI) XFI and SGMII (SGMII) and RGMII.
The speed of communication is:
If USXGMI is selected: 2.5G/5G/10Gbps
If connected to XFI: 10M/100M/1000M/2.5G/5GG/10Gbps
If SGMII is selected: 10M/100M/1000M/2.5Gbps
If RGMII is selected: 10M/100M/1000Mbps
peripheral interfaces
Selectable from I2C or SPIUART 1 channelinterrupt portGPIO
supply voltage
Selectable (selectable) from 1.8V / to 3.3VV (IO)
1.8V (USXGMII/XFI/SGMII/RGMI)
1.8V (PCIe), PLL, OSC
0.9V (core)
package
P-FBGA Balls, 10mmx10mm, 0.65mm Pitch
For more information on the new product, visit the URL below.
TC9563XBG
See the URL below for more information on Toshiba's Automotive Ethernet Bridge IC. (Automotive Ethernet Bridge ICS)
Automotive Ethernet Bridge ICs
* Arm and Cortex are registered trademarks of Arm Limited (or its subsidiaries) in the United States and/or elsewhere.
*Wi-Fi is a registered trademark of the Wi-Fi Alliance.
* PCIe and PCI Express are registered trademarks of PCI-SIG.
*Other company names, product names and service names may be trademarks of their respective companies.
Customer Inquiry
MCU & Digital Device Sales & Marketing Department
Contact Us
* The information in this document, including product prices and specifications, service content and contact information, is as of the date of the announcement and is current but subject to change without prior notice.