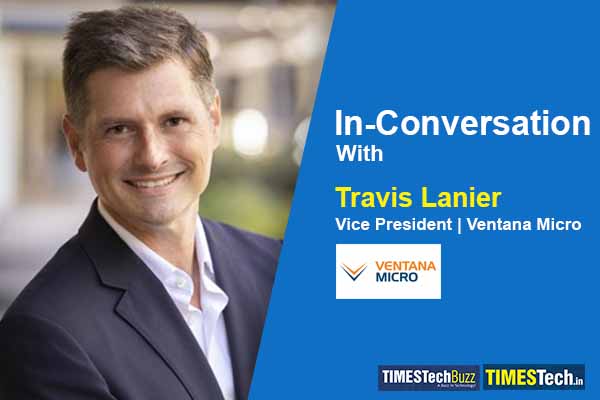 In an exclusive interview with TimesTech, Travis Lanier, Vice President of Ventana Micro, a leading player in the semiconductor industry, shares insights into Ventana's thriving presence in India's tech hubs, their pioneering role in RISC-V architecture, and the future of processor design. Lanier, a veteran with over 27 years of CPU development experience, sheds light on how RISC-V is revolutionizing the sector and why Ventana remains a standout amidst increasing competition.
Read full interview here:
TimesTech: Expand on Ventana's activities in India.
Ventana has a significant presence in the major tech hubs of Whitefield (Bengaluru) and Kothrud (Pune). The company's engineering, sales, and business teams in India are rapidly growing to meet the rising demand for RISC-V solutions. Furthermore, we are now positioned as a thought leader in the region, evidenced by our CEO's recent keynote presentation at the high-profile SemiconIndia conference, inaugurated by Honorable Prime Minister, Shri Narendra Modi.
TimesTech: How has RISC-V architecture impacted the semiconductor industry's approach to product development and innovation?
RISC-V architecture, being an open-standard, has provided the semiconductor industry with an alternative to proprietary ISAs that are controlled by a few commercial entities. Its open nature allows for faster evolution than commercial ISAs. The flexibility and cost advantages it offers have made RISC-V an attractive choice for product development, attracting everyone from startups to tier-one semiconductor companies.
TimesTech: How do you see RISC-V adoption shaping the future of processor design and customization?
Given its open-standard nature, RISC-V empowers companies with strategic independence from foreign proprietary technologies and eliminates expensive licensing fees. This freedom will lead to increased innovation and customization in processor design. Furthermore, the global community engagement around RISC-V will foster collaboration, bringing diverse perspectives and solutions to challenges, leading to more robust and diverse processor designs in the future.
TimesTech: Can you share some insights into the key advantages of RISC-V over traditional proprietary processor architectures for your company's target markets?
For our target markets, the benefits of RISC-V include:
1) strategic Independence: unlike proprietary architectures controlled by a few entities, RISC-V provides greater independence and innovation freedom; and
2) cost savings: avoidance of hefty licensing fees associated with proprietary ISAs.
TimesTech: In what ways has the open-standard nature of RISC-V influenced your company's product roadmap and long-term strategy?
The open-standard nature of RISC-V allows Ventana to actively participate in shaping the ISA standard within RISC-V International. It also influences our strategy to contribute to software initiatives such as RISE and various other projects. As a result, much of our product roadmap revolves around open collaboration, community-driven innovation, and leveraging the global expertise that the RISC-V community offers.
TimesTech: How is Ventana driving innovation in the sector in its research and development in India and what are the product offerings?
We are spearheading the transition of data centers and other sectors to RISC-V. Our teams in India play strategic roles in RISC-V International's ISA development and contribute to software initiatives. We have introduced the Veyron solution, the world's first data center class RISC-V CPU product family, which offers unmatched performance, either as integrated IP or a compute chiplet product.
TimesTech: What role does your company play in contributing to the RISC-V ecosystem, and how do you leverage the collaborative nature of this open architecture?
We hold key leadership roles in RISC-V International and contribute significantly to software initiatives. By actively participating in the collaborative ecosystem, we have been instrumental in driving RISC-V standards, fostering innovation, and addressing specific industry needs, particularly in the data center domain.
TimesTech: As RISC-V adoption grows, how do you ensure your company maintains a competitive edge and stands out amidst increasing competition in the semiconductor market?
While competition in the RISC-V space is growing, we stand out thanks to our high-performance RISC-V solution and pioneering role in chiplet integration. Our experienced team, many of whom were instrumental in introducing the first 64-bit Arm processor to the data center, gives us an edge. Our comprehensive product offerings, combined with a history of innovation and deep expertise, positions us favorably amidst rising competition.