Today, going to a car showroom won't just attract you with their range of extensive shiny wheels. Many technologies have immensely impacted the automobile sector backing vigorous innovation in the automotive segment. From the power of internet to the innovation in electronics and path forward towards electric, today, it's all wooing the automotive segment. Currently the driving experience is more than just made luxurious – it's connected. Imagining, locking my car or interacting to my dashboard is just a button away all because of an emerging technology 'vehicle to everything' (V2X). To share some reports helping you understand the potential of V2X in the Indian market; India is currently the fourth largest Automobile market in the world. Total turnover of the Indian Automobile Industry during FY 2018-19 was around USD 118 Bn, which is 7.1% of the country's total GDP, 27% of Industrial GDP and 49% of Manufacturing GDP.
According to IBEF, the auto sector is going to witness growth because of the below aspects, which are: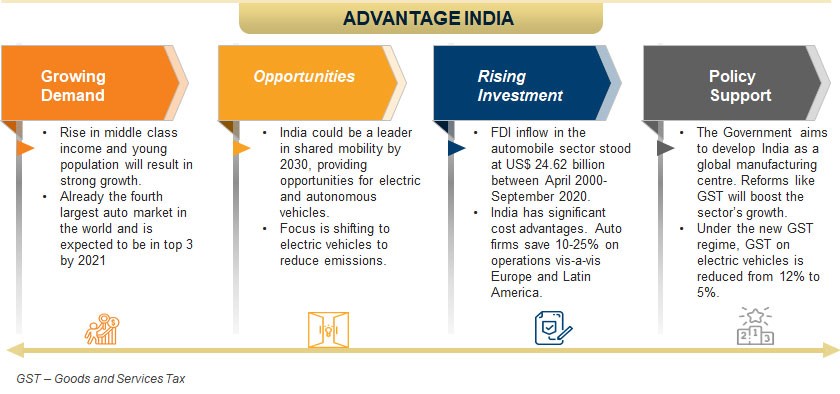 Two wheelers and passenger vehicles dominate the domestic Indian auto market. Passenger car sales are dominated by small and mid-sized cars. Two wheelers and passenger cars accounted for 80.8% and 12.9% market share, respectively, accounting for a combined sale of over 20.1 million vehicles in FY20.
Passenger vehicle (PV) sales stood at 3,10,294 units in October 2020, compared with 2,71,737 units in October 2019, registering a 14.19% growth. As per the Federation of Automobile Dealers Associations (FADA), PV sales in November 2020 stood at 2,91,001 units, compared with 2,79,365 units in November 2019, registering a 4.17% growth.
Overall, automobile export reached 4.77 million vehicles in FY20, growing at a CAGR of 6.94% during FY16-FY20. Two wheelers made up 73.9% of the vehicles exported, followed by passenger vehicles at 14.2%, three wheelers at 10.5% and commercial vehicles at 1.3%.
EV sales, excluding E-rickshaws, in India witnessed a growth of 20% and reached 1.56 lakh units in FY20 driven by two wheelers.
Talking about Vehicle-to-everything (V2X) – it is a communication technology that allows a vehicle to communicate with other vehicles, road users, and infrastructure. The major purpose of V2X technology is to improve road safety, energy savings, and traffic efficiency on roads. The key components of V2X include vehicle-to-vehicle (V2V) & vehicle-to-infrastructure (V2I), vehicle-to-pedestrian (V2P), vehicle-to-grid (V2G), vehicle-to-cloud (V2C), and vehicle-to-device (V2D) communication systems.
Potential of V2X
The advancements in 5G technology would enable the applications of 5G-V2X which is expected to offer better performance in terms of cybersecurity and handling a large number of messages in congested traffic environments. Another factor that would drive the cellular segment is the cost associated with hardware components. The DSRC segment, to perform V2P communication, requires additional hardware components, which makes it expensive compared to C-V2X. In January 2019, Audi, Ducati, and Ford demonstrated C-V2X technologies. Such developments would accelerate the commercial deployment of C-V2X technology. The V2V communication segment is expected to have the largest share of the automotive V2X market. V2V improves vehicle safety through features such as forward collision warning (FCW) and lane changing warning (LCW). The growing safety concerns among the public and government dues to increasing traffic accidents is an important driving factor for the growth of the automotive V2V market. The vehicle models equipped with V2V technology are Cadillac CTS and Mercedes-Benz E-Class, among others according to MARKETSANDMARKETS.
COVID-19 Impact
The global impacts of the COVID-19 are already starting to be felt, and will significantly affect the automotive V2X market in 2020. There are apprehensions of extension to the lockdown period that could further hamper the production activity across all sectors, including the automotive industry. Thus, owing to the lockdown imposed, manufacturing units across the globe have halted their production, which is likely to affect the purchase of vehicles equipped with vehicle-to-everything (V2X) features. The COVID-19 crisis is creating uncertainty in the market, disruption of supply chain, decline in businesses, and increase in panic among customer segments.
Key Drivers Ahead
Owing to the rapid development of economy in several developed countries across the globe, industrialization and urbanization have increased. In addition, in recent years, the V2X-based intelligent transport system (ITS) has been developed, which is considered as the key enabling technology to improve road safety, traffic efficiency, and driving experience.
Hardware and Engineering Barriers
The hardware segment is expected to hold a major share in 2025 due to the increase in the adoption of autonomous vehicles. The C-V2X communication technology hardware includes chipsets, modules, On-Board Units (OBUs), and Roadside Units (RSU). The major C-V2X technology companies are developing chipsets to boost connected vehicle technology states MarketWatch. Asia Pacific is expected to grow at the fastest rate over the forecast period due to the increase in government support for large-scale digitalization of urban infrastructure in countries including China, South Korea, and India. The engineering challenges involved in implementing V2X technologies are therefore quite complex.
The first is managing the uncertainty about the protocols and frequency bands that will be used to implement V2X, and, especially for the C-V2X option, the continuing evolution of the 4G and 5G standards as they relate to V2X. The second issue is achieving reliable and consistent communications, between vehicles and other vehicles, local infrastructure and the network, in arbitrary environmental conditions and complex RF environments. (Think of the mix of RF challenges in a modern car, from Bluetooth-connected headphones to fast-switching inverters to power buses carrying ever higher currents.)
The third issue is the usual automotive equipment suppliers' challenge, of producing highly reliable equipment that will meet auto makers' standards while achieving acceptable volume pricing.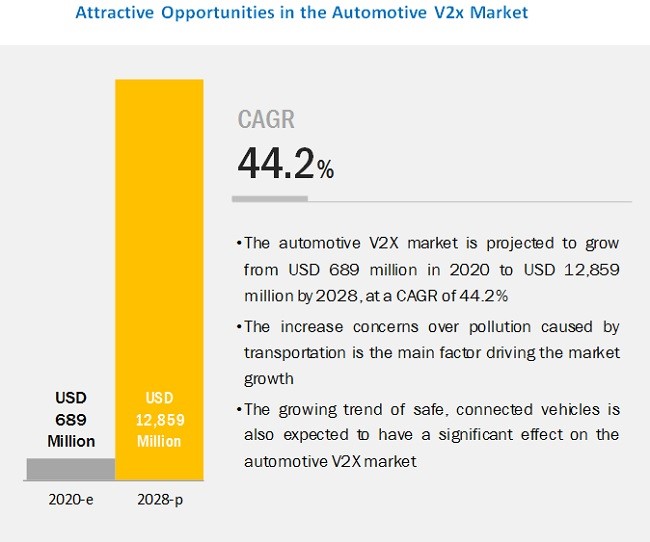 Cellular Vehicle-to-Everything (C-V2X) Industry
The advancements in cellular networks for the commercialization of 5G networks are supporting the C-V2X market growth. The enhanced bandwidth capabilities of 5G enable autonomous vehicles to be fully connected at all times with each other, roadside infrastructure, and pedestrians. The low latency of 5G technology helps in the fast response in autonomous driving, which will help in avoiding accidents that happen due to sudden lane changes. The low latency and high bandwidth of 5G network provide V2X technology benefits such as enhanced reliability over extended communication range, better non-line-of-sight performance, and great resilience for interference arising from other devices. The development of 5G technology supports a wide range of use cases such as enhanced Mobile Broadband (eMBB) and mission-critical applications.
Cellular Vehicle-to-Everything (C-V2X) market is projected to exceed USD 800 million by 2025 due to the increase in demand for safe & reliable road transportation, the rising adoption of autonomous vehicles, and increase in the adoption of vehicle telematics by logistics & transportation companies. The smart city initiatives in developing countries are helping to improve the roadside infrastructure with the help of IoT technology.