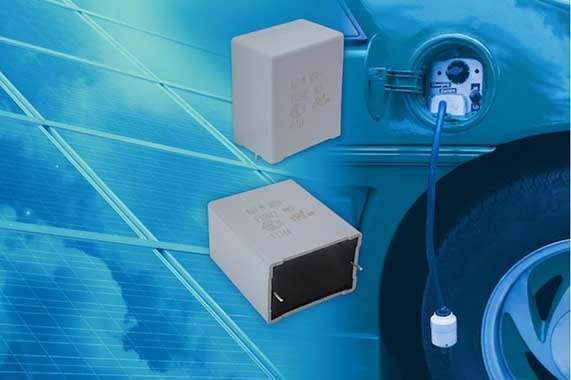 MALVERN, Pa. — Nov. 29, 2018 — Vishay Intertechnology, today introduced the new F339X2 305VAC series of Automotive Grade X2 electromagnetic interference (EMI) suppression film capacitors for standard across the line applications (50 Hz / 60 Hz), which is qualified to both AEC-Q200 (rev. D) and IEC 60384-14: 2013 / AMD1: 2016 grade IIB.
To comply with the new humidity grading system defined under IEC 60384-14: 2013 / AMD1: 2016 grade IIB, Vishay BCcomponents F339X2 305VAC series devices withstand temperature humidity bias (THB) testing of 85 °C, 85 % RH for 500 hours at rated voltage with high stability on capacitance and dissipation factors, which translates into greater robustness and longer service life in harsh application conditions.
The devices released will serve as EMC filters for automotive and industrial power inverters. The capacitors offer lead pitches of 15 mm, 22.5 mm, and 27.5 mm; capacitance values from 0.1 μF to 4.7 μF with tolerances down to ± 10 %; and a permissible DC voltage of 630 V.
The encapsulation of the F339X2 305VAC series consists of a flame-retardant UL-class 94 V-0 plastic case, which is epoxy resin-sealed. The lead (Pb)-free devices are RoHS-compliant.
For more information, please visit at www.vishay.com.