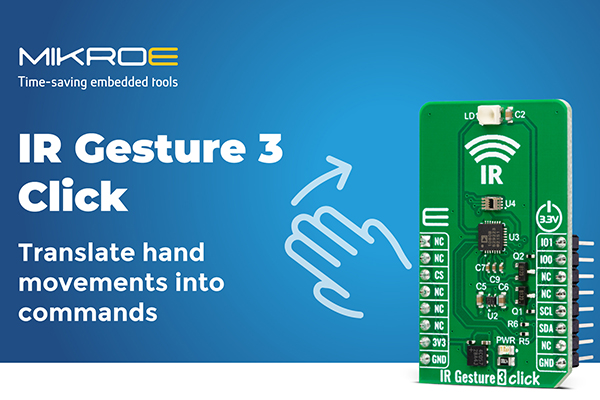 MikroElektronika (MIKROE), the embedded solutions company that dramatically cuts development time by providing innovative hardware and software products based on proven standards, has introduced IR Gesture 3 Click is a compact add-on board that provides contactless gesture recognition.
Comments Nebojsa Matic, CEO of MIKROE: "With gesture recognition, a user interface can detect hand movements and patterns and translate them into commands. It should consist of three basic functions. The first is the ability to detect a gesture's beginning and end, thus identifying what part of the gesture makes a command. Tracking of the hand movement during the gesture is the second part; the third function is to identify the gesture based on the complete hand movement.
This Click board is based on the ADPD1080, a multifunction photometric front-end from Analog Devices that features a fully integrated AFE, ADC, LED drivers, and timing core that enables ambient light rejection capability without photodiode optical filters. The drivers can deliver 370mA of peak current for LED, with flexible, multiple, and short LED pulses per optical sample. Its 14-bit ADC and 20-bit burst accumulator enable up to 20 bits per sample period, with sampling frequency ranging from 0.122Hz to 2700Hz.
The ADPD1080 operates as a complete optical transceiver stimulating the SFH4249, a high-power infrared emitter from ams OSRAM, which acts as a 940nm light source that works with a short switching time. The front-end IC then measures the return in the analogue block through the separate current inputs, storing the results in discrete data locations. This data can be read by the host MCU. The ADPD1080 has a 1.8V analog/digital core; for this purpose, IR Gesture 3 Click uses the BH18PB1WHFV, a CMOS LDO regulator from Rohm Semiconductor. As current inputs, the ADPD1080 uses the ADPD2140, an infrared light angle sensor from Analog Devices. It consists of a silicone P-type, intrinsic, N-type photodiode that provides a linear measurement of incident infrared light angle in four separate channels. The 2-axis light angle measurement is available in both x and y directions, where the resulting quantities are ratios related to angles through a constant term. The ADPD1080 front-end is connected with the ADPD2140 angle sensor via its four photodiode current inputs and a common photodiode cathode bias. The photodiode current inputs get analog data over the ADPD2140 analogue outputs.
While in State Machine operation, the ADPD1080 can operate in Standby, program, and Normal modes. The Normal mode follows a specific pattern set up by a state machine. The pattern consists of LED pulse and sample, intersample averaging, data read, and repeat. The LED pulse and sample pattern allow each data sample to be constructed from the user-configurable sum of pulses (1-255). The intersample averaging pattern samples in an average of 2 to 128 samples in powers of 2.
Click boards follow mikroBUS a modular prototyping add-on board standard invented by MIKROE, enabling design engineers to change peripherals easily, cutting months off development time. Any Click board can be connected to the microcontroller or microprocessor on a main board. Many leading microcontroller companies including Microchip, NXP, Infineon, Dialog, STM, Analog Devices, Renesas and Toshiba now include the mikroBUS socket on their development boards.