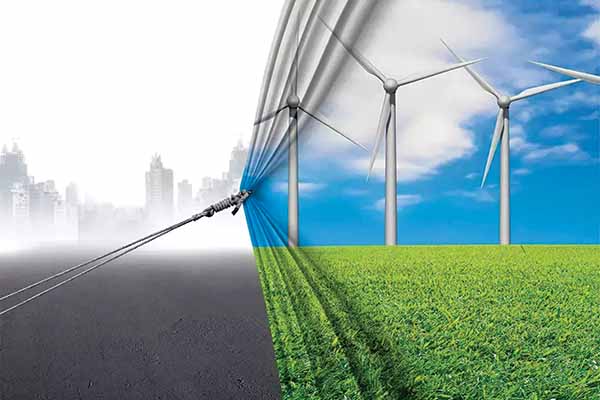 The International renewable energy agency (IRENA) has prominently envisioned two energy development options till the year 2050. One travels across the pragmatic energy pathway set by ongoing and planned policies, whereas, the second is the ahead roadmap to become a cleaner and greener ambitions and the strategies to achieve towards becoming climate-resilient. The cleaner roadmap becomes more critical as rise in global temperature soars. In this process towards rethinking the goals, the growth in solar PV power deployment would be needed in the next three decades to achieve the Paris climate goals. The spur of strong strategies towards deployment of solar PV can sustain newer emission reductions. It is claimed that integration of PVs can take down the emission to 4.9 gigatonnes of carbon dioxide (Gt CO₂) in 2050, representing 21% of the total emission mitigation potential in the energy sector. Though just paving with a single strategy won't be at par towards the ambitious goals of renewables in the coming time rather acceptance and understanding from various sectors shall proliferate the sentiments for greener future. It is also viably stated that by 2050 solar PV modules would represent as the second largest power generation source for the world, wherein, wind energy would lead the way for the transformation of the global electricity sector. By then, solar PV would generate a quarter (25%) of total electricity needs globally.
Eyeing Towards Green Technology Investment
Reducing harmful and toxic environment effects is contributing to the growth of green technologies. The natural environment is getting more critical as growing emission becomes prevalent from different sectors especially manufacturing sectors.
Green technology transits across a wide range of innovations may it be renewable, emerging clean energy sources. A few examples like bringing new standard to control carbon emission from factories and vehicles is set become a new trend marking sustainability.
In a wider scenario, in a country like India where Agriculture shares a handsome GDP rate, here sustainable forms of the agricultural process can help towards adopting future newer-green technologies.
Today, public-private partnerships are playing a pivotal role towards the cleaner and greener future.
As many private players have already made prominent position in the emerging market of clean energy.
Worldwide, green technology investments reached $755 billion in 2021, a sharp rise from the previous year. Electric vehicles and energy solutions were the largest sectors in green technology investment.
What Actually Makes a Technology Green?
It is said by many experts that there is really no definition for green energy. Hence in this scenario, the investments and true focus towards green technology become dubious and obvious for many to few. Renewable energy technologies such as solar, wind, and hydropower are widely considered "green," even though each of them has different environmental consequences. It's less clear if nuclear power or more efficient combustion engines can be considered "green tech," even if they do reduce carbon emissions. By any definition, investment in green tech or "climate tech" is increasing every year. Total investment in low-carbon technologies reached $755 billion in 2021, according to research by BloombergNEF. That's a 25% rise over the previous year, but still only about a third of what's needed to eliminate net carbon emissions by 2050.
Green Technology and Industry Focus and Space
In a world of newer markets and addressing motivations to promote sustainable approaches by companies have ignited newer promises of investment and market opportunities for intriguers and investors. The hand-to-hand development from a technology perspective to addressing the market need has become more important than ever. Having said that, in 2021, renewable energy ramped up to take a sweet spot in the global market. It is said to value with a total of $368 billion worldwide. Sectors such as wind, solar, and other renewable power sources, saw investment grow by 6.5% over the previous year. Another important sector the growing green transportation market also witnessed handsome growth, marking $273 billion, or 77% more than had been invested the year prior. This momentum in the sector is said to be because of policies and new acceptance in the market for electric vehicles(EVs). Currently, electric vehicles represent only somewhere around 10% of all cars running on the road today. Though three-wheeler and two-wheeler and not to forget to mention the green ev buses and trucks is complementing the growth of electric vehicles(EVs) in India. This also strongly shares a new opinion towards the potential of this market where new entrants and valued competitors(existing and snowballing) companies are already manufacturing new EVs for the Indian market. Though everything seems good to be on road the need for energy will also be a critical part to think about for the growth of EVs in India. Hence there comes the role of solar and wind. There was also a growing investment interest in sustainable materials, carbon capture, and energy storage, although these figures were dwarfed by the investment in energy and transportation.
Types of Green Technology Investments
Investors and companies eyeing towards the clean energy market have also to know about the background and future growth of green technology especially which areas of green technology can take the snow in hand for a longer time:
A few goals inscribed by Investopedia include as follows:
Source Reduction: This is the goal of reducing pollution and waste by changing production and consumption patterns.
Sustainability: This is an effort to meet societal needs with methods that can continue to be used into the future indefinitely without depleting or damaging natural resources.
Innovation: The focus is on developing alternatives to types of technology that are harmful to the environment.
Cradle-to-cradle design: This involves the creation of products that can be reused or reclaimed, thus ending the cradle-to-grave cycle of manufactured products.
Viability: The aim is to create an economic activity center that focuses on products and technologies that are beneficial to the environment, thus increasing the speed at which such technology and product concepts can be implemented.
Investors will find there are numerous subsectors in green technology that currently provide excellent opportunities for investments. They include:
Energy: With energy often being considered the most pressing issue in the green technology sector, the green energy sector focuses on the development of alternative fuels.
Green Nanotechnology: This includes the manipulation of various materials at the nanometer level, which could transform how products are manufactured.
Green Chemistry: This encompasses the invention, development, and application of chemical processes and products that are designed to eliminate or reduce the generation and use of hazardous substances.
Few Trends And Expected New Green Technology
ARTIFICIAL PHOTOSYNTHESIS
Photosynthesis is the process by which trees soak carbon dioxide from the atmosphere, and convert sunlight into energy. As such, engineers and scientists are trying to develop a technology that will use sunlight and carbon dioxide to produce energy.
CARBON CAPTURE
Carbon capture, or the process of storing carbon underground, has immediate appeal. However there have always been uncertainties associated with this process including risks associated with storage and leaks.

ELECTRIC AUTOMOBILES
No conversation regarding green technologies for the future is complete without the mention of electric cars. A step up from regular electric cars, wireless technology will be able deliver electric power to moving vehicles.

WASTE-SOURCED BIOFUEL / PYROLYSIS
We are always on the prowl for smarter ways to recycle our trash, and I think it is safe to say, that I think we found it. Technology is now able to turn biomass waste such as paper, grass or wood chips into gas and eventually ethanol.