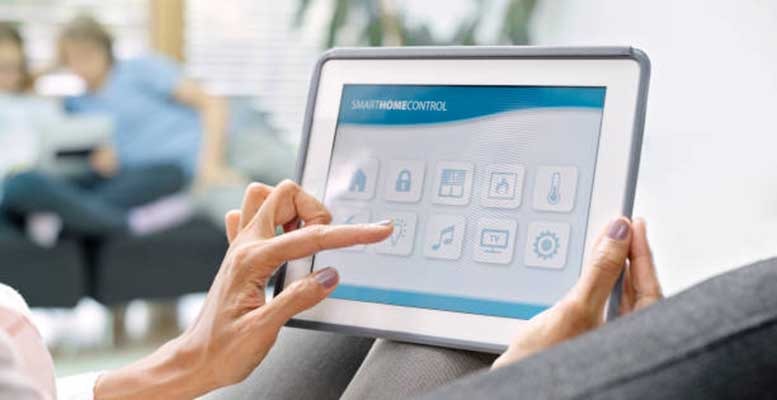 If you are considering getting into the home automation device game, now is the time—thanks to Bluetooth Mesh, a network topology used for establishing many-to-many device communications. The idea of home automation (HA) has been kicked around since at least 1950 when Ray Bradbury published "There Will Come Soft Rains," a short story about a house that cares for itself long after the family that lives there is gone. Today, the smart home is not just a fantastical idea for the wealthy, but a reality that is expanding into the mainstream.
ABI Research says the HA market, if it follows expectations, will likely grow by 40 percent during the next five years, leading to more than 282 million smart homes worldwide by 2022. When it comes to choosing the HA devices you will make, your imagination is the only thing that can limit you. You may think there is no market for a smart toaster oven, but did you ever imagine the commonplace of an eight-year-old with his or her own iPhone? Perhaps we should be asking ourselves, what product is there that cannot benefit from being smarter?
Sure! Some products may be an indulgence—like ovens we can set to preheat without getting off the couch or blinds that adjust according to the time of day. However, a smart oven that recognizes that its family has left for vacation and turns itself off can definitely be a relief and eliminate an age-old question once and for all, and those self-adjusting blinds can become a significant energy saver.
Another vital area for HA is home healthcare monitoring, which lets seniors and others under care live independently and access less expensive treatment options. Healthcare monitoring is a far bigger market than personal emergency response systems. A sensor system throughout a home can monitor not just the movement of an individual, but measure the person's heart rate, blood pressure, and the air quality that surrounds him or her.
HA Protocols
Wi-Fi, Z-Wave, and Zigbee are familiar terms in the world of home automation, and Bluetooth is also a dependable player, although its limits mostly allow one-to-one device communication. Yet, things are changing with Bluetooth's 2017 launch of Mesh, which is now allowing the protocol to become a serious HA contender and is bringing to light the disadvantages of other protocols.
Wi-Fi is an excellent protocol for transmitting large packets of data, but it has a reputation for problems with device interference, and as more devices join the home system, the potential for additional device interference increases. Wi-Fi also suffers from significant power draw, and that is a detriment for battery-operated devices that make up the majority of HA products these days. Though this is the case, Wi-Fi will continue to play an essential role in HA when it comes to in-home entertainment because of its high bandwidth, yet Bluetooth is a close competitor.
Recognizing that the number of devices that will make up a smart home will continue to grow exponentially, an efficient, non-interfering, low-powered platform is crucial. Platforms like Z-Wave and Zigbee provide a solution that uses a mesh network to relay messages by hopping from node-to-node, all while strengthening the network signals. Both protocols are industry old-timers: Zigbee boasts of its 15 years, as of last year, and Z-Wave boasts of dabbling in home automation since before the term came into existence. The downside for the user is that these systems require a hub that connects to the home network to receive messages from the devices and sensors spread throughout the home. Because many of the devices are proprietary in nature, they often cannot communicate with other devices on the network.
The Bluetooth Mesh network can handle communication between thousands of devices without sacrificing performance. This may seem like a lot of devices, but considering that ABI Research shows 650 million Bluetooth smart home devices will be shipped in 2018 and they expect that number to grow six times by 2022, it is not unreasonable to imagine hundreds of devices in an automated home.
Perhaps Bluetooth's most significant advantage when it comes to engineering smart home devices, whether focusing on health, home maintenance, energy management, security, entertainment, or environmental control, is that nearly every person already owns a smartphone, tablet, or PC with Bluetooth technology.
The key to this new mesh network possibility is the Bluetooth Low Energy (BLE) 4.x or 5.0 stack that supports both Generic Access Profile (GAP) Broadcaster and Observer roles. The Murata WSM-BL241 Bluetooth® 5.0 Low Energy Module is one such device, which also integrates a Nordic BLE integrated circuit (IC), a radio frequency (RF) front end, and a crystal all in a very compact space. The small size along with the built-in Arm Cortex M4 Core with 64KB of random access memory (RAM) and 512KB of flash, which provides a high-performance engine and rich interface, makes the module perfect for a variety of Internet of Things (IoT) applications.
System designers will also appreciate the fact that the Murata WSM-BL241 is RF certified, so they do not have to go through the time consuming and costly process of acquiring a wireless certification, reducing the time-to-market. The debugging and development process is also easier through use of the module's accompanying software development kit (SDK).
HA Security
Perhaps one of the most important considerations when discussing HA is security—for both the data and the home. We all know that every connection to the Internet is a potential backdoor for a hacker or an open window for a destructive virus. The protocol you use must provide protection for all known security attacks. You do not want your product featured on the news because it allowed a burglar to waltz into someone's home or because chaos ensued when a virus rendered an entire system useless.
Security is the number one priority for Bluetooth Mesh networks. Product designers normally have the option of deciding which security features they will activate when designing a device that is only going to talk to one other device. However, this is not the case with Bluetooth Mesh networks, where an entire network of devices is at stake. Instead, Bluetooth has set a mandatory security requirement for mesh networks. This mandate ensures that companies are not at risk of developing separate processes for different parts of the stack. Likewise, because specifications are open, the community can test them.
It is easy to imagine streams of sunlight flowing through automatically adjusted blinds and a smell of coffee already brewing that gently nudge you awake to a new morning. There is no need to don your slippers because your heated floor is already at the perfect temperature. Just as you are about to head out for the day, you get the latest weather and traffic report, and then while you are at work, you access cameras located throughout the house to see what Fido is up to and enable audio to tell him what a good boy he is. By the time you return home, dinner is ready in the oven, and as bedtime nears, the lights begin to fade. The question is: What device will you add to the Bluetooth Mesh network and therefore to this story?