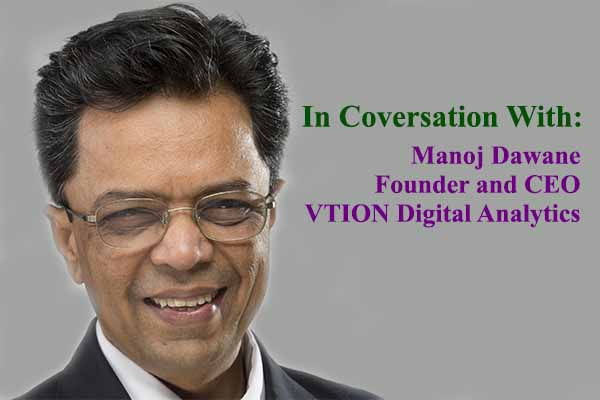 VTION Digital Analytics is a leading Digital Consumer Behaviour Intelligence Platform that provides Real-Time Behavioral Data from a representative panel of consumers on dashboards using the SaaS model for organizations to analyze and derive inferences of consumer behavior and trend data.  TimesTech spoke to Manoj Dawane, Founder and CEO at VTION Digital Analytics to know more about VTION services; growth, and future of the digital analytics sector and more.
Read the full interview here:
TimesTech: Tell us about VTION Digital Analytics and your offerings.
Manoj: A digital consumer intelligence company, VTION launched commercial operations in September 2020. Since then, there are four key product lines that VTION has introduced and are well established in the Indian market. These entail end-to-end services for Planning, Activation, and Measurement of marketing campaigns and Advertisements.
With first-party Android smartphone applications usage data from 40,000 panelists in India collected passively with our patented technology, VTION's panel is built and maintained to statistically represent nearly 200Mn Android smartphone users, which account for about 90% of the overall digital spending in the country. Data collected is on App Usage, OTT Content Usage, Ads exposed on Social Media & OTT and Ecommerce In App usage mapped to various product categories from searches to Cart.
VTION has assisted more than 15 companies distributed over different categories like CPG, e-commerce, etc. in understanding consumer behavior and improving their Marketing ROI.
TimesTech: What do you think will fuel the growth of the digital analytics sector in the future?
Manoj: In today's VUCA world, the consumer has unlimited options and they prefer experience over products. I believe that the key driver for digital analytics in this era is the availability of unlimited competitive options and the fragmentation of consumer tastes. Therefore, it becomes imperative to understand the choices and the trends alike, which can only be derived through good analytics which in turn will reduce the cost of acquiring new customers and increase the revenue from the customer base.
The necessity for a company to get its media plan correct and apt is becoming more and more critical with digital medium becoming the preferred choice of consumers. This in turn requires a good mechanism to assess the impact of the digital interventions.
Thus the three pillars of digital analytics can be summarised as:
Plan for maximising reach and opportunity to interact – Select the right target segments based on behavioural profiling of segments
Activate the optimum spread between publishers – Select the right volume, time and geographies of delivery with the right DSPs for a given target segment
Measure Impact – Continue checking the impact of exposed audiences and expected outcomes/actions to modify the activation parameters and deliver the most effective result in the allocated amount of budget
TimesTech: Tell us about the trends that have been dominating the digital analytics sector throughout the year.
Manoj: Major trends dominating the digital analytics sector are:
Privacy of consumer data and consent mechanisms that need to be in place are the two important global trends that impact digital analytics
Regulators and policymakers publishing various guidelines that will demand the digital world and big tech companies to change their ways is evident from the action that Google and Apple have taken
Google deprecating the cookie in the next 2 years and Apple making IDFA opt-in permission driven
Ecosystems of digital identifiers which are not based on cookies / IDFA or any such mechanism are being built. It is unlikely that such identity systems will be a single solution to the problem facing the digital world
The advent of 'Panel Based' statistically extrapolatable mechanisms for consumer behaviour understanding are becoming powerful
TimesTech: How is VTION tapping these market trends for growth?
Manoj: VTION is aggressively scaling up its advertising activation strategy, panel enhancement and targeting specific sector growth initiatives while driving global market expansion. The company now plans to expand to other countries including UAE, South Africa and Indonesia.
The company is able to keep both its operational as well as fixed costs in good control while maintaining huge growth, indicating that the nature of revenue that VTION is generating is of a repeat nature and hence very high quality.
Strategic alliances for rolling out services globally are in discussion with some of the largest global players in this industry. VTION is expecting exponential growth in business with key focus on serving more clients and strengthening the offering in all three segments (Plan, Activate, Measure)
TimesTech: What are your plans moving forward?
Manoj: Post the recent funding round in 2022, VTION has aggressive plans to scale up its advertising activation strategy, panel enhancement and targeting specific sector growth initiatives while driving global market expansion. Four verticals have been identified to pursue in India and the focus will be to innovate on a Connected TV measurement technology stack which will be brought to market in the next 2 quarters.
The company plans to expand to other countries including UAE, South Africa and Indonesia in phase 1. Strategic alliances for rolling out services globally are in discussion with some of the largest global players in this industry. VTION is expecting exponential growth in business with a key focus on serving more clients and strengthening the offering in all three segments (Plan, Activate, Measure)