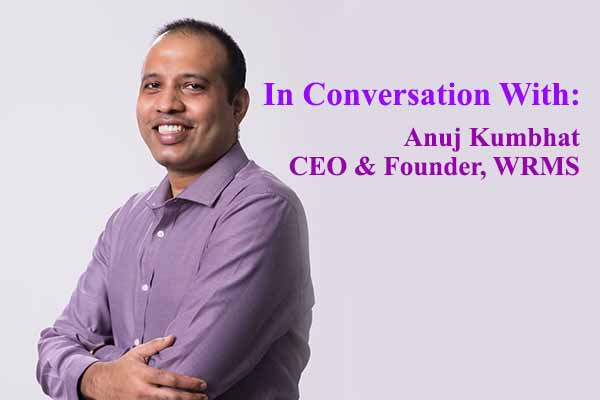 Weather Risk Management Services (WRMS) is a pioneer in smart and sustainable farming in India. WRMS leverages data, technology, and financial innovation to help farmers enhance productivity, gain a secure income, and practice sustainable farming. Timestech spoke with Anuj Kumbhat, CEO & Founder, WRMS to more about their journey, services, modern-day agriculture ecosystem and much more.
Read the full interview here:
TimesTech: Tell us about the Journey and Services of Weather Risk Management Services.
Anuj: Weather Risk Management Services (WRMS), with its headquarters in Gurgaon, is a pioneer in smart and sustainable farming in India. Since 2004, WRMS has been active in the field of climate risk management. Sonu Agarwal, Anuj Kumbhat, and Ashish Agarwal created the business in an effort to help farmers tackle the most difficult agrarian difficulties. The three main areas of WRMS's focus are data, technology, and financial innovation which enable farmers to increase production, obtain a stable income, and adopt sustainable farming.
WRMS's wholly-owned subsidiary Ingen Technologies Private Limited creates smart IoTs with cutting-edge sensor and networking research that allow commercial and social enterprises to realise their full potential. Our technological solutions help government agencies, financial institutions, and private businesses better manage risks associated with dairy and agriculture. With ground-breaking research in sensor and networking technologies, Ingen focuses on creating smart IoTs that help farmers reach their full potential.
Significantly, WRMS is also a pioneer of many firsts, such as bundling the world's first parametric insurance with an agri-input value chain. Our holistic service suite includes following services offered through advisory and SAAS platform developed exclusively for parametric and agriculture insurance contracts. WRMS has done Index Insurance product development and hazard assessment studies in India, Bangladesh, Cambodia, Sri Lanka, New Zealand, Zambia, Mozambique and Malawi. Not only this, all the insurance companies providing Weather Index Based Insurance in India have used WRMS's services in product design and distribution.
Some of the key associations of WRMS that speak volume about its parametric and index insurance offering –
Designed the first-ever Index Insurance contract for smallholder farmers in the world in 2003 with the support of The World Bank.
Designed first value-chain enabled bundled index insurance for farmers with seed purchase in 2005.
Developed and implemented first Index Insurance for covering downside risks of farmers in a contract farming program of PepsiCo.
Established network of low-cost automatic weather station for settlement of index insurance contract to reduce basis risks of the farmers in 2007
Bundled weather alerts and advisory services with Index Insurance to help in risk reduction of the farmers (2009 onwards)
Designed and implemented first Index Insurance cover for protecting seed producing farmers of Seed company in 2009
TimesTech: How drone-assisted technology is shaping the modern-day agricultural ecosystem?
Anuj: Drone technology is being used to eliminate all ambiguity and guesswork and instead concentrate on precise and trustworthy information. At Ingen, a wholly-owned subsidiary of WRMS, we manufacture high-tech agriculture surveying drones equipped with advanced sensors that help farmers attain accurate farm analysis, improved crop yields, precise usage of agrochemicals, and more. These drones provide a bird's-eye view of the farms, thus revealing issues related to irrigation, soil, and pest & fungal infestations. This is achieved using multispectral images that show near-infrared as well as visual spectral views for comparison.
The following are some of the ways that drone technology is swiftly re-establishing traditional agrarian practises:
Monitoring of irrigation: Drones with hyperspectral, thermal, or multispectral sensors can identify regions that are overly dry or in need of farmer improvement. Drone surveys provide irrigation monitoring yields calculations of the vegetation index to help realise the health of crops and emitted heat/energy, helping to increase water efficiency and reveal potential pooling/leaks in irrigation.
Monitoring and surveillance of crop health: Monitoring the condition of the plants and identifying bacterial or fungal problems early on are critical. Drones used in agriculture can identify which plants reflect various quantities of green light and near-infrared spectroscopy (NIRS) light. To track crop health, multispectral images are created with the aid of this data. Crops can be saved by quick monitoring and flaw detection. In the event of crop failure, the farmer can also provide accurate damage documentation for insurance claims.
Crop Damage Analysis: Agricultural drones equipped with multispectral and RGB sensors can also spot pests, diseases, and weeds in field regions. This information makes it possible to determine the precise quantities of chemicals required to combat these diseases, which lowers the costs incurred by the farmer.
Analysis of field soil: Farmers can learn more about the soil conditions of their land thanks to the drone survey. In-depth field soil analysis, irrigation, nitrogen-level management, and seed planting patterns can all benefit from data captured by multispectral sensors. Farmers can completely assess their soil conditions thanks to precise photogrammetry and 3D mapping.
Planting: Drone start-up companies in India have also created systems that allow drones to spray seeds, pods, and other essential nutrients into the ground. This method improves uniformity and efficiency while also cutting expenses by over 85%.
Drone crop spraying: Human contact with harmful chemicals is minimised through drone crop spraying. This task can be done by agri-drones much more quickly than by vehicles or airplanes. Drones equipped with multispectral and RGB sensors can precisely locate and address problem areas. Professionals claim that using drones for aerial spraying makes the process five times faster than using conventional techniques.
Livestock tracking: The farmers can track not just their crops but also the movements of their cattle thanks to the drone survey. Animals can be located and illnesses or injuries can be found using thermal sensor technology. This task can be successfully performed by drones, which significantly boosts the vegetation growth.
TimesTech: How WRMS is handholding farmers using technology? Tell us about SecuFarm, how it works, and the idea behind its invention.
Anuj: With SecuFarm (smart and sustainable farming solution), WRMS encourages smallholder farmers to embrace technology in order to safeguard their income. SecuFarm combines the most cutting-edge farm level advisory with technology to guarantee farm level yield assurance for smallholder farmers.
SecuFarm ensures that all of the risks faced by smallholder farmers are covered and managed on the farm level. WRMS geotags their farms and provides them with farm level crop advisories through the SecuFarm app to handhold them from seed selection to post harvest market linkages. Farmers receive real time meteorological alerts to plan crop protection and irrigation according to the condition of the soil and crop health. They can use the water more effectively as a result, protecting our limited natural resources.
Farmers also routinely obtain customised solutions for the appropriate use of agrochemicals on the mobile app in order to maintain the soil nutrients and guarantee high-quality ultimate output. Additionally, SecuFarm connects farmers with agri experts who answer all of their questions about crops and provide rapid responses within 24 hours. Weather forecasts are created using grid-level information from Automatic Weather Station (AWS). Automatic Pest Monitor (APM) assists in remotely monitoring all types of pests and provides the pest density by sketching the pest and taking an image. An Automatic Soil Moisture (ASM) sensor provides real-time analysis of the soil health of a particular area, including soil moisture, physical features, structure, and nutrient contents. Whereas traditional sensors are unable to record real-time data, deep learning and AI techniques are used to analyse past weather, yield, and other data to estimate the values of current data.
TimesTech: What are the key features that set you apart from your competitors?
Anuj: WRMS is more than just an agriculture technology company. WRMS provides farmers with farm-level advisory, complete income protection, and farm-level loss assessment through SecuFarm. It is the first Smart & Sustainable Farming solution in the world that ensures livelihood stability of farmers.
Furthermore, with the integration of IoT sensors (AWS, AIS, APM, and ASM), satellites and drones, and GPS-enabled smartphones, farmers access real time data and become smart-farmers by adopting digital farming practices. SecuFarm provides assistance on how to best manage water and agro – chemicals to drive farmers towards climate smart agriculture.
WRMS is also a pioneer of many firsts, such as bundling the world's first parametric insurance with an agri-input value chain. WRMS did a project with UNCDF, a first in the Pacific. WRMS launched CARM services in India, introduced bundled solutions of Index Insurance (BICSA), India and Bangladesh, a satellite-based flood index insurance product in Uttar Pradesh, Index insurance to secure credit for chilli farmers in Andhra Pradesh, among many other things.
TimesTech: What are your plans and vision moving forward?
Anuj: Technology implementation and risk management consulting services will remain our main priorities. Additionally, in order to tackle and overcome complex agrarian concerns, we will seek to improve the quality of our offering, which consists of multidisciplinary talents spanning data analytics, technology, and finance. Additionally, we are looking for collaborations with organisations that share our values and work with smallholder farmers and FPOs so that we may reach the most rural areas of the nation where farmers are sowing seeds in the hopes of getting a strong yield.