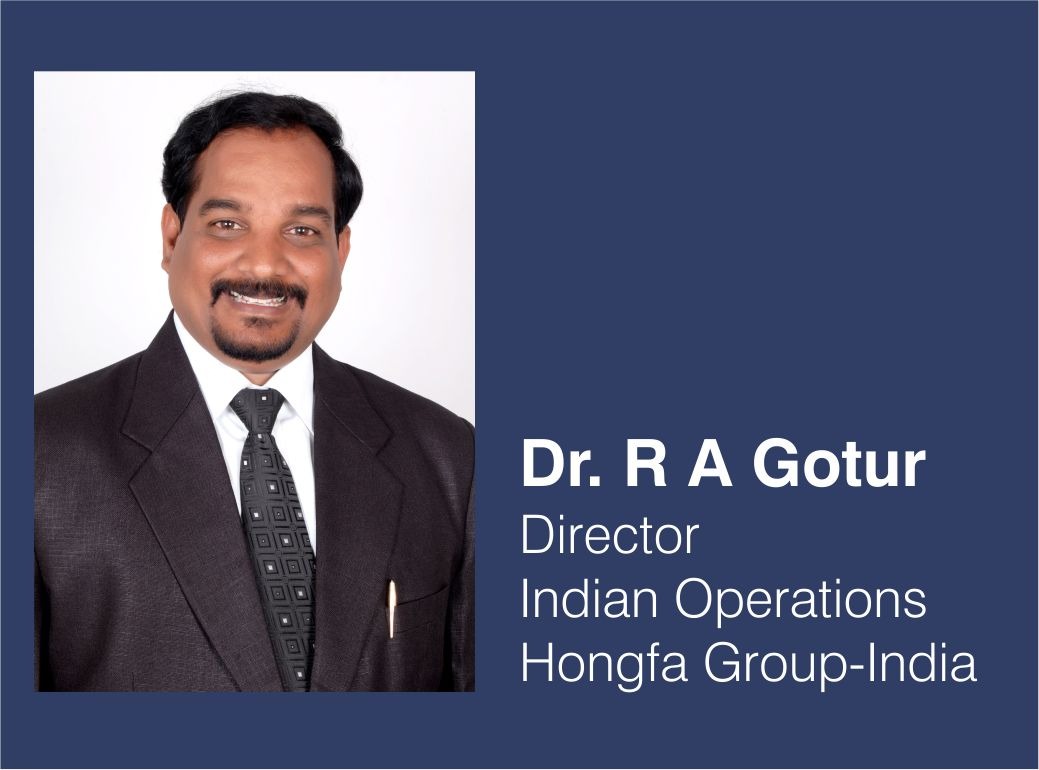 Dr. R A Gotur, Director India Operation, Hongfa Group, is a symbol of marketing and sales for Hongfa in India. TimesTech interacted with Hongfa's business and preparedness in the background of changed electronics policies and monopolization in India. Excerpt
TimesTech: Kindly elaborate Hongfa as a company? Also, goals, vision and position in the global relays market?
Gotur: Hongfa is a leading manufacturer of electromechanical relays, and is ranked No.1 in China and No.1 in Power relays & Latching relays globally. Founded in 1984, Hongfa specialises in developing, manufacturing and promoting relays. With a factory space of around 7,50,000sqm and a 250,000sqm new plant being set up, Hongfa has an annual production capacity of 1.5 billion relays of 160 series and 40,000 specifications. It has 38 wholly or partially-owned subsidiaries, including Hongfa Europe GmbH and Hongfa America Inc. The company has a state level technical centre for post-doctoral research, an academician research station, and a testing and experimenting centre for relays and related products that is recognised by Underwriters Laboratories (UL), VDE and China National Accreditation Service for Conformity (CNAS). It has also been actively involved in formulating multiple national standards. Hongfa relays are currently being exported to over 100 countries. Hongfa's quality control system conforms to ISO/TS16949 standards. It has the biggest product testing centre in China, which is certified to undertake TUV and UL tests, and has VDE approval in China. This centre has signed a contract with VDE for preferred partnership. The company's lab is approved by CNAS and UL America as a Witness Test Data Program (WTDP) lab. It is also approved by VDE Germany as a Test Data Acceptance Program (TDAP)-lab — the only one in China and the sixth one in the world. It has a full set of quality assurance systems including ISO9001, ISO/ TS16949, ISO14001, OHSAS18001, GJB9001A, and IECQ QC 080000. Hongfa has received many awards, including being ranked among the 'Advanced High-tech Enterprises on the National Torch Plan' by the Ministry of Science and Technology, and among the 'National Export Base for Automotive Components' from the Ministry of Commerce and the National Development and Reform Commission. It is the only Chinese relay manufacturing company to be ranked as 'China's Top Brand'.
TimesTech: How did you see the current Indian relay market compared to the last Fiscal year?
Gotur: The growth of the Indian relay market is growing steadily due to the increased demand from power conversion & automotive sectors & it is a ever green market .Past one decade there is a growth from 16 to 18 % consistently but this year growth rate is negative side by 20% due to parlimentory Elections, Trade war affected badly.
TimesTech: What are the growth trajectories and trends you envision in this market?
Gotur: The Growth Trajectories & Trends for the relays are Power Electronics , Home appliance & Automotive Electronics, railway and signaling, Telecom power supply & signaling device manufacturers, smart meters and lighting products manufacturers.
Sugar cube relays are highest consumption Globally.
Telecom relays 1 amps 12 volts & 24volts are very fast moving relays
Starter & Flasher relays for Automotive application relays have high potential market for 2, 3, & 4 wheelers
Latching relays : This relay is used in smart/Intelligent meter application & there is potential growth for coming years.
We could see a moderately high adoption levels in the traditional automotive and power segments probably due to high sale rise & also due to the addition of more added features to the automotives. However it is gaining momentum in the other areas as the technologies also maturing.
TimesTech: Primarily, what is driving the relay market in India and at large the complete APAC market?
Gotur: Rapidly Growing Demand for Relays Expected in Automotive, Power Electronics, Home appliance, Solar ( Lighting ) and Other Industrial Infrastructure.
The global demand for relays as a whole is being driven by the implementation of smart grids and multiband wireless tech. This applies on a much higher scale to Asia Pacific, which is expected to hold 44% of the market value for relays by 2021. It will consistently be the region to consume the largest quantity of relays, especially given the dynamic industrial scenario of India, Japan, and China. The contribution of these countries to the demand for relays from APAC is primarily the result of the rapid rate of industrialization and the introduction of modern power distribution and networking practices.
TimesTech: What are business models to build your brand in India?
Gotur: Already all most all the customers are well aware of Hongfa products & its wide range & quality. Besides advertising to create brand awareness, we also build credibility for our brand and wide range of products by sharing our knowledge and time. At Hongfa, we strongly believe in nurturing the future pillars of industry. We actively participate in exhibitions and through Print Media (Magazines).
TimesTech: Make us aware of the strength of Hongfa as a manufacturer and why the products of Hongfa are the most sought after in the market?
Gotur: Hongfa's main strength is stringent quality & wide range of relays series as a manufacturer for all applications.( Power, Home appliance, Automotive, Telecom, Smart meter/Home automation segments ) & we ship the parts JIT ( Just in time ) for crisis management & cost effective with strong technical assistance.
The above reasons make Hongfa products the most sought after in the Market.
TimesTech: How important is the Indian market for Hongfa?
Gotur: India has the second largest GDP among the emerging economies with predicted growth around 8 % in 2019 – 20, and 8.5% to 9% by the next fiscal year 2020-21.This is potentially attract to companies for all applications such as Hongfa products. Hongfa believes that India will continue to make rapid strides. in the last couple of years, the quality of engineering & technology has improved tremendously. Also lot of Global companies are investing in India and particularly Global R & D centres in all metro's Chennai, HYDERABAD, Bangalore, Pune ,DELHI Etc.Today all the Global organizations have benefited from the huge professional & skilled engineering manpower available in the market.
TimesTech: What are your plans to strengthen brand value in India?
Gotur: We are growing at a steady pace. HONGFA becoming more and more popular due its product quality and reliability, we are sure that we are going to be the most preferred choice for any designers and quality experts. Moreover we have a clear road map of new product developments for the coming years to cater to the emerging markets and segments with which we are sure that we will achieve a great level in the coming years.
TimesTech: How do you rate TimesTech Magazine and what are your suggestions?
Gotur: Times Tech Magazine is a upcoming comprehensive Magazine providing a fine perspective of the electronic industry and covers a wide range of products & services. It reaches the depth of Electronics industry in India and provides the detailed news, features, interviews, Technical & current trend reports both in India and globally.
I thank you Times Tech for giving HONGFA a platform to speak to a wider audience through your media & present ourselves in good light. Today Times Tech Magazine is one of the upcomming electronics magazine in India and is been revered for its contribution to industry. I wish them all success on behalf of Hongfa.
TimesTech: The relay market is quite mature in the Indian market with many players dominating this space? How do you keep yourself in the edge of competitive-success?
Gotur: As you know HONGFA carries a wide spectrum of relay products, so the designer has a great choice to select the most optimum component. We support the customers in their every step of activities like product development, Samples, Protocol, manufacturing and after sales. HONGFA understands the market requirements early and will be ready with the new products as the market demands that, which gives us an edge over our competitors.
We sincerely taking care of customers demand in crisis management for cost effective prices, delivery on time.
TimesTech: You are among the biggest companies of relay games globally. What is your market share in India?
Gotur: HONGFA India market share is around 16 to 18%
TimesTech: What are your future plans for the development of your business in India?
Gotur: We have aggressive plans for future growth in India. We identified few areas where Hongfa will focus for future growth. Power Electronics, Consumer Electronics, Automotive, Light ,Smart meter segment & Add manpower in due course in India going to be our focus areas of our future growth. Hongfa aligned our strategies and resources in these areas to reach target are our plans for future growth.
TimesTech: The emerging trends in the relay market and how is Hongfa moving alongside these trends?
Gotur: The following are the current trends in relay space.
Power & Consumer Electronics Segment
Automotive Electronics
Smart/Intelligent meter
Telecom/Signal segments
The key technology in relays in reducing the size of the relays ( Miniature relays – Small size ) and also in SMT relays ( Surface Mount Technology ).These changes are prominent in coming months. Relays which have low contact resistance and low voltage drop across contacts and this enhances long time reliability and also the life. Also the permanent magnet relays & contactors are becoming popular due to their lower power consumptions
TimsTech: Lastly, your expert comments on the current Indian ESDM sector?
Gotur: Today India is fastest growing market globally & India's booming electronics' market is projected to more than double to $228 billion from $120 billion in a couple of years.