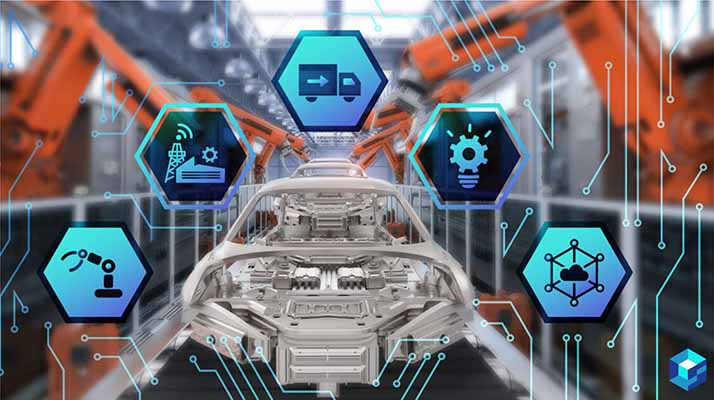 Not just termed as digital transformation but an equivalent digital reformation is shaping industries of tomorrow. Small or large corporates, organizations, and even governments are today making smart digital moves to explore right opportunities and augment a digital-front strategy. The word automation in today's world is ubiquitous as the growth of digitalization gets a spree. Every industry is crony towards automation as it helps streamline business complexities, adding workforce agility, bringing efficiency and moreover to make systems and ecosystem scalable. 
To reinvent and rethink hierarchical workflows, automation and advance technologies such as artificial intelligence (AI), Internet of Things (IoT), Machine Learning (ML) are becoming more popular.
Integrated Intelligent Automation
Digital Transformation will require more than one technology; hence the term Intelligent Automation, which is basically the automation of the company's processes (including general corporate-level processes using BPM and specific task-level processes using RPA), supported by analytics and decisions made by Artificial Intelligence. Integrated intelligent automation platforms – all-inclusive resource platforms with complementary, pre-integrated automation advances were the favored strategy for driving digital workflow transformation outcomes in 2020. However, while they gave all the abilities and AI needed to automate rapidly, drive fast outcomes and pay off technical debt, numerous companies actually require customisations.
Intelligent Automation is a term that describes a holistic solution for digital transformation, mainly based on process management (BPM) to orchestrate users, tasks, systems and robots (RPA) depending on the business needs at each moment. On the other hand, it also contemplates the use of analytics and AI (especially Machine learning) to make automated and intelligent decisions, and case management to provide processes with enough flexibility for end-to-end case management success. Finally, it is worth mentioning that another key feature of this trend is the integration between the different systems used in the company. Integration will prevent the duplication of data in the systems and users will need only work on one platform.
Cybersecurity in Automation
Cybersecurity is defined as continuously evolving and become more complex advance technologies hitting the market. Complementing automation is an indefinite tweak evolving with the help of considerable IT and OT transformations. In automation, the network and connected things play an integral role hence the network being secured is critically important. Some reports states that automated cybersecurity industry is actually late to the party in adopting automation in a meaningful way. Conventional SIEM security platforms typically record tons of information and alerts which your SOC team is expected to chase down and investigate. This challenge has consequently led to a shortage of resources and expertise required to respond to these incidents. SOC teams are overwhelmed with repetitive processes and needless investigations. Most importantly, there isn't enough expertise available to respond to rapidly increasing cyber threats.
Simulate Cyberattacks
This follows the axiom prevention is better than cure. Just like a fire drill, organisations need to stage mock attacks to ascertain their readiness for a real-life incident. The learning from these practice drills helps tighten the bolts in the security framework while improvising security playbooks and boosting confidence.
Correlating Data
Today, security vendors and providers are tapping considerable amount of data specifically threat data. But until the data is well refined and processes and moreover organized it creates hardly any value. Hence the run for organized data is eminent. Today, organizations need to collect threat data across all attack vectors and from security technologies within their own infrastructure, as well as global threat intelligence outside of their infrastructure. Then, they need to identify groups of threats that behave similarly within the massive amounts of data and use that to predict the attacker's next step. When using this approach, more data collected results in more accurate results, and reduces the likelihood that the groups identified merely an anomaly. Consequently, the analysis must also have enough computing power to scale today's threat volume—something that is impossible to do manually. Machine learning and automation allow data sequencing to happen faster, more effectively, and more accurate. Finally, combining this approach with dynamic threat analysis is the only way to accurately detect sophisticated and never-before-seen threats.
Detecting Infections Already in Your Network
The moment a threat enters the network, a timer starts counting down until it becomes a breach. To stop an attack before data leaves the network, you have to move faster than the attack itself. In order to identify an infected host or suspicious behaviors, you must be able to analyze data from your environment backward and forward in time, looking for a combination of behaviors that indicate a host in your environment has been infected. Similar to analyzing unknown threats attempting to enter the network, manually correlating and analyzing data across your network, endpoints, and clouds is difficult to scale. Automation allows for faster analysis and, should a host on your network be compromised, faster detection and intervention. Attackers use automation to move fast and deploy new threats at breakneck speeds. The only way to keep up and defend against these threats efficiently is to employ automation as part of your cybersecurity efforts. A next-generation security platform rapidly analyzes data, turning unknown threats into known threats, creating an attack DNA, and automatically creating as well as enforcing a full set of protections through the organization to stop the attack lifecycle.
Remote Operations
The COVID-19 pandemic has forced companies to shift to running their operations remotely, with many employees working from locations outside of the plant, such as their homes. This requires a connected workforce with the right cyber-secure tools to provide real-time visibility and control and meet the challenges of fully remote access of operations. Remote operations require appropriate enabling technology for a connected and remote workforce, facilitate collaboration and reduce paperwork, provide secured access to information from anyone, anywhere, and support interactions with remote experts. This improves the efficiency of performing tasks and offers a safer working environment for employees. It also helps companies capture and manage knowledge, and incorporate and deploy new workflow processes.
Automated Operations & Autonomous Operations
Accelerated by the COVID-19 pandemic, industry urgently requires new modes of operation. Thanks to advances in digitalization and new open process automation standards, IT/OT convergence and digital transformation, manufacturers have an opportunity to move from "automated" to "autonomous" operations where appropriate. Not only do these advances present the opportunity to improve overall business value, they present an opportunity to further advance safe and flawless operations. The goal of moving from automation to autonomous operation is to improve the reliability and predictability of the operating plant.
Today, human operators decide what to do when something unpredictable happens. Tomorrow, the autonomous systems may be making those decisions, with the humans serving as observers and overseers.
Alongside, let's know what are the key top automation testing trends:
Gone are the days when developing a website meant you have to make it responsive for a specific mobile, tab, and desktop. Nowadays, most companies and customers prefer a site developed in the mobile-first approach. At present, there are hundreds of devices in the market, each with its own resolution and browsers. It's quite costly to set up such a huge testing infrastructure. That is why most companies and individuals have started moving towards cloud-based cross browser testing frameworks.
Automation testing is aimed towards reducing manual efforts for repetitive processes like regression testing. But, even writing the test cases and scripts requires manual effort. Since customers nowadays want a faster delivery, how can we reduce even a tiny bit of manual effort? The latest and the most powerful concept of artificial intelligence comes with a solution.
The most significant advantage that AI-powered tools provide is – ease of maintenance. They have the ability to heal better. These tools constantly monitor the code and look for changes or patterns. Once they find out any change in the application, the tool modifies the test script accordingly.
The role of RPA is evolving in the automation testing domain. At present, RPA has cleared its importance by replacing manual effort in load, regression, and performance testing. With RPA in place, testers can now focus on usability and exploratory testing. In 2021, the use of RPA will be made formal in large-scale applications, and will be among high impacting automation testing trends. By implementing RPA, companies can benefit by providing:
A better quality and well-maintained product, leading to better customer service.
Become more efficient in digitizing process data.
Reduce the cost by decreasing the need for manual effort.
Ensure that business processes comply with the necessary standards and regulations.
India is ramping up major for automation. With conclaves, webinars and sectors mulling towards the next digital drive, public bodies are consolidating forces to explore opportunities with automation. With such diverse topography and population, Automat in India can solve problems miraculously. Right talent pool, scalable ecosystem and innumerable opportunities certainly awaits for the youngest democracy. It's just how fast we tap the potential of automation and keep the right trajectories open and in place.