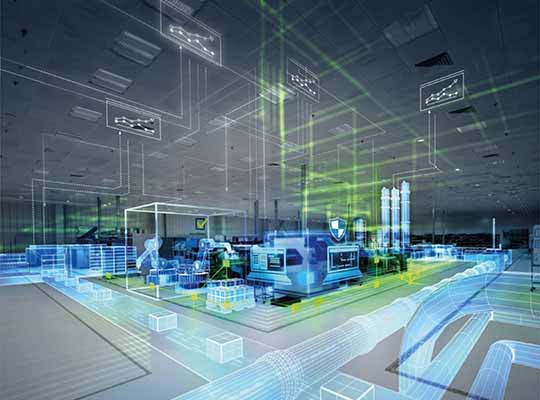 A lot been heard by manufacturers given production efficiency, scalability and adopting newer technologies. With this dynamic changing market where adoption and acceleration is key, manufacturers and industries are apparently tussling to cope up. But why? One evident reason is the pandemic but following its course is bringing back the workforce to production assemblies. In this vital scenario, Automation keeps a promising space to create a newer and better ecosystem. 
Automation has been complementing the newer term Industry 4.0. Though it's not anymore an old age story but yes the 4th industrial revolution or Industry 4.0 is the new cognizance for every decision-maker. 
Few experts and leading think-tankers did spell this Industry 4.0 in their own pouch of thoughts, like:
"From income inequality to climate change, technology will play a critical role in finding solutions to many of the challenges our world faces today. This year's emerging technologies demonstrate the rapid pace of human innovation and offer a glimpse into what a sustainable, inclusive future will look like." – Jeremy Jurgens, Chief Technology Officer, World Economic Forum
"The Fourth Industrial Revolution is still in its nascent state. But with the swift pace of change and disruption to business and society, the time to join in is now." – Gary Coleman, Global Industry and Senior Client Advisor, Deloitte Consulting
India's Manufacturing Sector – Analysis in 2021
According to the Ministry of Statistics & Programme Implementation, India's industrial output measured by the Index of Industrial Production (IIP) stood at 143.4 in March 2021. As per the latest survey, capacity utilisation in India's manufacturing sector stood at 66.6% in the third quarter of FY21.
Investments
With the help of Make in India drive, India is on a path of becoming the hub for hi-tech manufacturing as global giants such as GE, Siemens, HTC, Toshiba, and Boeing have either set up or are in process of setting up manufacturing plants in India, attracted by India's market of more than a billion consumers and an increasing purchasing power.
In May 2020, the Government of India increased FDI in defence manufacturing under the automatic route from 49% to 74%.
India has become one of the most attractive destinations for investment in the manufacturing sector. Some of the major investments and developments in this sector in the recent past are:
In FY21, India received a total foreign direct investment (FDI) infl­ow of US$ 81.72 billion, a 10% increase YoY.
On February 16, 2021, Amazon India announced to start manufacturing electronic products in India, starting first with Amazon Fire TV stick manufacturing. The company plans to start manufacturing with contract manufacturer Cloud Network Technology, a subsidiary of Foxconn in Chennai by end-2021.
In April 2021, Samsung started manufacturing mobile display panels at its Noida plant and plans to ramp up manufacturing IT display panels soon.

Samsung Display Noida, which has invested Rs. 4,825 crore (US$ 650.42 million) to move its mobile and IT display manufacturing plant from China to Uttar Pradesh, has received special incentives from the state government.

In April 2021, Bharti Enterprises Ltd. and Dixon Technologies (India) Ltd., formed a joint venture to take advantage of the government's PLI scheme for the manufacturing of telecom and networking products.
In April 2021, Godrej Appliances launched a range of Made-in-India air conditioners (AC). The company plans to invest Rs. 100 crore (US$ 13.48 million) in its manufacturing units (located in Shirwal and Mohali) to increase its AC production capacity to 8 lakh units by 2025.
Industry 4.0 – The Indian Manifestation on the Next Automation
Indian industries are improving their automation capabilities bringing it at par with global standards due to the pressing need for operational excellence, improved productivity, quality and to maintain six sigma standards in the production processes. This is further supplemented by macroeconomic factors such as the burgeoning middle-class population, rising disposable incomes, urbanization, and focused government initiatives, which are expected to have a positive impact on the growth of the manufacturing industry.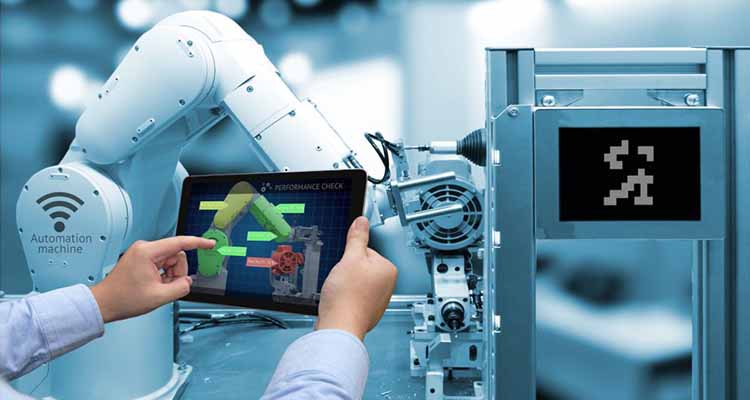 The Indian Industrial Automation Market is still evolving and its prospects are good due to increasing Foreign Direct Investments (FDI) and sustained growth of the manufacturing sector. The country is expected to strengthen its manufacturing sector from its current share of 16.57% of the GDP in FY2017 to 25%-30% of the GDP by FY2030. The Industrial Automation Market in India will witness a CAGR of 11.6% during the forecast period 2017-2023.
Types of automation:
The Indian industrial automation market is segmented by three automation types, namely process automation, factory automation, and electric automation. This market is driven by the increasing investments in the secondary manufacturing sector owing to encouraging government policies and changing consumer behaviour. The country aims to improve its infrastructure capabilities to attract more global investors and to boost its manufacturing capabilities. Several Indian industries are upgrading their existing automation technologies as they reduce production time and promote safety and efficiency in a manufacturing or a processing unit.
Automation Technologies:
The technology segment includes distributed control systems (DCS), supervisory control and data acquisition (SCADA), programmable logic control (PLC), manufacturing execution system (MES), human machine interface (HMI), and others. It is estimated that SCADA and MES will experience high demand across various industries owing to their wide technological capabilities.
Government Initiatives
The Government of India has taken several initiatives to promote a healthy environment for the growth of manufacturing sector in the country. Some of the notable initiatives and developments are:
The government approved a PLI scheme for 16 plants for key starting materials (KSMs)/drug intermediates and active pharmaceutical ingredients (APIs). The establishment of these 16 plants would result in a total investment of Rs. 348.70 crore (US$ 47.01 million) and generation of 3,042 jobs. The commercial development of these plants is expected to begin by April 2023.
As part of efforts to expand its smartphone assembly industry and improve its electronics supply chain, the government, in March 2021, announced funds worth US$ 1 billion in cash to each semiconductor company that establishes manufacturing units in the country.
The Union Budget 2021-22 is expected to enhance India's domestic growth in manufacturing, trade and other sectors. Development of a robust infrastructure, logistics and utility environment for the manufacturing sector is a primary focus field.
Some of these initiatives are as follows:
In May 2021, the government approved a PLI scheme worth Rs. 18,000 crore (US$ 2.47 billion) for production of advanced chemical cell (ACC) batteries; this is expected to attract investments worth Rs. 45,000 crore (US$ 6.18 billion) in the country, and further boost capacity in core component technology and make India a clean energy global hub.
In India, the market for grain-oriented electrical steel sheet manufacturing is witnessing high demand from power transformer producers, due to the rising demand for electric power and increasing adoption of renewable energy in the country.
In line with this, in May 2021, JFE Steel Corporation in collaboration with JSW Steel Limited (JSW) signed a MoU to evaluate a study to establish a grain-oriented electrical steel sheet manufacturing & sales joint-venture company in India.
To facilitate manufacturing and investment in sectors such as ICT and telecom, in May 2021, TEMA (Telecom Equipment Manufacturers Association of India) signed a collaboration deal with ICCC (Indo-Canada Chamber of Commerce) to promote 'Make in India' and 'Self-reliant India' initiatives.
India's display panel market is estimated to grow from ~US$ 7 billion in 2021 to US$ 15 billion in 2025.
The Mega Investment Textiles Parks (MITRA) scheme to build world-class infrastructure will enable global industry champions to be created, benefiting from economies of scale and agglomeration. Seven Textile Parks will be established over three years.
The government proposed to make significant investments in the construction of modern fishing harbours and fish landing centres, covering five major fishing harbours in Kochi, Chennai, Visakhapatnam, Paradip, and Petuaghat, along with a multipurpose Seaweed Park in Tamil Nadu. These initiatives are expected to improve exports from the textiles and marine sectors.
The 'Operation Green' scheme of the Ministry of the Food Processing Industry, which was limited to onions, potatoes and tomatoes, has been expanded to 22 perishable products to encourage exports from the agricultural sector. This will facilitate infrastructure projects for horticulture products.
The Union Budget 2021-22 allocated funds of Rs. 1,000 crore (US$ 137.16 million) for the welfare of tea workers, especially women and their children. About 10.75 lakh tea workers will benefit from this, including 6.23 lakh women workers involved in the large tea estates of Assam and West Bengal.
Few Trends
IoT is still the big vision still for seekers of digital-revolution with experts stating it's potential being only a penny been still tossed.
Predictive Maintenance: Not just implying to reduce outages and save cost of machineries with real-time information on the status of a respective machine. Predictive analytics enables manufacturers to monitor equipment performance using any number of performance metrics and to automate the data collection process using IoT technology. This insight provides manufacturers with a better understanding of how systems work and when they will fail, enabling them to administer predictive maintenance and save valuable time, money, and resources in the process. You can even conduct monitoring tests while equipment is in operation, which means there's no loss of production due to equipment shutdown.
B2B to B2C: The transition is happening exploring new market avenuescatering solutions and services to newsegments.
Increased Profits: Companies can get the full manufacturer's suggest retail price (MSRP) rather than wholesale prices for their products.
Faster Time to Market: Rather than contend with the lengthy traditional retail sales cycle that requires them to lock-in product development far ahead of order and delivery, manufacturers can rapidly prototype, test, and push products to market, giving them a distinct competitive advantage.
Brand Control: B2C eliminates the risk of a manufacturer's brand being diluted or misrepresented by third parties.
Price Control: Manufacturers have the opportunity to reinforce their MSRP.
References: https://www.ibef.org/industry/manufacturing-sector-india.aspx, |https://www.researchandmarkets.com/reports/4368216/indian-industrial-automation-market-drivers