Global competitiveness, innovation and ready-to-market understanding is what is driving Industrial production. Those days are gone where a plant had several employees and workers to make a product relevant for a market. It's time where Industries are looking into more productivity, scalability and technology driven approaches. The fast adaptation of production to the ever-changing market requests all is driven by radical advances in current manufacturing technology. We're in an age of 4th Industrial Revolution and well known as Industry 4.0 is becoming a popular approach based on integration of the business and manufacturing processes, as well as integration of all actors in the company's value chain (suppliers and customers). Technical aspects of these requirements are addressed by the application of the generic concepts of Cyber-Physical Systems (CPS) and Industrial Internet of Things (IIoT) to the industrial production systems. The Industry 4.0 'execution system' is therefore based on the connections of CPS building blocks. The concept of Industrial Internet has been brought up in North America by the General Electric Company in late 2012. It is seen as a tight integration of physical and digital worlds that combines big data analytics with the Internet of Things. The concept assumes a much broader application area as the Industry 4.0 and covers power generation and distribution, healthcare, manufacturing, public sector, transportation and mining.
Learning Industry 4.0 in 2020
Since its inception the buzz flourished with associated technologies like IoT, Cloud Computing, Big Data and many more emerging technologies. But where it had get monetized generally erupted a sector altogether. Today, in their own unique ways Industry 4.0 solutions and services are availed and offered by leading companies across the globe. It's no more a sound word or phrase but a reality which emerging as a billion dollar business opportunity. It has been estimated that 46% of the global economy can benefit from the Industrial Internet.
Internet of Industry 4.0 Things
The main idea is to exploit the potentials of new technologies and concepts such as:
Availability and use of the internet and IoT,
Integration of technical processes and business processes in the companies,
Digital mapping and virtualization of the real world,
'Smart' factory including 'smart' means of industrial production and 'smart' products.
Besides being the natural consequence of digitalization and new technologies, the introduction of Industry 4.0 is also connected with the fact that many up to now exploited possibilities for increasing the profit in the industrial manufacturing are almost exhausted and new possibilities have to be found. Namely the production costs were lowered with introduction of just-in-time production, by adopting the concepts of lean production and especially by outsourcing production to countries with lower work costs. When it comes to the decreasing costs of industrial production, Industry 4.0 is a promising solution.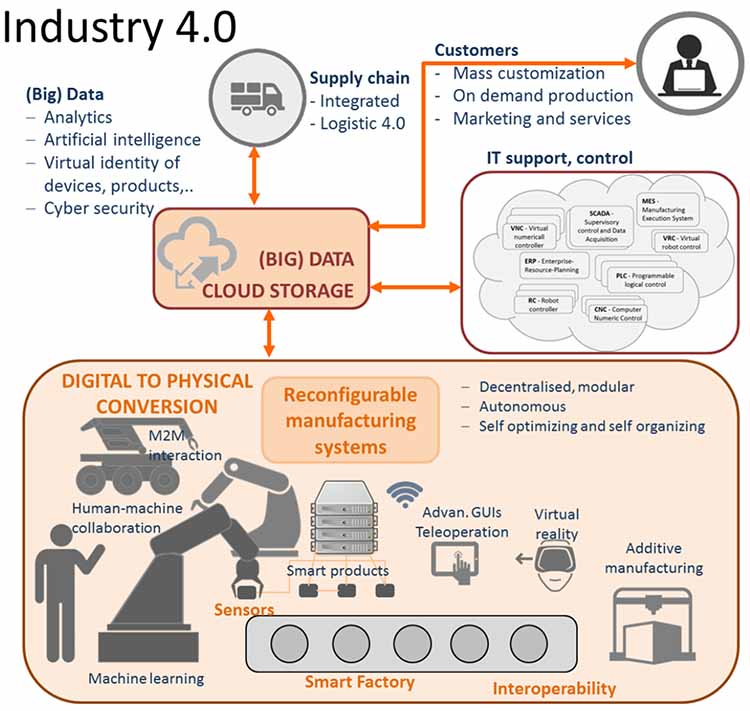 According to industry predictions, at least half of business applications will be enabled by IoT by 2024. In industry, the term IoT implies the use of sensors, control systems, machine-to-machine communications, data analytics, and security mechanisms. IoT enables machines and business processes to communicate without the interference of humans. As a result of this, the company can now entirely focus on optimizing business outcomes and, ultimately, improve the customer experience.
How Smart Can Manufacturing Become?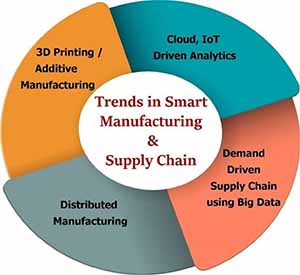 IoT can address compliance, regulatory and quality reporting requirements such as parts traceability and product genealogy, emissions and country of origin. With IoT, organizations are better suited to track shipped products for warranties, returns and predictive support for maintenance.
The real premise of IoT-enabled supply chains is to delegate decision making on some of the operational aspects to smart objects and systems, based on real time analytics and machine learning algorithms. One of my concerns is IoT security — especially on how to protect deeply embedded end-point legacy devices that have limited resources and interfacing mechanisms available.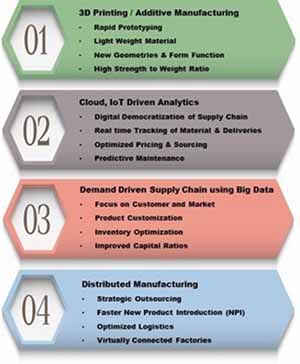 Supply chains need to move away from being forecast driven to become demand driven. Forecasts by their very nature are inaccurate. You cannot simply go by historic sales patterns, throw in current market conditions and seasonality, and hope for the best. One needs to shape the demand, the goal needs to be maximization of the profit, not simply reduction of cost or maximization of revenue. The essence of demand shaping is knowing about your most profitable customers and products, and protecting and promoting them. All customers are not created equal. The data science algorithms can help in customer segmentation and clustering. They can tell which customers are the lowest cost to serve and which are likely to buy the highest profit products. The current crop of big data and analytics tools provide a way to integrate data from sales, marketing, action of customers, product reviews, competitor information, warranty data and supplier status in near real time to make demand-driven supply chains a reality.
Inside Industry 4.0
Industry 4.0 leverages data in many ways, such as data collection and interpretation, then acting on the resulting analytics. Such analytics help to improve legacy infrastructure, identify production patterns, and create proactive methods to prevent potential slowdowns and further issues. By establishing key performance indicators, identifying clear metrics, and utilizing data to monitor the progress of those goals, manufacturers can gain more in-depth insight into where improvements need to be made within their production process. Artificial intelligence can learn and automatically apply solutions to problems that would typically require a human to resolve, significantly reducing time spent on menial processes, freeing up staff to focus on specialized tasks.
Applications of transformative technologies for production lines allow manufacturers to be flexible to unforeseen changes and requirements. Adaptive machines, for instance, can be implemented on the assembly line to make changes in production based on an external command. Adding this upgrade to production lines can help manufacturers adapt to changes— whether small or significant— in stride.
Your maintenance team is alerted of an issue the moment it's detected by the system. Then, your team can address the issue immediately. Manufacturers avoid sacrificing product quality while also minimising downtime. Early detection ensures that if your team does decide to postpone maintenance to a more convenient time, there's a buffer zone in which maintenance can take place before product quality is impacted. This is all possible with Machine Learning technologies, a subset of AI.
Once a manufacturer has harnessed Machine Learning technologies, it may decide to incorporate Deep Learning into its facility. This is a subset of Machine Learning that analyses data with a logical structure that imitates the human brain (this imitation is called Artificial Neural Network). The recognition of patterns and the automation of decision making based on predictive reasoning is the end goal of this technology. Some of the business problems that can be solved today in a more scalable and cost-effective manner with computer vision solutions include quality control through the analysis of measurements; colour and text detection and analysis; as well as readability analysis of barcodes and QR codes. With big players, such as Intel, Amazon, Google, Microsoft and Tesla, operating in this space and investing in R&D, we're certain this technology is on the up. With many competitors in the space, computer vision solutions will only become more affordable and more sophisticated.
Some Study and Research
Since early 2020, manufacturers have experienced notable disruptions—from supply-demand imbalances to regional work stoppages—due to the arrival of COVID-19. This disruption has also had an impact on digital transformation initiatives. As of August 2020, 38% of manufacturers surveyed had paused their smart factory investments as they assessed the impact of the economic conditions caused by COVID-19. A majority of them expect to resume their smart manufacturing investments in the next 12 months. However, 12 months is a long time in the world of technology and digital transformation, and companies that wait too long could risk falling further behind their peers in smart manufacturing adoption. Especially since 62% of manufacturers surveyed are committed to forging ahead with initiatives and some are even accelerating them (figure 1). In fact, these companies on average are dedicating 36% of their factory investments toward smart manufacturing investments, which is a 20% increase from those surveyed in last year's study.
Future of Industry 4.0
Collaborative robots, which are going to work with humans in the industry, making a significant amount of processes in an efficient way, are more sophisticated than their predecessors; these robots will allow to obtain a considerable decrease of costs related to the building of fences or safety cells that, in the previous days, kept the robots isolated from the humans.
Augmented reality tries to incorporate, or to make a mix-up with virtual elements, using some of the digital content as the standard tool to our tangible reality, in real time. The main idea is to add some digital information to regular and common objects that are observed; it ends up being extremely useful to understand in a deeper way these objects. This process is achieved using a digital system related to a camera, a GPS system, a 3D scale, and an algorithm which is in charge of making the bond with reality. These tools have the capacity to increase the human performance, providing the required information to make a specific task.
The simulation pillar is the most indicated and outstanding. Simulation modeling is the method that makes use of real models or imagined system models, which allows to make some experiments to validate designs, processes, or systems.
Additive manufacturing is an enabling technology, capable to help with the new products, new business models, and supply chains. A set of technologies that allows "3D printing" of physical objects builds up the term additive manufacturing. Unique products can be manufactured without the conventional surpluses, making it a great advantage.
AI is starting to being taken into account as another important pillar for Industry 4.0. AI is the use of computer programs to perform complex tasks. These programs are installed on robots of any type (whether they are sensitive or collaborative) to perform tasks or jobs, giving the possibility to robots to adapt into situations in a faster an efficient way.
5G will allow manufacturers to automate end-to-end operations and configure or eliminate virtually new product lines or entire factories. With billions of sensors, machine-controlled robots, and autonomous logistics, all of them capable of communicating and operating remotely in real time through 5G, manufacturers can achieve huge productivity gains.